Estimated read time: 5-6 minutes
MIDWAY — As Zac Jones smiled and accepted his trophy after clinching the Utah state amateur championship on the 15th green at Soldier Hollow Golf Course, he laughed and let out a "Go Cougs" after thanking his parents, teammates, friends and group of supporters who came out to walk through his gallery.
It had been too long, in his opinion, since a BYU golfer had claimed the top amateur spot in the longest continuous running golf tournament in America. About five years too long.
Jones clinched the 124th Utah amateur title with a 4 and 3 victory over Cal's Simon Kwon, becoming the first champion from BYU since Kelton Hirsch won at Ogden Golf and Country Club in 2017. Jones is the 18th player in BYU program history to be crowned state amateur champion.
The winless streak for the Cougars also coincided with back-to-back titles for the rival University of Utah, namely Mitchell Schow in 2020 and Martin Leon last year at Alpine Country Club, which Jones has claimed as his home course his whole life.
Neither university officially claims the state amateur, which is hosted by the Utah Golf Association. But unofficially, bragging rights can be at stake, as they were when the Utah team showed up for both Schow and Leon's wins with giant crimson flags draped across the back of their carts, raising U's to the sky as they cascaded down the cart paths.
So a little "Go Cougs" after Jones' win was the least he could do.
"I was looking at my mom, and she says, heck yeah it does (matter)," the Lone Peak product said with a laugh. "But I think it's a big deal; we're competitive with the Utes. They're a good team, and so are we. Any time we are competing — maybe the media blows it up a little — but it means a lot.
"There are a lot of recruiting battles with that kind of stuff. It definitely means a lot to the program, to our coaches, to me, and to the players."
But winning the state amateur was a goal that went back well beyond Jones' college career, which started just last season when he returned from a two-year mission for The Church of Jesus Christ of Latter-day Saints — in the middle of the state amateur — to Mexico and Florida.
Nine years ago, Jones volunteered to caddy for his father Clark during a state amateur run. Ever since, he set a goal to compete in the largest amateur golf event in Utah, with more than 1,000 participants since qualifiers this past year.
But winning? That goal was unimaginable until a few years later.
"Back then, I didn't have any clue," Zac Jones said. "When I turned 13, I tried to qualify for the first time and when I was 15, I made the state am — and made match play. Then I won my first match, and it was then that I thought I could win this thing.
"Zac Blair won it in high school. Joe Parkinson, a member at Alpine, won it in high school. Tony Finau. Danny Summerhays. I saw all these guys who won it when they were young — and it became my goal and has been on the list ever since."
The last three BYU golfers to win the title used the moment to help launch pro careers for Hirsch, Patrick Fishburn at Alpine Country Club in 2016, and Jordan Rodgers at Soldier Hollow a year prior.
Jones still has a full collegiate career in front of him, not to mention a degree to earn. But his amateur championship was no less impressive against a Pac-12 golfer who earned 2020 Utah junior golf player of the year while competing at Skyline High.
"I can definitely build off of this," said Kwon, a rising sophomore who said his recruitment came down to Cal and BYU. "I had a lot of good rounds, and played a lot of good players. I can definitely focus on the positive.
"It's a mixed feeling to lose. But in the end, I'll be proud."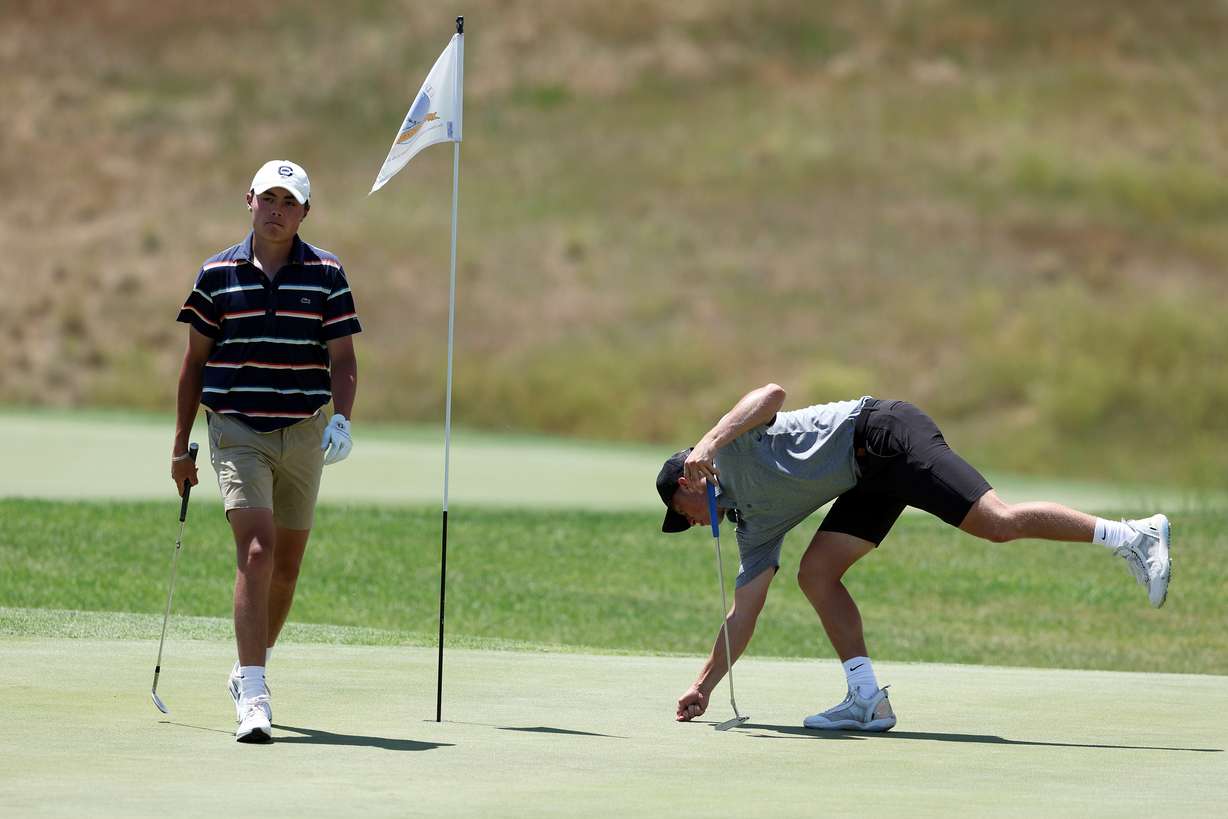 Three days after winning medalist honors, Jones got out to a fast start, draining a birdie on the fifth hole to go 1 up through five in the 36-hole final.
After Kwon squared up the match a hole later, Jones took the next three — including a birdie on the par-3 eighth hole to go 3-up after the first nine after shooting 32. Jones extended his lead with a pair of long pars on the 11th and 12th holes.
But Kwon pulled one back with a birdie on the par-5 17th hole to cut the deficit to four after rebounding to shoot 37 — just one shot off Jones — on the second nine. Jones stretched the lead back to five twice in the first three holes of the second 18 of the 35-hole final, including a birdie on the par-4 first hole.
Kwon cut the deficit as low as three with consecutive holes, including a birdie on the par-4 14th hole. But Jones clinched the 4 and 3 victory with a leisurely bogey on No. 15 to celebrate the title.
"Simon's a good player," Jones said. "He's played in big-time college events, seen people hit long drives and make birdies on Him. I knew he was going to make a run at some — and sure enough, he birdied 11 and I gave him 13 and 14, and knew it was going to be a match coming down the stretch."
Kwon finished the week with a runner-up medal for the state amateur, but perhaps, in the long run, something a little bit special.
Because while his grandfather — legendary BYU golfer and television analyst Johnny Miller — couldn't make it to Soldier Hollow to watch his grandson's first Utah amateur championship match, he did exchange text messages Friday night.
What did he say?
"He just said he was proud," an emotional Kwon said before finishing the round with a hug from his parents.
×
Photos
Most recent Utah Golf stories