Estimated read time: 4-5 minutes
SALT LAKE CITY — Salt Lake County Mayor Jenny Wilson looked beyond a set of television cameras set up in front of her toward the foothills and mountains visible from Salt Lake Central Station, one of the perks of living along the Wasatch Front.
However, there are events that can drastically change the pleasant views around the valley. Between inversion smog in the winter, ozone conditions in the summer and even smoke from wildfires blowing in from out of state, there are a few instances where the air quality is so poor that those views that many Utahns admire disappear.
"We know that several times of the year, things aren't so good here," she said. "It's our geography, it's our large population, it's the growth that we've had."
There have been drastic improvements in air quality over the past few decades. The Clean Air Act helped, as did the industry innovations, including improvements in energy consumption. Wilson contends that federal, state or local regulations and businesses can't solely fix the issues because experts say vehicles account for about half of all carbon emissions in the region.
This helped inspire the creation of the "Clear the Air Challenge" a little over a decade ago, which aims to create a transportation paradigm shift for at least one month out of the year.
It calls on Utahns to carpool, use public transportation or even active transportation, like riding a bike, instead of the normal single-occupancy motor vehicle trip. Other options include telework or trip chains, running several errands in a row instead of returning home after every trip.
"These are not big or difficult things to do, but yet they have a remarkable impact," said Derek Miller, president and CEO of the Salt Lake Chamber.
Using these types of methods during the competition has eliminated more than 1.3 million vehicle trips and reduced emissions into the atmosphere by 6,341 tons since 2009, according to Miller. The challenge returns for its 13th year on Friday with a goal of reducing 375 tons of carbon dioxide throughout the month by eliminating over 100,000 vehicle trips and 2 million miles of vehicle travel.
Individuals and businesses can sign up for the competition online. The site is also where people can log the different ways they have helped reduce their vehicle trips. While the competition happens during the winter inversions more often than not, its organizers, Utah's TravelWise program and the Utah Clean Air Partnership, otherwise referred to as UCAIR, wanted to focus more on July this year.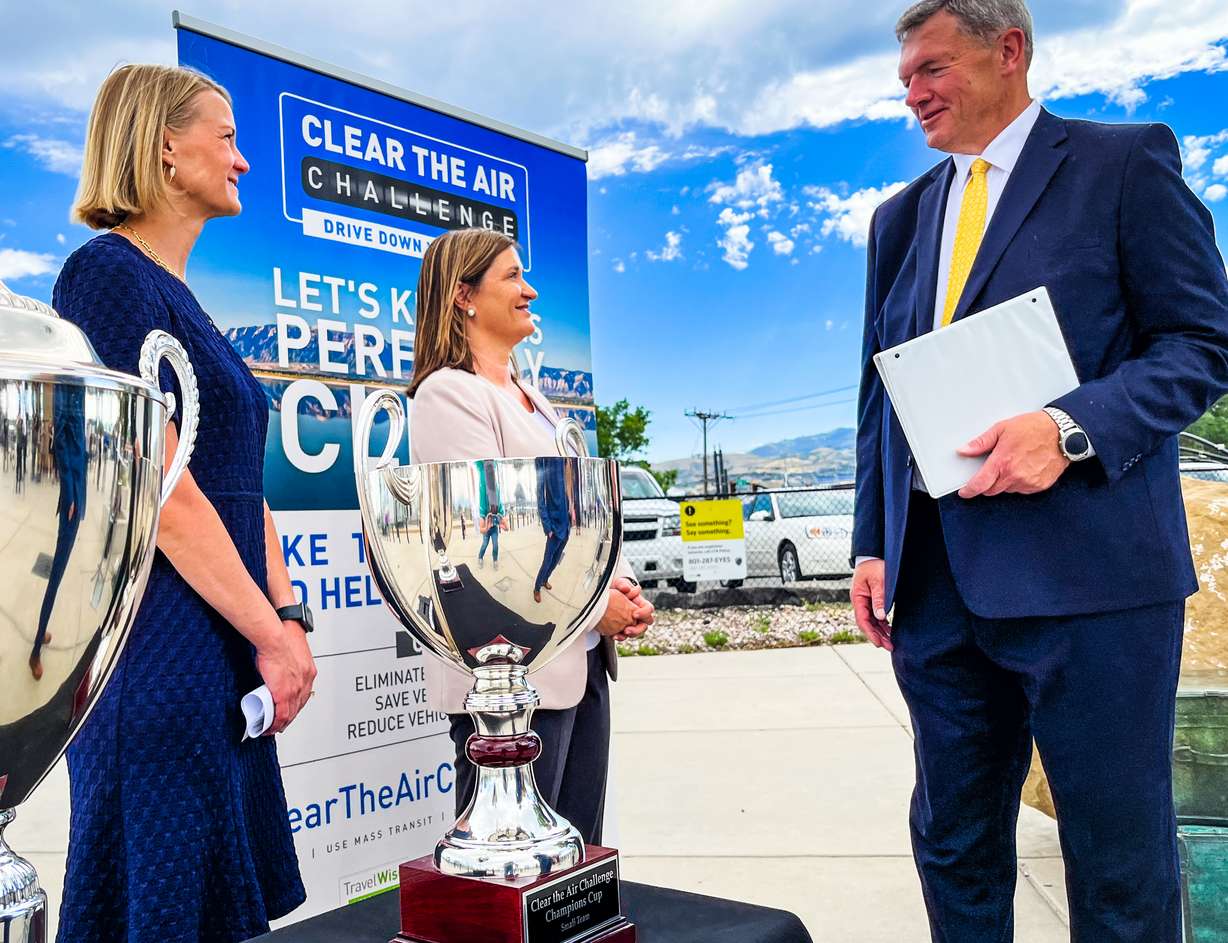 Kim Frost, UCAIR's executive director, said this year's event aims to help make Utahns aware of the poor air quality during the summer months caused by ozone. It's formed when pollution from vehicle emissions and industrial sources mix with sunlight and heat, according to the Utah Department of Environmental Quality. This can result in coughing, throat irritation and chest pain; prolonged exposure to ozone can even result in lung damage.
Event organizers also liked the idea of holding it during a warmer month so more people might be willing to participate. Overall, all the little things clean air experts advise during a winter inversion — when pollution is trapped underneath a lid created by differences in air temperatures — work during high ozone periods, too.
"Changing our actions during the summer is just as important as during the winter," Frost said.
Timing is one difference between the two periods of poor air quality. Frost said an alternative in the summer is to run errands earlier in the morning or later at night because cooler temperatures at those times equate to less ozone buildup.
---
It gives us an opportunity to think about our individual behavior and what we can do to help the air quality. ... Small changes make a difference.
–Derek Miller, president and CEO of the Salt Lake Chamber
---
Summer is also when air quality is typically impacted by wildfire smoke, whether from sources in-state or out of it. Last summer, smoke from fires in California and Oregon was strong enough that Salt Lake City's air quality dipped to one of the worst in the world.
While Utahns don't really have a say in what blows into the state, Frost says everyone does have a say in reducing the air quality impact on smoky summer days. She advises people to track where fires are and when air quality will dip online ahead of time before making a vehicle trip.
"When we're able to reduce our emissions that we do have control over, ozone will accumulate less," she explained. "That's going to help our health (and) our economy."
This year's individual and business winners will receive a shiny trophy, which organizers displayed Tuesday.
Miller said he's aware that one month alone isn't enough to reduce all the pollution sent out into the atmosphere. He hopes that the competition will help Utahns find transportation alternatives that work for them, so they use them on a more regular basis throughout the year.
"We hope that it is an opportunity for all of us to learn new habits and to learn new ways that we can help do our part to make our air clean," he said. "It gives us an opportunity to think about our individual behavior and what we can do to help the air quality. ... Small changes make a difference."
×
Related stories
Most recent Environment stories