Estimated read time: 8-9 minutes
PROVO — Those expecting a rash of new features, a series of game announcements, or a future peek at the BYU football schedule of years to come would have been turned away defeated during the Cougars' final football media day Wednesday.
Instead, the mid-week reporter-fest for newspapers to fill up their notebooks, television stations to upload memory cards, and radio reporters to blow through hours of interviews in a single sports talk-filled afternoon was met with a much more casual environment from BYU football's final team-specific media day before joining the Big 12 in 2023.
Between safety Malik Moore's dubious acting job performing a prank with BYUtv and other television antics from wide receiver Puka Nacua, the biggest concern — like it has been for most of last year — was making it through the day without injury.
In that case, mission accomplished — and a few nuggets were dropped along the way.
Tom Holmoe addressed the masses in his annual State of the Program hour with head coach Kalani Sitake on BYUtv, and assistant coaches from offensive and defensive coordinators Aaron Roderick and Ilaisa Tuiaki all took their turns in front of the microphone, along with players from each position group and their respective assistant coaches.
So what did we learn from Wednesday's hour—long event?
For starters, while it's been proven that the Cougars are preparing for the Big 12 — and a jump to the Power Five level — the university is by no means immediately ready for the big time. Sure, there's confidence they will get there, and BYU has been playing a Power Five schedule in everything-but name for most of the past decade.
But there's still work to be done.
"I don't know if we're ready, but I know we've planned long and hard," Holmoe said. "Kalani and I have gotten together so many times to look at a lot of details.
"Sometimes when we part, we know it's not set in stone. But we know that we're on the right path. … There's still work to be done, but we've got a lot of it behind us now."
Holmoe likely left Wednesday with similar thoughts, that the Cougars have come a long way and still have a long road to wander. But the fact that they are on the path is important in a college football environment that continues to twist, change and contort with every whim, from name, image and likeness to the transfer portal to an overhaul of NCAA government and regulation.
The move to the Big 12 is also a year away, Sitake was quick to remind at every step of the way. Yes, the transition has already begun, with leadership changes, new support staff additions and so forth. But BYU still has a schedule to face in 2022 — one that opens Sept. 3 at South Florida, features five Power Five opponents, and also includes Mountain West powers Boise State and defending league champion Utah State.
"I'm not really focused on that as much as I'm on the players and being sure we have the resources necessary," Sitake said after returning from Big 12 meetings in Dallas. "Having everyone in the same place at the same time just confirmed it; when we heard what BYU is all about, they confirmed what we thought all along is true. It was nice."
Without getting too far ahead of schedule, even that first game of the season has plenty of storylines for BYU. At least, it does for starting quarterback Jaren Hall, whose first start of his career came against the UCF Bulls and ended with a concussion on the turf at Raymond James Stadium in Tampa, Florida.
"That's the only one I'm concerned about right now. It's the first game for us, and it's going to start off our season and write for us what it might be like," Hall said. "I remember being there, in a unique stadium with the Buccaneers, my first start — and it didn't end how I wanted it to.
"For me, there's definitely some nostalgia and memories. I'm excited to go back and rewrite what already took place, in a better way."
Player personnel updates
For a depth chart set in mid-June from a spring session mostly bereft of lengthy position battles, the two-deep released Wednesday was surprisingly stocked, as well. Hall sat atop the quarterback chart, with Jacob Conover as his primary backup. Same for Christopher Brooks, the Cal transfer running back who usurped the starting role with his play in the spring from a deep group that includes Lopini Katoa, Jackson McChesney, Miles Davis and Hinckley Ropati.
Gunner Romney and Nacua are both expectedly listed as starting wide receivers, with redshirt sophomore Keanu Hill emerging as the No. 3 wide out in the rotation, ahead of Kody Epps, Chase Roberts and Brayden Cosper.
Isaac Rex and Dallin Holker are listed as co-starters at tight end, Masen Wake and Houston Heimuli are co-starters at fullback, and only Clark Barrington has solidified a starting job on the offensive line at left guard. Kingsley Suamataia is listed at both left tackle alongside Blake Freeland and right tackle alongside Harris LaChance; Joe Tukuafu is a co-starter with Campbell Barrington at right guard; and Connor Pay and Tukuafu are both noted at center.
Two notable omissions from the depth chart were offensive lineman Keanu Saleapaga and defensive back Isaiah Herron. Offensive line coach Darrell Funk confirmed that Saleapaga had left the program, and cornerbacks coach Jernaro Gilford cast doubt on a return for Herron, who like Saleapaga graduated from the university in April.
"I will know within the next few weeks," Gilford said. "We're not sure if he's going to be with us or not, to be honest with you."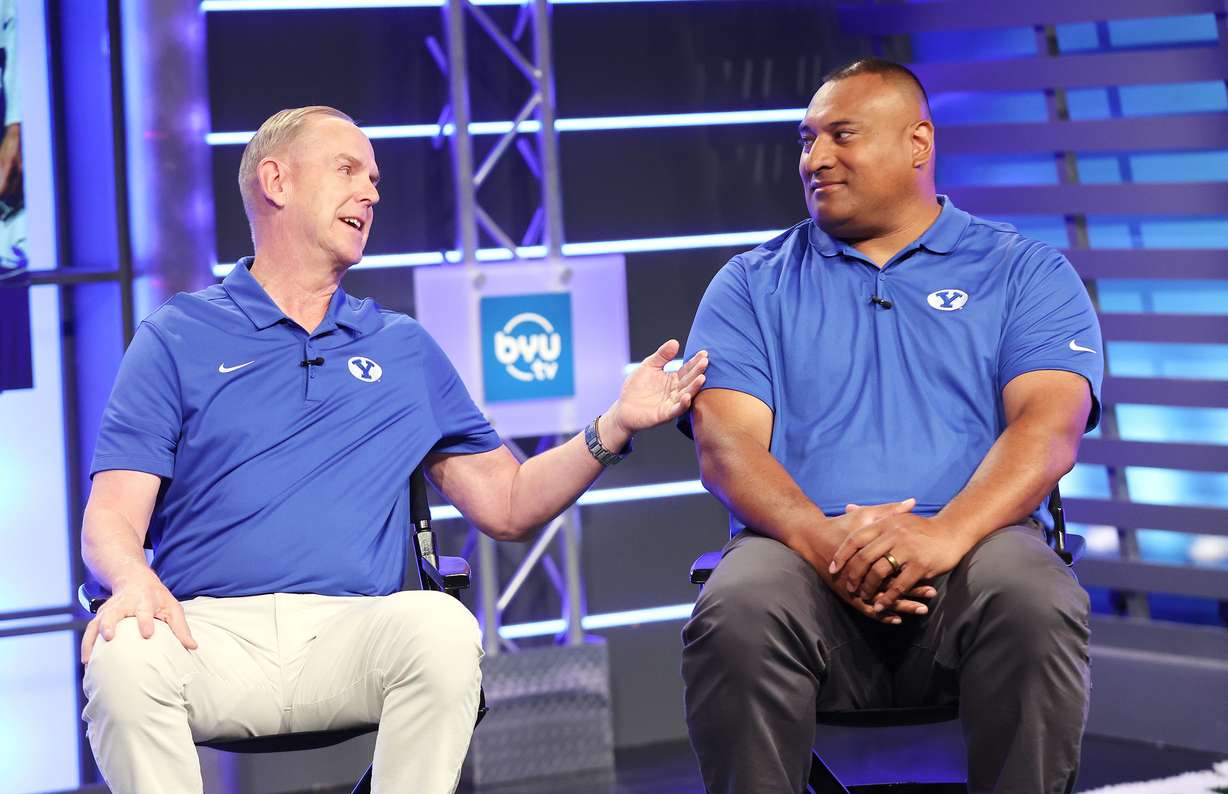 Scheduling release
Even Holmoe has some short-term decisions that need to be made. In preparation for the Cougars' P5 entry, the tenured athletic director has been hard at work paring down BYU's schedule from 10-12 games previously scheduled per season to just 3-4 nonconference games.
Holmoe said the Big 12 will feature a nine-game schedule when the Cougars first join the league, all-but confirming that Texas and Oklahoma will remain in the Big 12 through at least the 2023-24 season before joining the SEC, as expected.
But BYU was thrown a curveball several weeks ago when Tennessee bought out the return game of a home-and-home series next year, leaving the Cougars scrambling to fill in a nonconference opponent in between a trip to Arkansas and a home tilt with Southern Utah.
And while Holmoe didn't announce any new deal, he did say one is fast approaching.
"We're very close to a contract," he said. "We have basically an agreement. When you have a game that you have to arrange a year in advance in college football, it's very hard. There aren't many teams that are still open.
"We have a team, and we feel good about the schedule."
During media day, Stanford announced it will replace matchups with BYU scheduled for 2025, 2026, 2028 and 2035 with San Jose State.
The Cougars and Cardinal announced a four-game extension of the football series in 2020, setting up eight contests between then and 2035. But the 2020 game was canceled as a result of the pandemic, the 2022 game at Stanford Stadium will mark the final regular-season game of the independence era.
The two sides also have a game scheduled for Aug. 30, 2031, at BYU.
Going bowling
As for the 2022 bowl season, BYU's fate also remains unsturdy. The Cougars partnered with the Independence Bowl a year ago, sending them to Shreveport, Louisiana, under contract if they did not receive an invitation to a bigger (read: New Year's Six bowl or College Football Playoff) bowl game.
This year, no such agreement exists. BYU has a partnership with ESPN Events to attend one of the dozens of bowl games owned and operated by the Worldwide Leader, but no indication of one specific game that could be eyeing the team from Provo.
Leadership is in constant contact over that same subject, Holmoe said, including a conversation Tuesday between the athletic director, his deputy Brian Santiago and ESPN about the bowl season.
"They have a number of bowls that are open, and through the season, we'll have conversations with them," Holmoe said. "Depending on how we're doing and how the season plays out, they'll give us feedback until we narrow it down.
"We've got to be ready to take any bowl that they'll give us. Hopefully it's a great one."
If Sitake was concerned, he didn't show it. Quite the opposite; ESPN has partnered with BYU since the Cougars declared independence from the Mountain West, dealing an exclusive television contract to broadcast their games that made independence feasible.
BYU won't be left out in the cold.
"They've been great for us," Sitake said. "Anyone willing to show our games, to be involved, the way they do their homework; we've developed a great relationship with them, and they know their stuff.
"It's an honor for us to partner with them for our fans to have so much access to BYU football."
×
Photos
Most recent BYU Football stories