Estimated read time: 4-5 minutes
SANDY — Former BYU soccer star Ashley Hatch's career, both professionally and with the United States women's national team, has taken her around the world, from Australia to her current stop in the mid-Atlantic with the Washington Spirit.
But there's something special about her next go around with the national team.
Hatch was one of 23 players selected by head coach Vlatko Andonovski to the United States' roster for the upcoming CONCACAF W Championships in Mexico, an eight-team tournament that includes qualifying berths for the 2023 FIFA Women's World Cup and 2024 Paris Olympics.
"Every camp is important. But this is by far probably the biggest camp that I've been invited to in my career with the national team," Hatch told KSL.com after earning the call-up Monday.
The camp also includes a pair of pre-tournament friendlies against Colombia at high altitude, beginning Saturday, June 25 at Dick's Sporting Goods Park in Commerce City, Colorado, and running through Tuesday, June 28 at Rio Tinto Stadium in Sandy.
An important camp and a friendly in her home away from home, the state where the Arizona native's All-American career began as a standout striker at BYU — and where she earned her first international cap as a senior in college.
It's also the state where she met her husband, Jeff Van Buren, lived in the offseason while she finished her degree in family studies, and started her coaching license as a volunteer assistant at Utah Valley University.
So yeah, being called up to the national team is important for Hatch. But so is being called up in the Beehive State.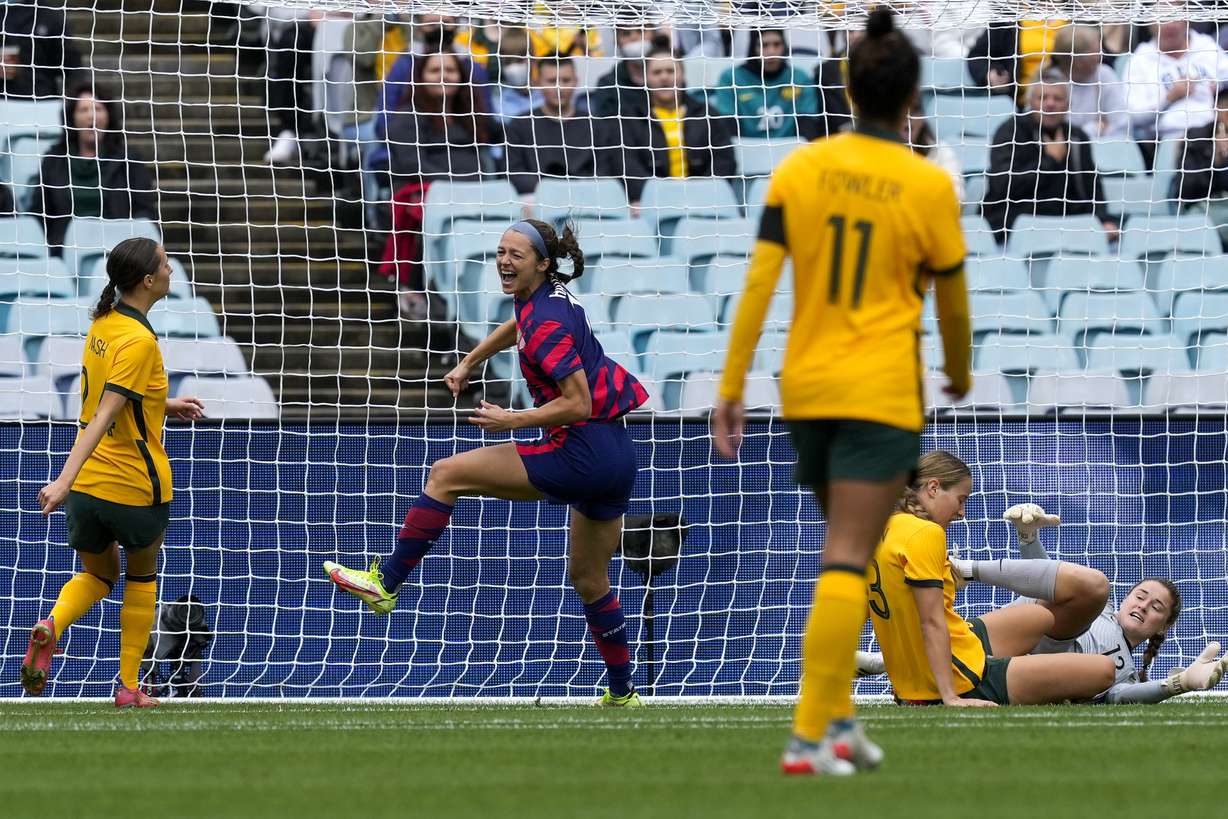 "Going to Utah and being able to play a friendly there is huge," she said. "I'm super excited to be back in Utah and to play in front of more friends and family than I normally do living out here on the east coast."
As part of the Utah-based friendly, Hatch's friends and family will host a charity tailgate in conjunction with Cameron Treu of Orem-based Bam Bam's BBQ to raise funds for Journey of Hope, a Utah-based nonprofit that improves the lives of women, girls and members of the LGBTQ+ community through case management, mentorship and social advocacy.
Obviously, Hatch won't be at the tailgate as she prepares to face Colombia. But the former BYU star will launch a social media campaign to spread awareness of the cause and plans to work closely with the fundraiser with proceeds going to the organization.
"Our two goals are to raise money for their cause, and to raise awareness for women who may be searching for a place to access for help if they are in any kind of trouble or trauma or domestic violence," she said. "It all came together perfectly, and I'm really excited."
Hatch's inclusion in national team camp is more than a charity cause or an attempt to sell more local tickets, though there have been plenty of that. More than 10,000 tickets have already been sold for the Tuesday night match (8 p.m. MDT, ESPN), which is closing in on the same number of 14,336 fans that saw Hatch make her first appearance with the United States in a 1-0 win over Switzerland back in 2016.
Since then, her career has skyrocketed. The reigning NWSL Golden Boot winner became the Spirit's all-time leading goal scorer with her 26th career goal in April, and she isn't slowing down.
That extends to her national team form, where Hatch has four goals in eight appearances, each in the last two years.
The 5-foot-9 striker is building a habit as a difference maker for U.S. soccer, scoring goals in six minutes of her introduction in three-straight wins over Australia and New Zealand, including a first-minute goal during a 3-0 victory over the Matildas on Nov. 11, 2021.
Her club form helps, but Hatch is making the most of every chance she's given, including internationally.
"She's just a natural goal scorer, regardless of her performance at times," Andonovski said. "She just finds a way to score a goal. We saw that very early when she started joining the team consistently in Australia; she scored a first goal right away. That just explains what kind of player Ashley Hatch is. She just needs a small opportunity to make big differences.
"We're excited with her form, her goal-scoring abilities, and to have her on the team."
That's high praise from a national team that has no shortage of attack-minded players, including a recently in-form Alex Morgan, Mallory Pugh, and rising NWSL standout Trinity Rodman, among others.
"It's not easy to be a forward with the United States right now," Andonovski said. "The competition just gets bigger and bigger."
Hopefully, Hatch adds, that form continues June 28 in a packed stadium filled with friends, family and former BYU supporters in Sandy. The support from the Beehive State has remained high for Hatch, and she wants to pay back that support in some small way whenever she returns.
"Utah is basically my home away from home," she said. "I found a love to continue to play at a high level, and so many memories from there. It's definitely a special place."
×
Related stories
Most recent BYU Cougars stories