Estimated read time: 3-4 minutes
SUGAR HOUSE — With Utah's weather so nice this time of year, you would think getting kids to be active would be a slam dunk. But it can be a tall order given the draw of smartphones, tablets and video games.
So, how can you get your kids moving?
We caught up with Danielle Szasz at play with her kids in the park.
Two-year-old Luna has not had much screen time. Eight-year-old Oliver is a seasoned pro with two favorite video games.
"Pixel gun and one called Roblox," he revealed.
Danielle Szasz doesn't like the idea of her kids spending their entire summer break in front of a screen. Neither do pediatricians.
"I think it's about balance and I think being able to kind of get out and move and stuff is important," said Dr. Peter Lindgren, a pediatrician with Intermountain Healthcare.
He said kids who pick up active habits now are more likely to live active lives as grown-ups. Plus, there is a mental reward.
"There's a lot of mental rewards to getting out here at least once a day or you know, three times a week, whatever it may be," Lindgren said. "Inside when you're on screens, it really has a way of increasing stress levels. And it doesn't really allow kids to decrease their level of stress."
Lindgren said school-age kids should get at least an hour of physical activity daily.
Three hours throughout the week should be moderately vigorous — "Things where you get your heart rate up, you're sweating," he explained.
Anything that has your kid up and moving qualifies. Playgrounds are great, with all that running, jumping, chasing and climbing. Same for sports, plus Lindgren said they help kids build social connections.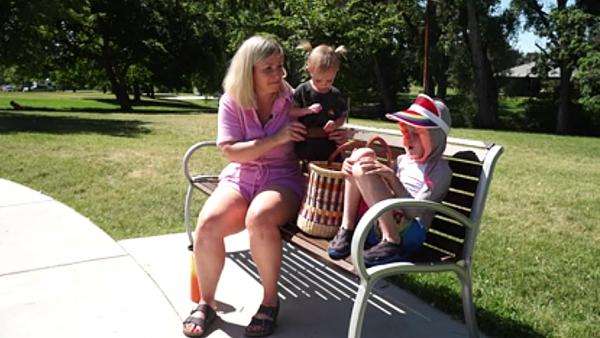 "We meet people doing these things that we'd never know otherwise," said Lindgren. "The social part of that is really important and I don't think it can be undervalued in adolescents."
Whatever the activity is, it needs to be fun for kids. Parents should be positive about it and they can lead by example.
"If you take the time yourself to go out and do some physical things, to meet with some friends, to go for a walk or a run — it's modeling and they follow suit," Lindgren said.
"We're so lucky that we live in close proximity to so many cool hiking trails," Danielle Szasz said about one of Oliver's favorite activities.
Besides hiking, he loves the backyard trampoline, splash pads, STEM projects, summer camps and family workouts.
"He'll be like counting down … he's like '20! Okay, five more!'" his mom said about their circuit of burpees, squats and push-ups.
---
If you take the time yourself to go out and do some physical things, to meet with some friends, to go for a walk or a run — it's modeling and they follow suit.
–Dr. Peter Lindgren, pediatrician, Intermountain Healthcare
---
Oh, and Oliver has not forgotten his love for Roblox and other games. Danielle Szasz has set up a chart system that logs his physical activity.
"It goes in this pattern – mind, body, heart," Oliver described. "So, the first one is mind-reading independently for as long as you can. If (I) do it for 15 minutes, I get 15 minutes of screen time. And then the next one is something for your body like a workout. And then the last one is heart, which is playing with Luna, and then I can get screen time."
"That's been really fun," said Danielle. "He actually gets super into it."
×
Related stories
Most recent Your Life - Your Health stories