Estimated read time: 5-6 minutes
Editor's note: This article is a part of a series reviewing Utah and U.S. history for KSL.com's Historic section.
SALT LAKE CITY — Emma J. McVicker founded the Free Kindergarten Association in 1894 as a way to provide schooling resources to Utah families who otherwise couldn't afford it, forever changing education in the Beehive State.
"She wanted to level the playing field and make sure every child had an opportunity for success in life," said Jennifer Nuttall, the executive director of Neighborhood House, which is what the association was later renamed.
Within years of the association's founding, McVicker became the first woman to serve as superintendent of Utah's entire school system, a capstone of her legacy as a trailblazer in the state.
Her role as an early and prominent educator and suffragist is now why there's a large sign honoring her just outside of the Neighborhood House's Poplar Grove location, reminding anyone who goes by of her life's achievements. The sign is one of a few hundred stops on the National Votes for Women Trail, which highlights prominent women, groups and locations in women's suffrage history.
"I think (this) is so important just for the visibility and for the education," Nuttall said. "When we know our history, where we came from and what we had to do to get us where we are, there's so much appreciation for what we currently have. And I think it inspires us all to fight for more justice, for more education and for everyone to have access to the services they need."
Who was Emma McVicker?
McVicker didn't come to Utah with the original set of pioneers but ultimately forged her own path to the state.
Born in 1846 in Watertown, New York — a city only about 86 miles northeast of where the famed 1848 Seneca Falls Convention was held — she went on to attend college in Wisconsin. Her education there would ultimately take her to Utah, where she took a job as an assistant to the principal and a music teacher at the Salt Lake Collegiate Institute, now known as Westminster College.
She was eventually promoted to principal of the school. In 1894, McVicker founded the Free Kindergarten Association at a time when people weren't really sure how important early education was, said Naomi Watkins, the director of education for the organization Better Days, who also compiled a short online biography of McVicker.
The association not only offered the first free public kindergarten in Utah but also provided classes for mothers and those seeking to become kindergarten teachers. Then, in 1895, it was able to successfully push Utah to cover the cost of education for children between the ages of 4 and 6.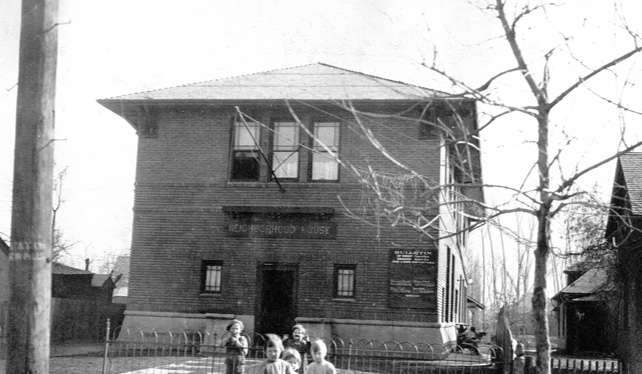 McVicker was also at the forefront of helping Utah women get their voting rights restored as the territory prepared for statehood at the same time she got the Free Kindergarten Association off the ground. McVicker and other proponents successfully lobbied to have women's suffrage and a right to hold office included in Utah's state constitution, which was ratified also in 1895.
The following year, she was elected as a critic for the Utah Women's Press Club; however, she had prominent roles in other women's clubs, too.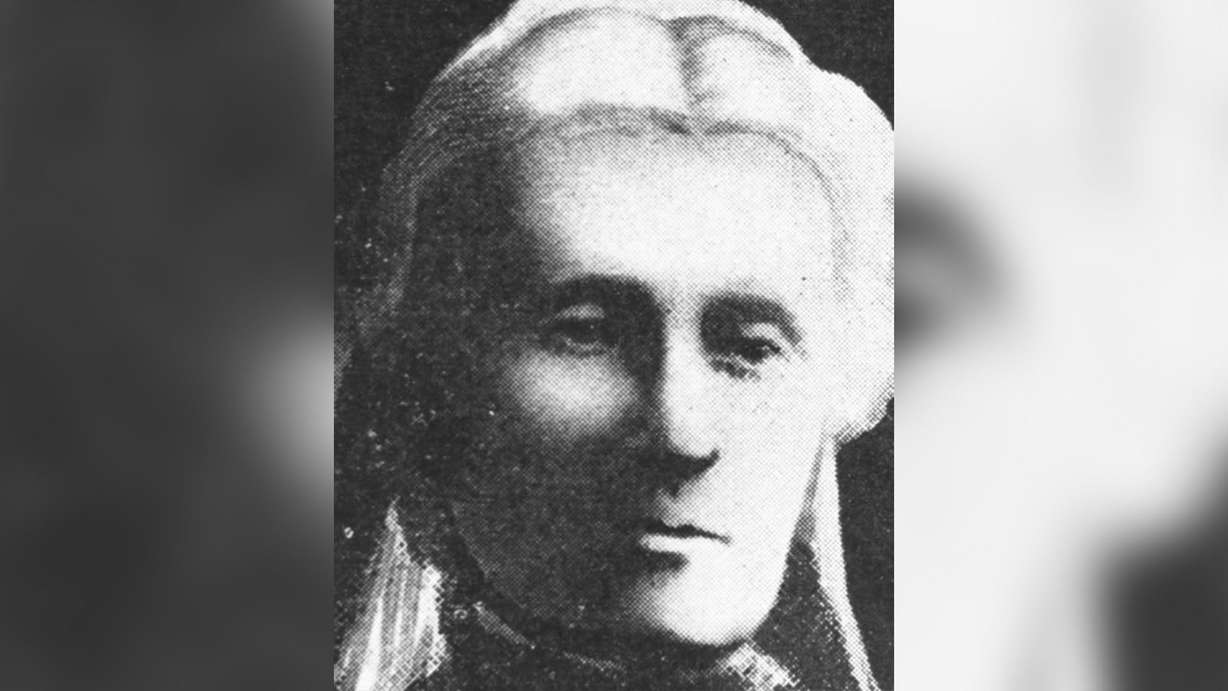 She also became the first woman to serve as the superintendent of the state's school system, in 1900. She held the role for three months to complete the term held by the previous superintendent, John Park, who died that year. Watkins said that McVicker toured many schools during the short period of time, writing in notes her thoughts about education.
"Her reports show she believed that children should be active participants in learning subjects rather than passively absorbing information and that more classroom instructional time should be spent on children developing their creative and emotional expression," Watkins wrote. "She also advocated for lowering the school age to 5 years old and for children to spend their first two years of school in kindergarten."
She continued her education at the University of California afterward, receiving a master's degree at the age of 59. She died in 1916 and was buried at Salt Lake City's Mt. Olivet Cemetery.
Honoring a trailblazer
McVicker's pioneering role in Utah education made her a prime candidate for a stop on the National Votes for Women Trail, which was created in 2009 as an extension of the Women's Rights National Historical Park in Seneca Falls. There are about 250 of these types of markers placed all over the U.S. but thousands of notable historical sites.
The new marker is the eighth of its kind in the state and the first in Salt Lake City. However, there are 24 total stops along this trail in Utah from Logan to Kanab.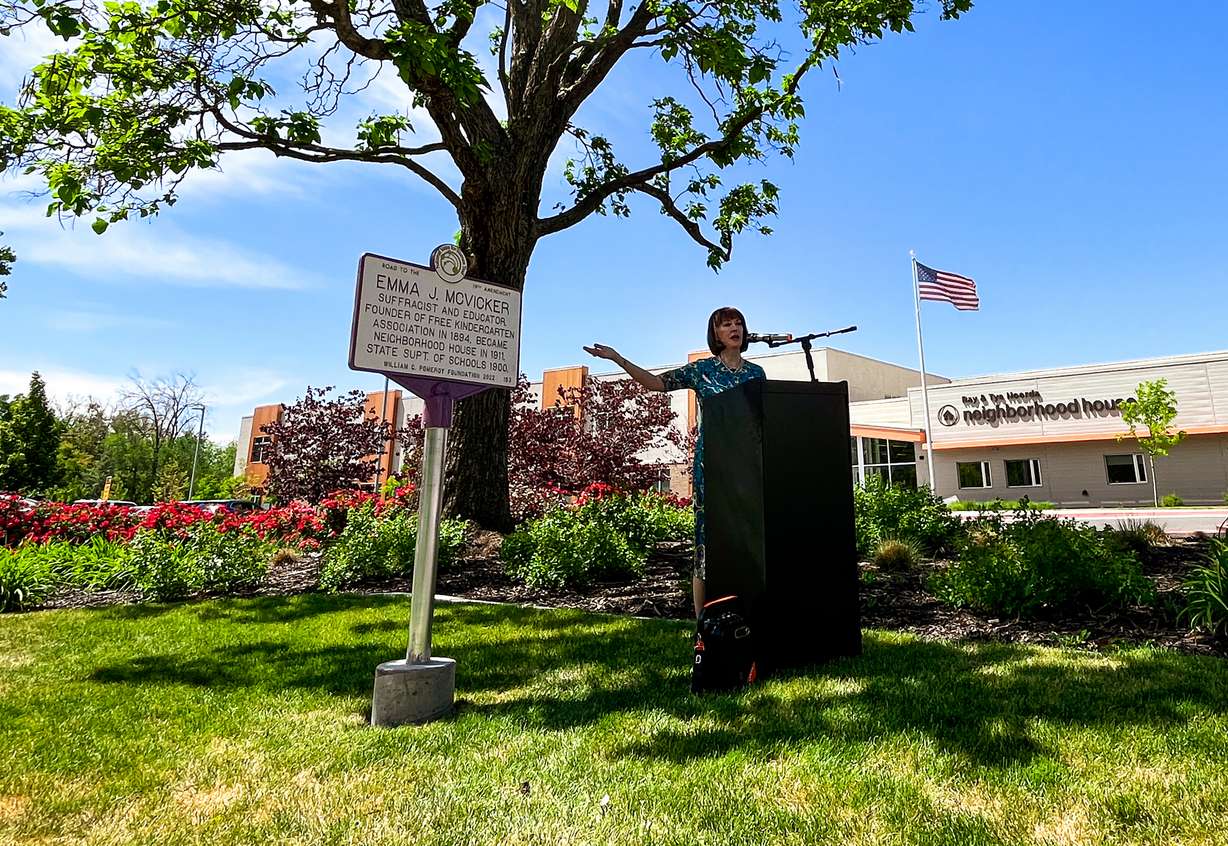 The sign was placed outside of the modern-day Neighborhood House a few weeks ago but celebrated Friday just ahead of a graduation ceremony for the current class of preschoolers. Nuttall said the organization still models itself on McVicker's vision, offering early childhood education but also adult care and family support for people who otherwise couldn't afford services.
"There's always going to be who need that extra little bit of help to get them where they need to go and because we all want the same things for our families," Nuttall said. "Being able to move that mission every day is really gratifying."
Meanwhile, Sydnee Dickson, the current Utah state superintendent, said it's "unfathomable" to think that she is one of only two women who have served in her current capacity since McVicker. But what she finds most inspiring is many of McVicker's notes from over a century ago aren't far off from goals educators have today.
All of this is to say that people who know McVicker's story hope that people who come across the new marker will use it as inspiration to learn about her and her legacy in Utah.
"For me, the contributions of Emma McVicker and those of many, many women like her remind me that actions of individual people working together toward a common goal can indeed make a difference," Watkins adds. "And my right to vote should not be taken for granted. So, thank you to Emma."
×
Photos
Related stories
Most recent Historic stories