Estimated read time: 7-8 minutes
Editor's note: This article is a part of a series reviewing Utah and U.S. history for KSL.com's Historic section.
SALT LAKE CITY — Bernie and Marita Hart contend they weren't drawn to the home they live in because of its history.
Their home in Salt Lake City's Central City neighborhood was built all the way back in 1901, but its charm today was what did the trick.
"We just liked it and loved the fact it was different," Marita Hart says, sitting on a chair inside the home's warmly-lit kitchen.
The home definitely stands out with its bright purple trim and stained glass windows plastering the exterior. Some of its original features include an upstairs window and original hardwood floors in the living and dining areas that remain all these years later.
"We like houses that are unique and have a little character," Bernie Hart adds. "We don't mind something that's unusual and stands out a little bit. ... This house has that."
Yet what really sealed the deal for them is the neighborhood. Though it's only a few blocks from downtown, it's close to parks and natural spaces, which Marita enjoys. As for Bernie, he likes the fact that they're surrounded by single-family homes filled with interesting people all over the income range.
While the couple doesn't really know much about the history of their home, outside of its age and a few other tidbits, Utah historians say the economic diversity of the neighborhood today is exactly how it was as it morphed into one of the city's first neighborhoods. That uniqueness helped it land on the National Register of Historic Places a few decades ago.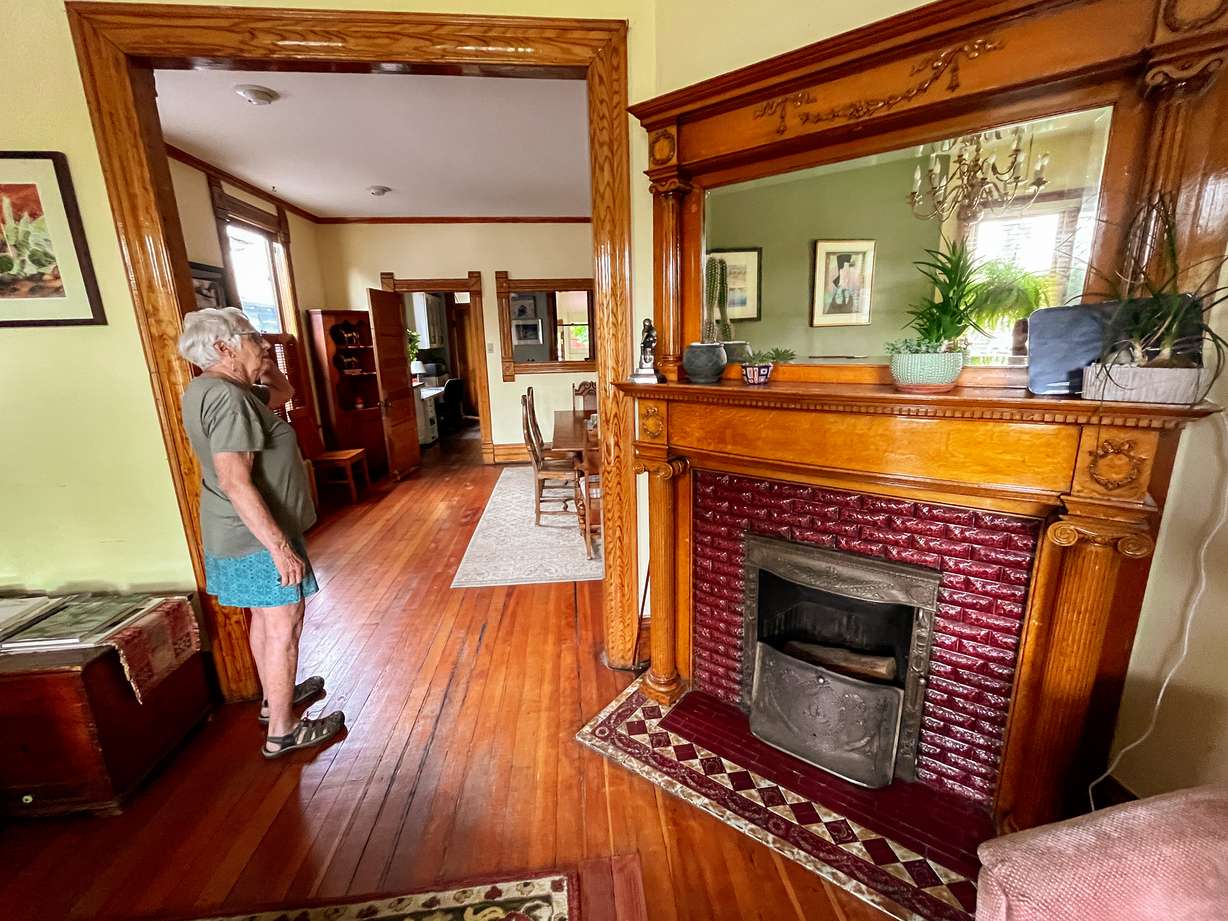 The neighborhood, including the Harts' home, is set to take center stage for Preservation Utah's annual Historic Homes Tour on Saturday. Hundreds are expected to roam the area and experience the history that remains as a part of the Salt Lake City East Side Historic District, located north of Liberty Park, between 600 South and 900 South and between 500 East and 700 East.
Saturday's tour will be Preservation Utah's 51st, but one of the first in recent history to dive into the past of this particular area — and for good reason.
David Amott, the executive director of Preservation Utah, says the group picked this neighborhood because preservationists noticed they've spent a lot of time over the past few years fighting to protect old buildings in this area, as Utah's capital city continues to balance its record growth while also determining what pieces of its history should be preserved for the future.
"This is one of the parts of the city that relatively few people actually know or engage with outside of the shopping centers that happen to fall under the historic district boundaries," he said.
Central City then
Much of the historic district developed as homes emerged just outside of Salt Lake City's business district beginning in the 1870s, according to a history of the area compiled by Salt Lake City planners in 1996. There were nearly 350 homes from the 1870 to 1900 period still in existence at the time the document was filed, most of which were residential housing.
Many of the homes are still around today. The homes, especially from 1870 to the mid-1940s, followed many types of architectural styles, which shifted as housing trends did. This is why there's a mixture of Victorian, Arts and Crafts bungalow, Prairie School, and Period Revival cottage designs all within the district.
"As expected, the types found in the district vary with the styles. Earlier neoclassical and Victorian styled buildings exhibit cross-wing, central-block with projecting bay and side passage footprints," the document states. "The bungalows employ rectangular block and open plans. The period revival cottages in the area employ rectangular plans and variations thereon."
The area would also include businesses with time — the most notable being Trolley Square, which was originally constructed in 1908 as a set of trolley car barns before it was converted into a commercial district in the 1970s. The water tower by the area is now a decoration, if not a symbol of the historic district. But it once provided the city's first firefighters about 50,000 gallons of water to use in case of emergency, the document added.
However, it's the home designs that offer the best reminders of the first few housing styles in Salt Lake City, as they began shifting from an agrarian village to a more industrious city, Amott says. It's where the emergence of working-class and middle-class residents swarmed to before cars led to the creation of suburbs.
Some of the homes are farm-like estates because they were built while Liberty Park was still a farm, while some of the slightly-pricier homes were built on the main blocks in the neighborhoods. The other working-class homes were constructed inside courts built into the blocks on miniature roads that still exist in the area today.
What ultimately happened is, it meant a bank president could live next door to their plumber, Amott explained. Every house has a different story from a family living a completely different life. Simon Bamberger, who would go on to become Utah's governor, even built his home in the northern edge of Central City in 1888.
"It's really the residential heart of Salt Lake," he said. "You have one-off houses built by families, built by individuals throughout the neighborhood, which adds a lot of charm and a lot of interest in the neighborhood that just doesn't exist elsewhere because of the development patterns that were unique to this neighborhood and really replicated only in a few places outside of this in Salt Lake."
Central City now
This neighborhood dynamic still exists even as some of the historic homes in the general Central City neighborhood disappear to make way for large-scale apartments, particularly in the northern end of Central City between 500 South and South Temple.
---
You can't guess what someone does for a living or what they do because of the house they live in.
–Bernie Hart
---
The Harts beam as they talk about their neighbors: a group of musicians next door, a ski patrol official in another and a college professor on the other end of their cozy backyard. The way they share equipment and resources with their closest neighbors is reminiscent of small, close-knit neighborhood within a larger city.
In short, the neighborhood hasn't really changed over time, even as the city has.
"It's about people. I guess the housing defines the population that lives here in the neighborhood," Bernie Hart says, explaining the area isn't a stereotypical idea of what a suburban neighborhood should look like. "Here, it's so diverse. You can't guess what someone does for a living or what they do because of the house they live in. ... You have that certain mixture that brings a certain character to the neighborhood."
Touring the neighborhood
Saturday's tour offers people a window into the neighborhood. It features about a half-dozen homes in the district, which offer varying degrees of historic designs. People on the tour get to learn about the interior and exterior of the homes and their history. The Trolley History Museum is also included on the tour.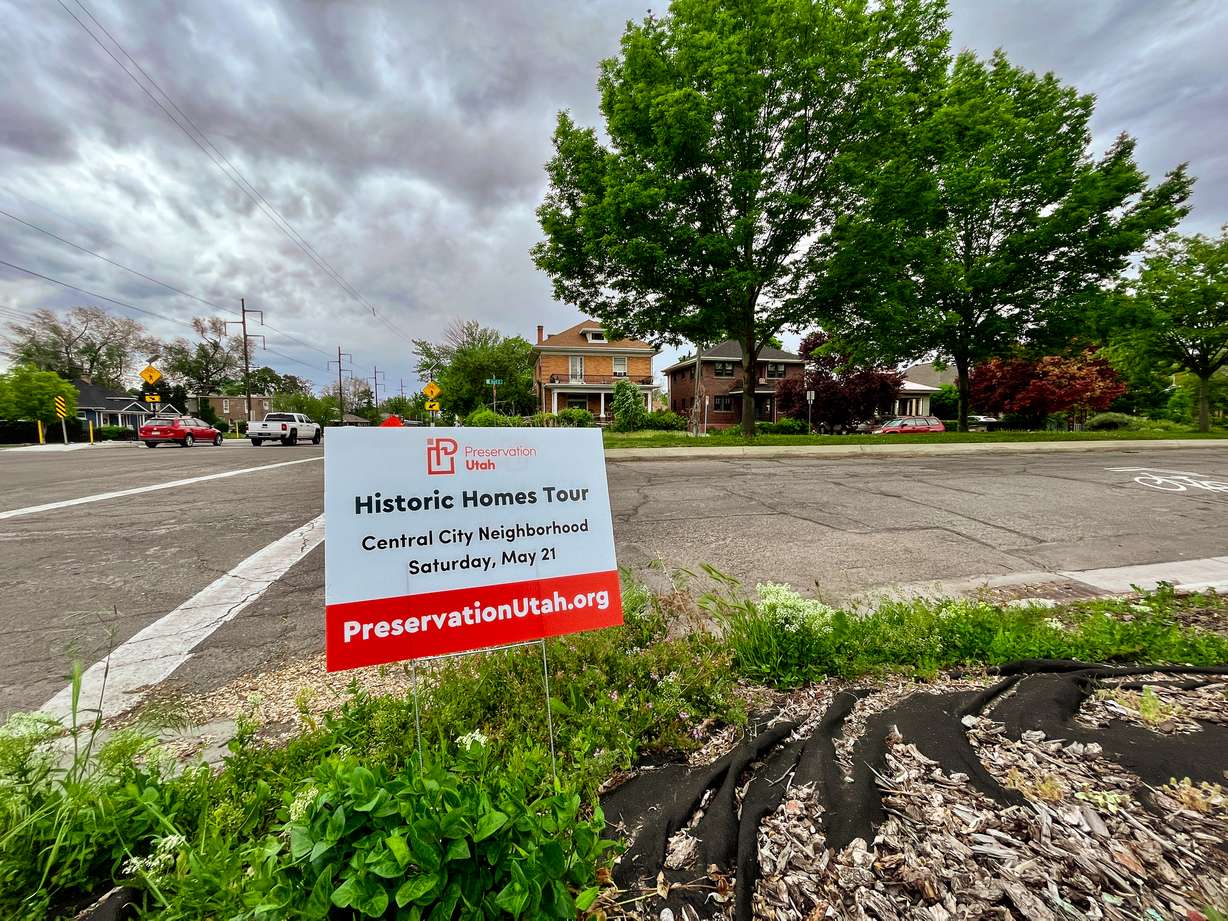 Preservation Utah will set up its operations from Wasatch Community Gardens, 629 E. 800 South, at the starting point beginning at 10 a.m., where people can then walk the tour of the neighborhood. Tickets are $25 online ahead of the event, but can also be purchased on the day of the event before it wraps up at 4 p.m.
Amott admits this year's tour may be one of the strongest "advocacy-bent" historic homes tours. That said, he understands that some of this history will have to go because it's impossible to keep Central City "under a glass dome."
The tour is meant to view what's still standing so that people will look at it with a different lens and appreciate what makes it special.
"We're trying to bring people into the neighborhood and put them in a context where they have an occasion to actually look at the architecture and understand how this unique slice of Salt Lake evolved and grew over time and continues to evolve," he said. "This is an area that has unique treasures, unique flavor and unique texture. That's what we're really hoping to call attention to through this tour."
×
Photos
Most recent Salt Lake County stories