Estimated read time: 6-7 minutes
SALT LAKE CITY — There's something about fireflies that Christy Bills finds magical, especially when she sees them dance around in the night sky.
"They look like stars that have fallen from the sky and are twinkling on the ground," says Bills, the invertebrates collections manager at the Natural History Museum of Utah. "They're so exciting to see."
Yet up until about a decade ago, there wasn't really anything known about fireflies in Utah. Bills kept hearing stories from people who said they have seen the beetle species in different places across Utah; the natural history museum has firefly specimens dating back to 1929, showing that they've likely been around at least for nearly a century, if not more.
She had also heard from others who weren't aware fireflies were even real, which seemed to indicate they could only be found within pockets of the state.
Her fascination with the insect — paired with a growing list of stories about them — prompted her to want to understand its role in the state, which certainly wasn't known before she helped launch the Utah Firefly Citizen Science Project in 2014. Now nearly a decade later, she can definitively say that fireflies have a place in Utah ecology — but there's still so much to learn about why they are here and what their role is in the state.
The ever-expanding project is likely to have a major role in answering those questions in the future.
Fireflies in Utah and the West
Bills started unofficially tracking likely firefly locations in Utah well before she helped launch the 2014 project. In an age before Google Docs, she wrote down all the stories people told her about firefly sightings in the state. People told her about sightings across eastern and central Utah. One person tipped her off about a sighting in Tooele County, too.
"There were just a few locations," she recalls. "I was very curious about these populations."
She eventually came in contact with BYU biology professor Seth Bybee, who also had already conducted some research on the species elsewhere in the world. He told her about locations by Utah Lake; the conversation was enough to spark a plan to actually record Utah firefly sightings.
---
It's exciting that a few scientists have been able to pull this data together, but it's really the work of hundreds of mostly Utahns — some people in other states, but a lot of Utahns — giving us this information.
–Christy Bills, Natural History Museum of Utah
---
They called on Utahns to report their sightings online so they could map everywhere people saw fireflies in Utah. This idea resulted in scores of reported sightings across the state over the past eight years, from Bear Lake at the northeast end to areas by St. George in the southwest.
Most of the sightings reported so far are in the Wasatch Front area, which isn't much of a surprise given more people live in the region, so there's a greater likelihood of reported sightings. Overall, the project has uncovered "credible" firefly populations in 27 out of Utah's 29 counties, according to Bills.
"That's a lot more than we had anticipated at the outset," she said. "We were hoping to find a few more populations, and it turns out they are actually quite common throughout the state. ... We definitely found out there are a lot of fireflies in Utah."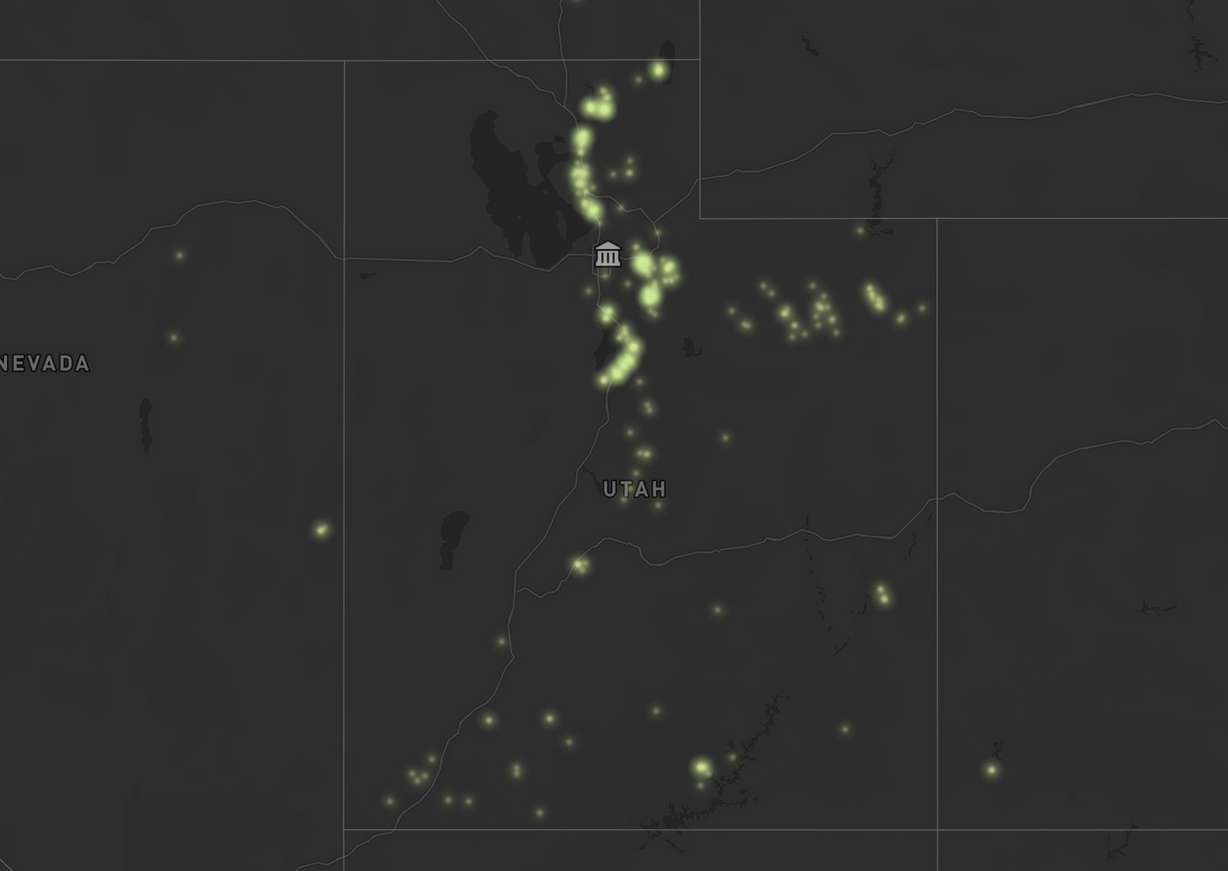 A little bit is also known about when they're found. It seems that the best time to find them is between late May and early July, though this year's season started a few weeks late.
In 2019, Bills and Bybee decided that Utah wasn't enough. They renamed their experiment and expanded it to places throughout the West. The Western Firefly Project resulted in additional firefly sightings in neighboring Colorado, Idaho, New Mexico, Nevada and Wyoming over the past few years.
The ongoing mysteries of the West's fireflies
In solving the major question over the existence of fireflies in Utah and the West, researchers ultimately realized they opened up many more questions that are yet to be answered — mainly what is their role in the region's ecosystem and how do sightings now differ from the past?
Researchers want to know what types of habitats they thrive in, what kind of water quality helps them most and the types of light they can tolerate, or what type of role their existence plays in the region's food chain. It's not clear what their Western range is or why they're seemingly more prominent in Utah than in places like California, Idaho, Montana and Oregon, despite the efforts to find them in those much wetter states.
The life cycle of fireflies in the region is a mystery. Bills also doesn't really have a scientific explanation as to why fireflies emerged across Utah unusually late this year. It seems to indicate that weather patterns dictate when the insect can be seen lighting up the night sky.
"It's going to take a lot of years of data before we can understand what their habitant patterns are," she said. "There are so many questions we need to ask."
The point of the Western Firefly Project now is to help answer these new questions. It's developed partnerships with Southern Utah University in Cedar City, the Canyon Country Discovery Center in Monticello, the Albuquerque Biological Park in New Mexico over the years, as well as other educational partnerships in Idaho, Montana and Wyoming.
More research funding, research workers and "other types of thinkers" are likely needed in the future too, Bills said.
However, regular, everyday people remain at the heart of understanding fireflies in Utah and across the West. This is why the project continues to ask people who live in Utah, Arizona, Colorado, Idaho, New Mexico, Oregon and Wyoming to report their firefly sightings.
With an expanded list of unanswered questions, researchers are even "super interested" in any memories people have of seeing fireflies in the region decades ago because it can help figure out shifts in habitat ranges. The same goes for sightings that happen annually in certain places, or the different times of the year people find fireflies.
"It's exciting that a few scientists have been able to pull this data together, but it's really the work of hundreds of mostly Utahns — some people in other states, but a lot of Utahns — giving us this information," Bills said. "That makes it really, really cool because the science is being created by ordinary people who are excited about the natural world."
×
Related links
Related stories
Most recent Outdoors & Rec stories