Estimated read time: 4-5 minutes
SALT LAKE CITY — Salt Lake City's International Market opened for the first time on Saturday, with vendors selling food, jewelry, clothing and art.
Before it had been open for a full hour, almost every vendor had people they were talking to and lines were growing.
The International Market, located at the Utah State Fairpark, will be open from 2 p.m. to 8 p.m. about once a month on selected Saturdays through October. But organizers anticipate it to grow and be held more frequently in the next year as more vendors and customers become involved.
"This is one of these developments that it's impossible not to cheer on. It's an opportunity for the talent we know lives here to show off what it can do," said Victoria Petro-Eschler, the Salt Lake City Council member who represents the district in which the market is located.
She sees the market as an opportunity for the rest of the city and the state to experience the diversity of the west side of Salt Lake City.
Petro-Eschler said that organizers are targeting vendors from the area and took steps to ensure local businesses and entrepreneurs are represented. She is excited for people in the community from different cultures to help solve issues in food availability and grow their businesses at the same time.
"Giving them the chance to profit off of helping with the solution is just a really beautiful cycle," the councilwoman said.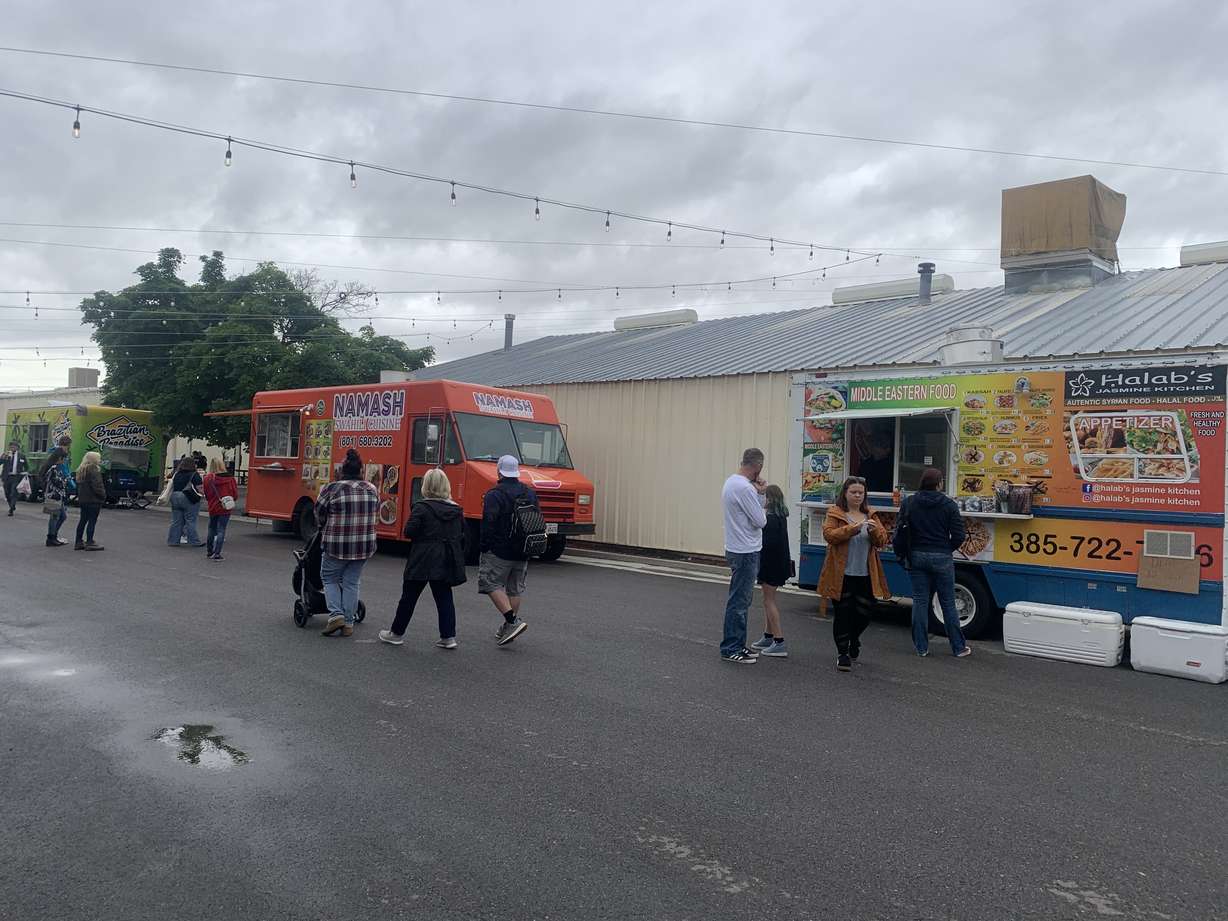 Larry Mullenax, the executive director of Utah State Fair, said residents have expressed interest in a market on the west side of the city. He said the market is designed to help aspiring entrepreneurs, bring different cultures together and lift people up.
Mullenax said this week they had about 35 vendors in addition to food trucks and indoor food booths. The next market, which will be on June 18, will have even more vendors.
The city was looking at ways to create new events on the west side of Salt Lake City and address a disparity between the amount of money spent on the west side compared to the east side of the city. A local consultant did a feasibility study regarding a market, which had promising results, he said.
"It turns out, it was a really good fit for a market on the west side to help the west side community," Mullenax said.
Mullenax said the Food and Drug Administration has defined the area as a food desert because of the lack of availability of fresh foods and grocery stores, based on income and transportation. As the market grows, organizers are hoping to offer fresh meat and vegetables to address this issue even further.
Dave Lewis, the chairman of Utah Fair Parks boards, said there are a lot of housing units being added to the area making the need for available food more significant. However, this market has the potential and space to grow into different buildings and areas at the fair park.
---
We want to grow it organically over time, but hopefully, in a couple of years, this will be a place where you can come ... during the week.
–Chris Wharton, Salt Lake City Council
---
Lewis said organizers are planning to expand slowly, but that they will expand to meet the demand. "We think it will grow and develop over time and become something that's really, really nice for the community," he said.
A long-term goal is to have the market open every day. Mullenax said that they hope to incorporate activities already at the fair park into the International Market and create a unique place to gather that will represent the state for visitors.
Mullenax said they have partners to help entrepreneurs participating in the market learn about financing opportunities and how to get their products to retail, which will help the vendor businesses grow.
"Hopefully, if we do our jobs right, this will become a stepping stone for those people that want to take their products to retail," he said.
Chris Wharton, another member of the Salt Lake City Council, said it is important to have a place where people can get food and crafts and also have an experience.
"We want to grow it organically over time, but hopefully, in a couple of years, this will be a place where you can come ... during the week," Wharton said.
He said it will take some time for the event to grow into the space, but that they already have plans for it to continue growing even further.
×
Photos
Most recent Utah stories