Estimated read time: 2-3 minutes
SALT LAKE CITY — More than two-thirds of Utah is now in "extreme" drought, as the state's drought intensifies ahead of meteorological summer.
The U.S. Drought Monitor on Thursday listed nearly 72% of the Beehive State in its "extreme" drought status, which is the second-most dire category. All but 0.14% of the state is listed in at least "severe" drought.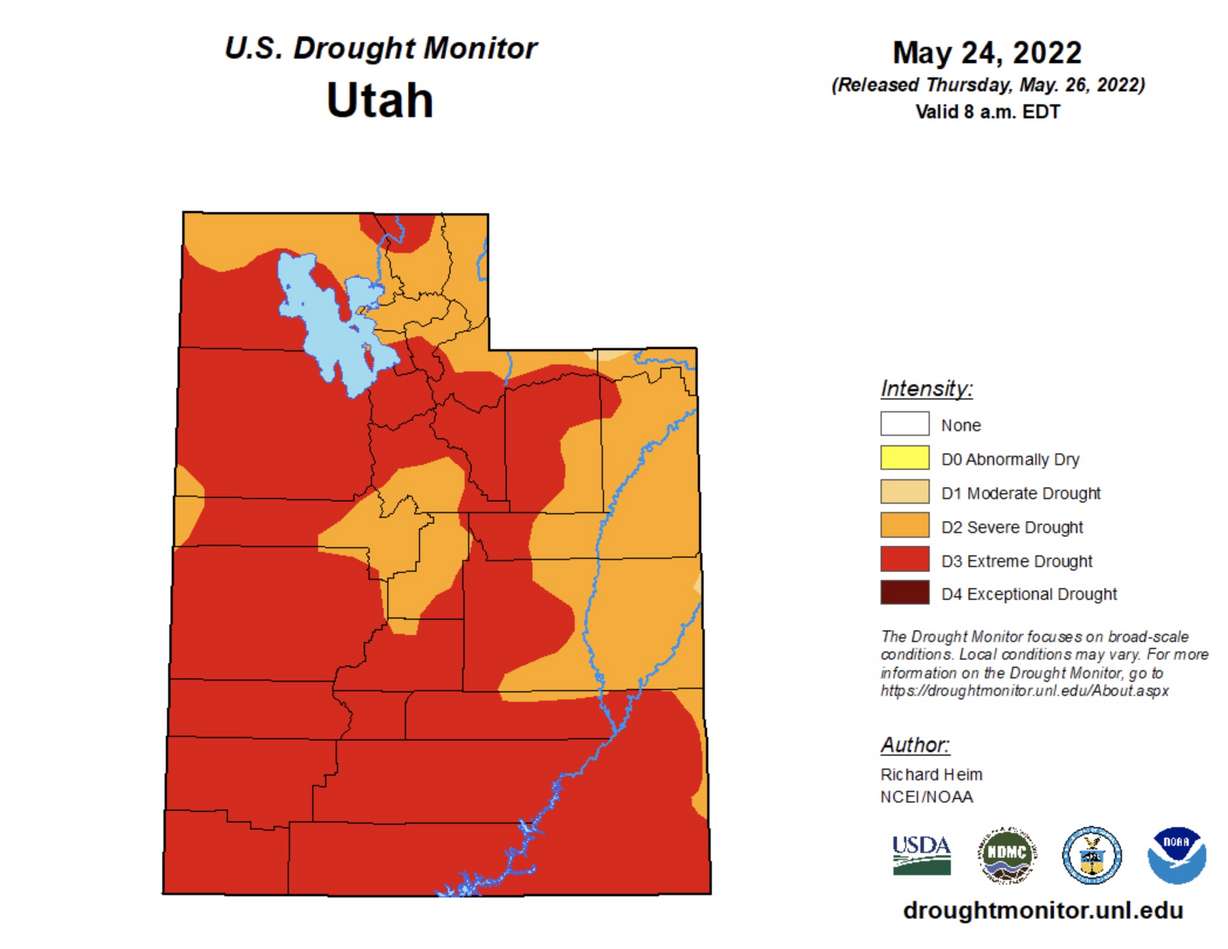 The rise in drought intensity isn't much of a surprise, given that Utah is currently on pace for its third-driest year on record. Spring is typically the wettest season in Salt Lake City; however, the capital city is currently 2.41 inches of precipitation lower than the spring normal, with less than a week left in the season.
What may be surprising is how quickly the drought intensified as a result of the below-average moisture this spring. Only about one-third of the state was listed in "extreme" drought three months ago. It had climbed to about 44% by early May, before it jumped by nearly 30 percentage points in the last few weeks.
Thursday's report also notes that Utah is one of the places at the center of again facing short- and long-term drought impacts. This is seen in drying conditions on land and Utah's low reservoirs, which are currently listed at 63% of capacity statewide, according to the Utah Department of Natural Resources.
"As we approach Memorial Day weekend, I urge residents to use good Fire Sense and check for impacts, such as boat ramp closures, before heading out to state parks," said Brian Steed, the agency's executive director, in a statement. "When recreating at Utah's beautiful reservoirs, remember, our reservoirs aren't just for fun, they store our water and help get us through drought."
Rain on the horizon
There is some help on the horizon to help lessen the intensity of the drought a little.
A storm is forecast to arrive in Utah before the end of meteorological spring, producing rain for a large chunk of Utah over this holiday weekend. The storm, first arriving Friday morning in some parts, has the potential to deliver up to 1 inch toward the spring precipitation deficit across the Wasatch Front over the long weekend, according to KSL meteorologist Matt Johnson.
"This would be huge if we could get that," he said.
It will also lower high temperatures into the 60s by Sunday after Salt Lake City broke a 64-year-old daily record Thursday by surpassing 92 degrees.
The National Weather Service Climate Prediction Center's long-range forecast for the summer also offers hope, stating most of the state has "equal chances" of a wet or dry summer instead of leaning toward a dry summer statewide.
×
Related stories
Most recent Utah drought stories