Estimated read time: 6-7 minutes
This archived news story is available only for your personal, non-commercial use. Information in the story may be outdated or superseded by additional information. Reading or replaying the story in its archived form does not constitute a republication of the story.
SALT LAKE CITY — The 2030 Winter Olympic and Paralympic Games would bring the world's best athletes to the Beehive State and carry a significant economic impact for the state.
"What's nice about the Olympic games being brought to a community is we can count on a certain amount of boost to our economic situation," said Fraser Bullock, president and CEO of the Salt Lake City Committee for the Games. "We'll have this extra layer of economic activity that we'll be able to rely on, even if there's a downturn in the economy like we experienced in 2000."
The University of Utah Kem C. Gardner Policy Institute Newsmaker Breakfast on Tuesday focused on short- and long-term economic impacts the Games would have on Utah's capital city, as well as job growth and economic output. Currently, Salt Lake City is vying to host the 2030 or 2034 Winter Games.
A recent economic study completed by the institute estimates that the 2030 Winter Olympic Games will have a $3.9 billion economic output contribution to the state.
"This is the equivalent of a sales number; it captures the gross amount of economic activity," said Natalie Gochnour, director of the Kem C. Gardner Policy Institute.
It is also estimated to bring in about 30,000 job-years of employment and an impact of $1.5 billion in personal income.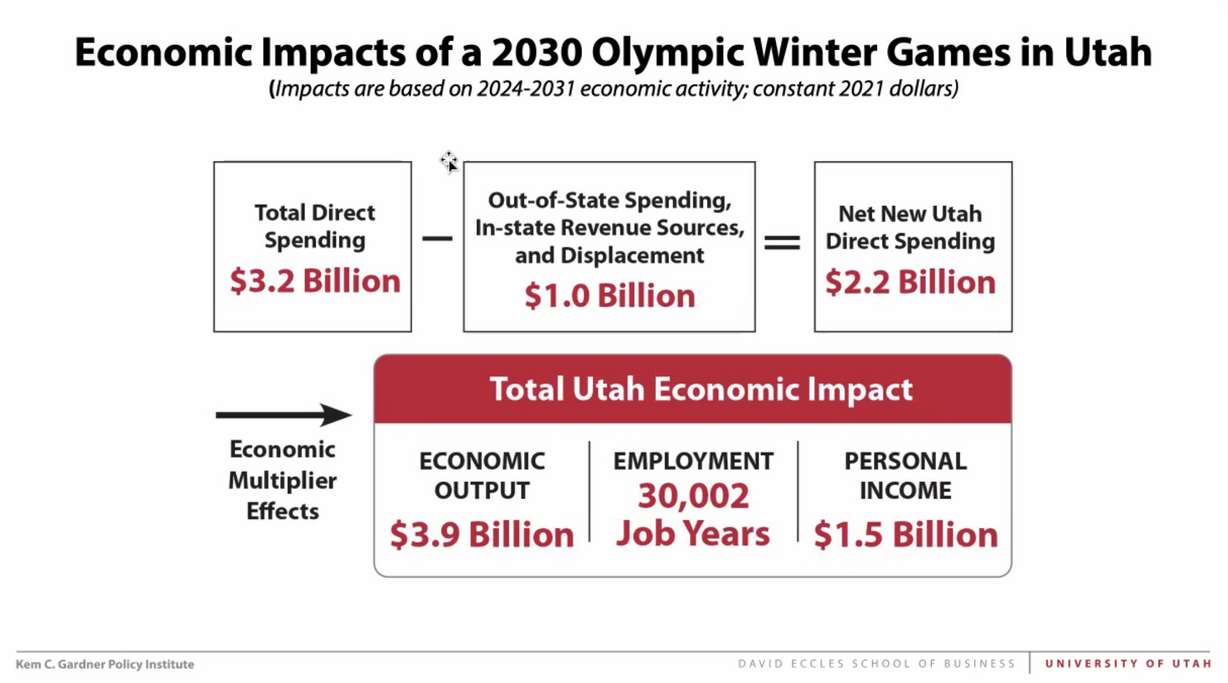 As far as new spending goes, the 2030 Winter Olympic Games in Utah would include an estimated $3.2 billion in direct expenditures from broadcast rights, visitors, federal security expenditures and other sources. These expenditures are offset by out-of-state purchases, in-state revenue sources and displacement of skier visits.
Additionally, the games are estimated to generate $22 million in net state revenues and $42 million in net local revenues.
"These are solid economic numbers," Gochnour said. "We've done this before (and) we are real experts at understanding the economic impacts."
Lessons learned from 2002
Bullock said that while the economic impact of the 2030 games is estimated to be less than that of the 2002 games — namely due to infrastructure that had to be put in prior to the games — it will still carry a "significant" boost to the economy.
The investment in infrastructure capital in 2002 was upwards of $450 million; in 2030, those investments are expected to be closer to $25 million, Gochnour said.
While this is a negative in terms of economic impact, it actually boosts Utah's bid for hosting the 2030 games since all of the infrastructure is already more or less in place.
"The only capital that we need to do are just some ongoing maintenance and upgrades at our existing venues, shading systems at the track, and various other things like that that will make sure that our venues are completely up to date and ready for the games in 2030," Bullock said.
This reality is also what may separate Salt Lake City from other cities looking to host the games, notably Sapporo, Japan, and the "huge costs" that it could face hosting the 2030 games.
"We think our particular bid is very strong from many, many aspects," Bullock said. "Including the experience and the existing infrastructure we have in place."
He added that he expects to know by early 2023 if Salt Lake City is in a "targeted dialogue" with the International Olympic Committee — meaning that the IOC is interested in working out a contract with Salt Lake — prior to the games being awarded in May 2023.
"In every way, we're stronger and we don't have to make any of those infrastructure investments," Bullock said.
Managing risks and protecting Utah's interests
The events of 9/11 loomed large over the 2002 Olympic Games, and Bullock said that the Salt Lake City Committee for the Games is focused on having "flexibility" around the games.
"We don't know what's going to happen and we forecast for everything we can imagine," Bullock said.
The first step in doing this lies in contingency planning and trying to foresee different events that could alter plans, such as a pandemic.
"We have, in our budget, a $200 million contingency item because we know that things happen. And we had a similar number back in '02, and we work through that, but we had a surplus even though we had the negative impact of 9/11," Bullock said.
---
It's very contagious — the good things that come from the games.
–Natalie Gochnour, Kem C. Gardner Policy Institute
---
The second thing the Salt Lake City Committee for the Games does is create flexibility in contracts such as venue-use agreements, where they've agreed to pay rent for the use of a facility for the Games.
"Rather than contracting those and guaranteeing payment today if we're awarded the games, we have the ability to exit those contracts, — whether they're hotel rooms and use agreements — as late as the September before the Games," Bullock said. "If something has happened, we want to have flexibility in all of our contracts to be able to manage through that."
Additionally, the Salt Lake City Committee for the Games has cancellation or postponement insurance built into their budget. Bullock said that they've spent $2.5 million for a $150 million policy of games cancellation or postponement insurance.
"We believe through the contingency in our budget, through flexible contracts both on the revenue side and on the cost side, and through games risk insurance, that we can cover it because we know our obligation is to protect the Utah taxpayers," Bullock said.
Balancing the Games with growth
Gochnour noted that there is both frustration and optimism associated with the growth Utah is experiencing.
When she asked Bullock how he thinks about Utah's growth challenges in relation to the 2030 Olympic Games, he said he expects the long-term impacts on the state to be less substantial than the temporary impacts it will carry. Bullock further noted that Utah is "already on the world map," after the 2002 Olympic Winter Games and thanks to the bustling technology and innovation sector in the state.
When looking at Utah's employment base, Bullock said, the 6,000 to 8,000 full-time jobs — lasting more than one year — brought in for the games are more of a temporary boost.
"When put in that context, it's really this temporary boost to be able to welcome the world (and) do something really special for the world," Bullock said. "In terms of long-term economic growth, I don't see that it's going to have much of an impact because this really is a temporary element."
Beyond economic impacts, Gochnour said that after experiencing the 2002 Games, she saw the positive aspects of hosting an event of that magnitude permeate themselves into other aspects of Utah's society.
"What I see is a community that has a vision, a community that knows it's a winter sports capital, a community that knows it can do these things in a very competent way and as we do that, we're able to expand that into other parts of what we do in Utah," Gochnour said. "It's very contagious — the good things that come from the games."
The full report from the Kem C. Gardner Policy Institute can be found here.
×
Most recent Utah Olympics bid stories