Estimated read time: 4-5 minutes
SALT LAKE CITY — It may seem odd for Salt Lake City transportation experts to gravitate to 200 South as they look to redesign major corridors.
It doesn't have the same name recognition as Main Street, State Street or South Temple but it is the heaviest-trafficked city road in terms of public transportation. And given the rising number of housing projects along it, including what will soon be the tallest building in Utah, 200 South is quickly turning as residential as it is urban.
All of this is why it's now in the process of receiving a major makeover to reflect how the street is used now and how it will be used in the future.
"It's a very busy corridor and a very important part of our town," said Kyle Cook, a transportation engineer for Salt Lake City's transportation division.
City officials first announced their intentions to revamp 200 South back in 2020 with funds generated from 2018 Funding Our Future bond, sales tax, as well as other government resources. The redesign they ultimately settled on calls for a mix of new components, including new bus lanes, facilities for people with all abilities, mid-block crosswalks and buffered bike lanes from 900 East to 400 West. It will still have space for street parking and freight delivery among its current uses.
Construction began Monday on the first portion of the project: 900 East to 200 East, which will hamper transportation in the area throughout the summer. Crews will replace the current roadway and sidewalks to reconfigure them, much like the ongoing 300 West project in the southern part of the city. The first phase is projected to be completed in October.
Importance of 200 South
Most of the changes reflect 200 South's importance in public transit, as Utah Transit Authority bus routes 2, 6, 205 and 220 all use it at some point in the stretch of blocks the city is revamping. These routes offer east-west connections within the city and other parts of the valley, like Murray and Sandy.
It's a major corridor because it's close to UTA's intermodal hub and Salt Lake Central Station FrontRunner stop. The bus routes are especially popular during the school year for students living in the city or county, who commute either to the University of Utah, Neumont College of Computer Science or Ensign College.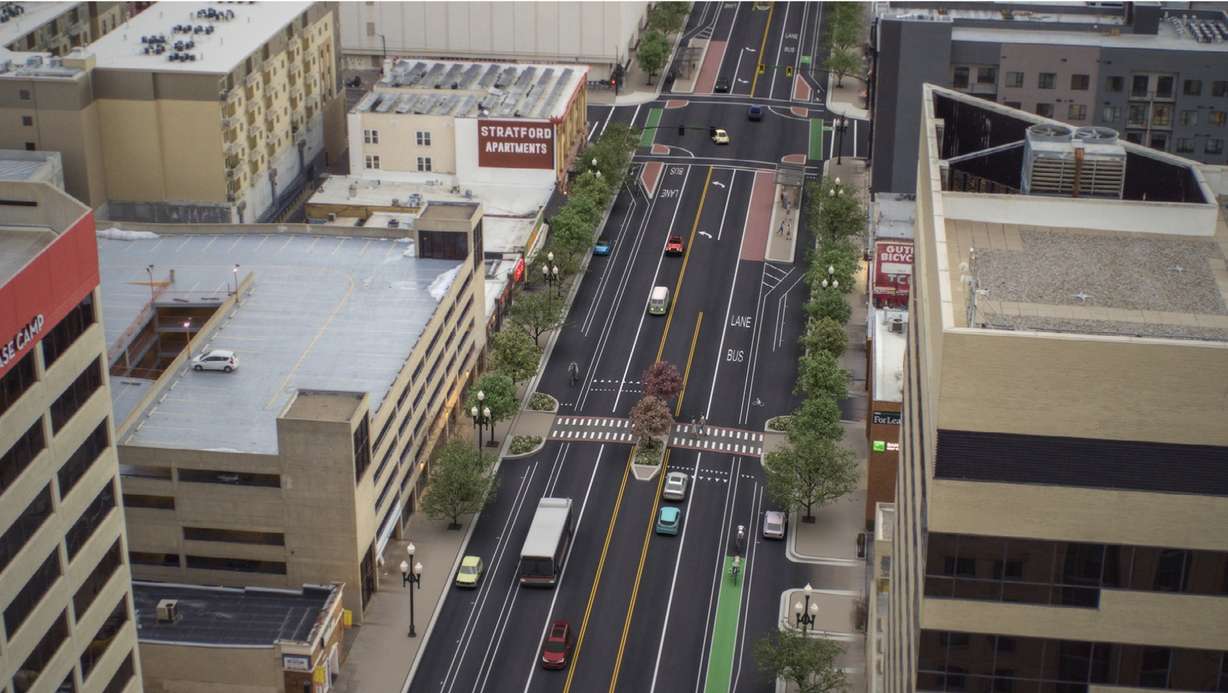 Some of these routes will change. UTA has proposed changes to its routes, which would drop Route 6 altogether but it would move Route 209 onto 200 South in a portion of the project area. Route 205 would also be extended to include Salt Lake City's west side. Cook added that future plans include connections to the southern part of Davis County, as well.
"It's really kind of a strategic backbone corridor for the region, not just for the city," he said. "We're trying to balance all these things but really make bus transit work well on this corridor."
Construction impact
With construction now underway, the routes that use 200 South have been temporarily rerouted onto 100 South in the project areas. The road will continue to have at least one lane open in each direction but Cook recommends drivers avoid using 200 South as much as possible, unless they live on the street.
City transportation officials timed the project to work alongside Dominion Energy, which is currently replacing a gas pipeline buried below 200 South. They started construction before the road redesign project began and will continue to replace the pipeline ahead of the city replacing the road above it.
But the division decided on breaking road construction into two parts because of other projects already happening in the area this summer. Salt Lake City Public Utilities and the Utah Department of Transportation are working on replacing the water pipeline on State Street. There's also that 300 West redesign in its second year of construction. At the same time, there's plenty of private downtown development impacting roads and sidewalks.
"The big reason we started on the east side is like, 'let's not jump in and make all of that worse, let's try and create some breathing room for these other projects to happen,'" Cook said.
More details about the project and the impacts it will have on residents can be found on the city's website. Meanwhile, the second phase of revamping 200 South — from 200 East to 400 South — is planned for next year.
×
Photos
Related stories
Most recent Utah transportation stories