Estimated read time: 4-5 minutes
LOGAN — U.S. Secretary of Agriculture Thomas J. Vilsack told a story Thursday about a magician who proved to a king that time could disappear.
The magician did so by taking the king to spend time in the fields and streams outside the kingdom where they frolicked for hours, which felt like minutes, until a servant from the kingdom came out to advise the king that his supper was ready.
"As I thought about this story, it occurred to me that it provided a simple way to identify your passion," Vilsack told the 135th graduating class at Utah State University. "What is it that you meaningfully do where time itself does not matter? Where the hours turn into minutes and minutes into seconds?
"If you can answer that question, I believe you will have found your passion and I would encourage you to follow it because it will take you many great places," he said.
As the commencement speaker for USU's class of 2022, Vilsack spoke to the crowd of students gathered at the Dee Glen Smith Spectrum about the importance of finding a passion before moving into the biggest focus of his address: resiliency and perseverance.
"I offer that true resilience, whether in a person or community or nation, requires a belief and a faith in something better and the confidence and capacity to make it happen," Vilsack said.
By putting in the long hours and work necessary to graduate, Vilsack said that the class of 2022 has the capacity and the skillset to "make that better day happen" and that he believes in this generation as "America's resilient generation," due to experience and knowledge developed "growing up in this time of great disruption."
He also acknowledged that true resilience requires purpose, and that there's no better example of the power of purpose in the world today than in Ukraine.
"Faced with a bigger, stronger and more powerful enemy, Ukraine continues to survive and hopefully one day will prevail — why?" Vilsack asked. "Resilience. The people of Ukraine are resilient because they have a purpose that fuels their fight and their sacrifice."
He said that he believes their purpose is as simple as it is profound: "They simply want to be a free and self-governing people," Vilsack said.
With that, the secretary of agriculture expressed his desire that as this year's graduates move into the world, they remember the lessons being taught by the people in Ukraine to contribute to a more resilient and stronger America.
He offered three capacities in which he believes the "resilient generation" can build a stronger country.
The first, he said, is taking on a career in public service.
"There are a growing number of public service opportunities at every level of government that enable you to contribute to a more resilient America," he said.
He added that at the U.S. Department of Agriculture, only 7% of the workforce is under the age of 35 and that more than 50% of the workforce is at or near retirement.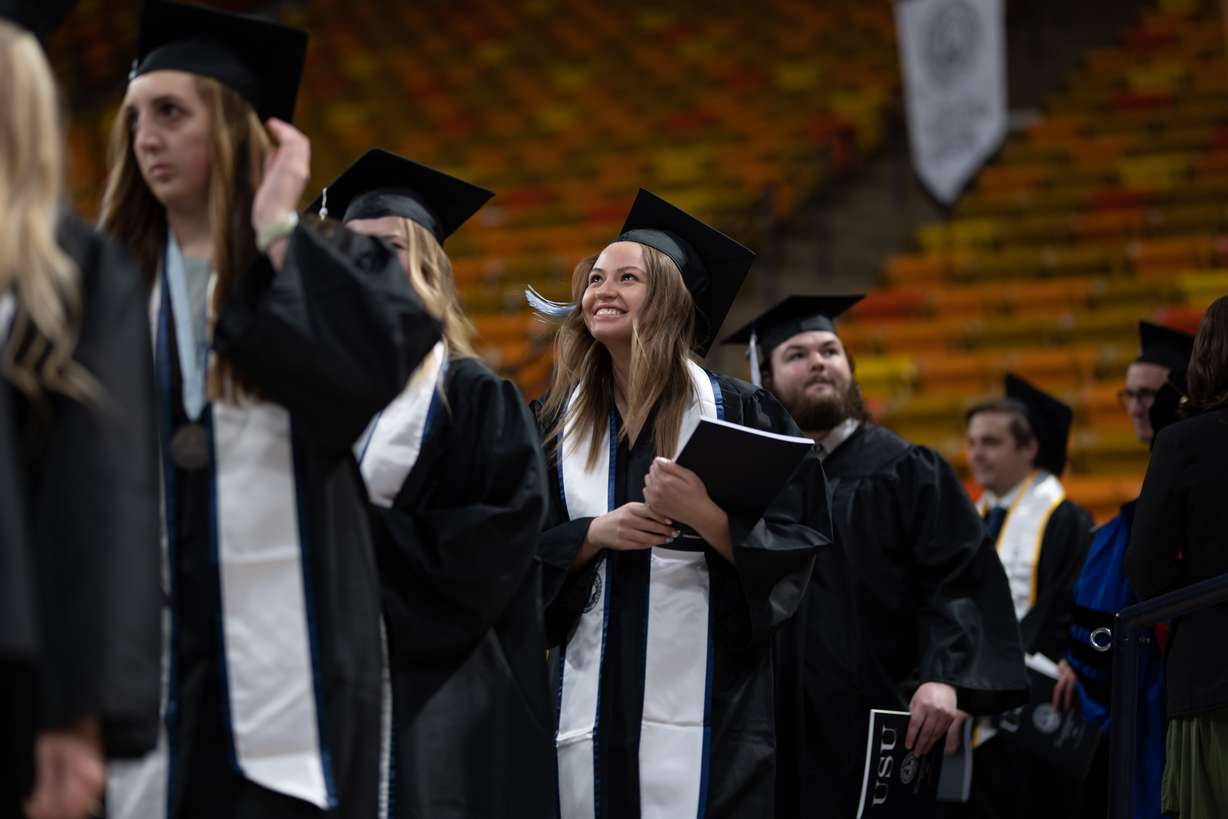 "Whatever you do, think about how that single act or the summation of all those acts may prove beneficial to the greater good. From the small daily act to the larger life decisions you'll face, look for ways to serve," Vilsack said.
The second capacity he presented the graduates with was working in the climate space.
"We all know climate change will challenge life as we know it," Vilsack said. "From farm to factory, adaptation and mitigation efforts and technology need to be developed for America to lead a global effort towards greater global resiliency."
He added that the class of 2022's generation has to be "smarter and faster" than previous generations to mitigate climate change.
"At the USDA, we're creating a climate-smart commodity marketing effort. We're spending and investing a billion dollars to encourage farmers and ranchers and producers to help us learn how best to get agriculture ultimately to a net-zero future — you can be part of that," Vilsack said.
The third and final capacity Vilsack offered is becoming a community builder.
He talked about important events in United States' history, including surviving a civil war, emerging from economic depression, and saving the world from "unimaginable evil."
"In each case, we discovered the importance and significance of the power of acting together in a community to confront the challenge," Vilsack said. "We again face a time of disruption, but this time we do so as a divided nation."
He encouraged graduates to build a sense of community wherever they go, to look for ways to find common ground and be willing to listen and learn.
"I believe the resilient generation that you all are knows intuitively that the more united we are as a country, the more resilient we will be regardless of the challenge," Vilsack said.
Vilsack, along with philanthropist Lisa Ellen Eccles and former Utah legislator and USU alumnus Lyle W. Hillyard received honorary degrees during the ceremony.
Following the pomp and circumstance, USU awarded a total of 7,047 degrees to 6,588 students, of which 1,136 are graduate degrees and 5,837 belong to the undergraduate class.
Thursday's graduates included students from 49 states and 42 different countries, with 58% of graduates identifying as female and 42% identifying as male. The youngest graduate is turning 18 this year, while the oldest two graduates turned 69 this year.
×
Photos
Related stories
Most recent Utah higher education stories