Estimated read time: 3-4 minutes
PROVO — Every day when Paisley Harding reports to training camp with the Seattle Storm, she's reminded of the chance that an invitation to join the four-time WNBA champions represents.
On one side of her locker sits Sue Bird, the 12-time All-Star who just re-signed with Seattle for her 21st season. On the other sits Breanna Stewart, the former UConn star and two-time WNBA finals MVP.
"It's pretty crazy," said Harding, who signed a training camp contract shortly after wrapping up her fifth year at BYU this spring. "It's kind of intimidating, walking into that locker room. But they've been nothing but nice to me, willing to help me out.
"It really is surreal to be in the same presence as them and to learn as much as I can from them."
Under the guidance of Bird, Stewart and the rest of the Storm roster, Harding will try to accomplish the near impossible: earn a spot on the Seattle roster.
The odds may be stacked against her; the Storm added three players in the WNBA draft, all in the second round, in North Carolina's Elissa Cunane, Georgia Tech's Lorela Cubaj and Connecticut's Evina Westbrook. The trio also have their work cut out to make the final roster, which will be trimmed down after the team's final preseason game April 28 against Phoenix.
But because of the nature of WNBA roster sizes — and the ability for more women's basketball players to make more money overseas, particularly in Europe — roster spots have been hard to come by. In order for Harding to make the Storm's roster, she would need to beat out at least two draft picks and a current veteran on the team.
It's a roll of the dice — but one worth shaking.
Seattle was the site of one of the last training camp deals for a BYU star to try to catch on in the league when it drafted Cougars' all-time leading scorer Lexi Eaton Rydalch with the second pick of the third round in 2016.
Rydalch, who currently runs a basketball training service out of her hometown of Mapleton, survived the final cuts before the team ultimately waived her. That's the norm more than not.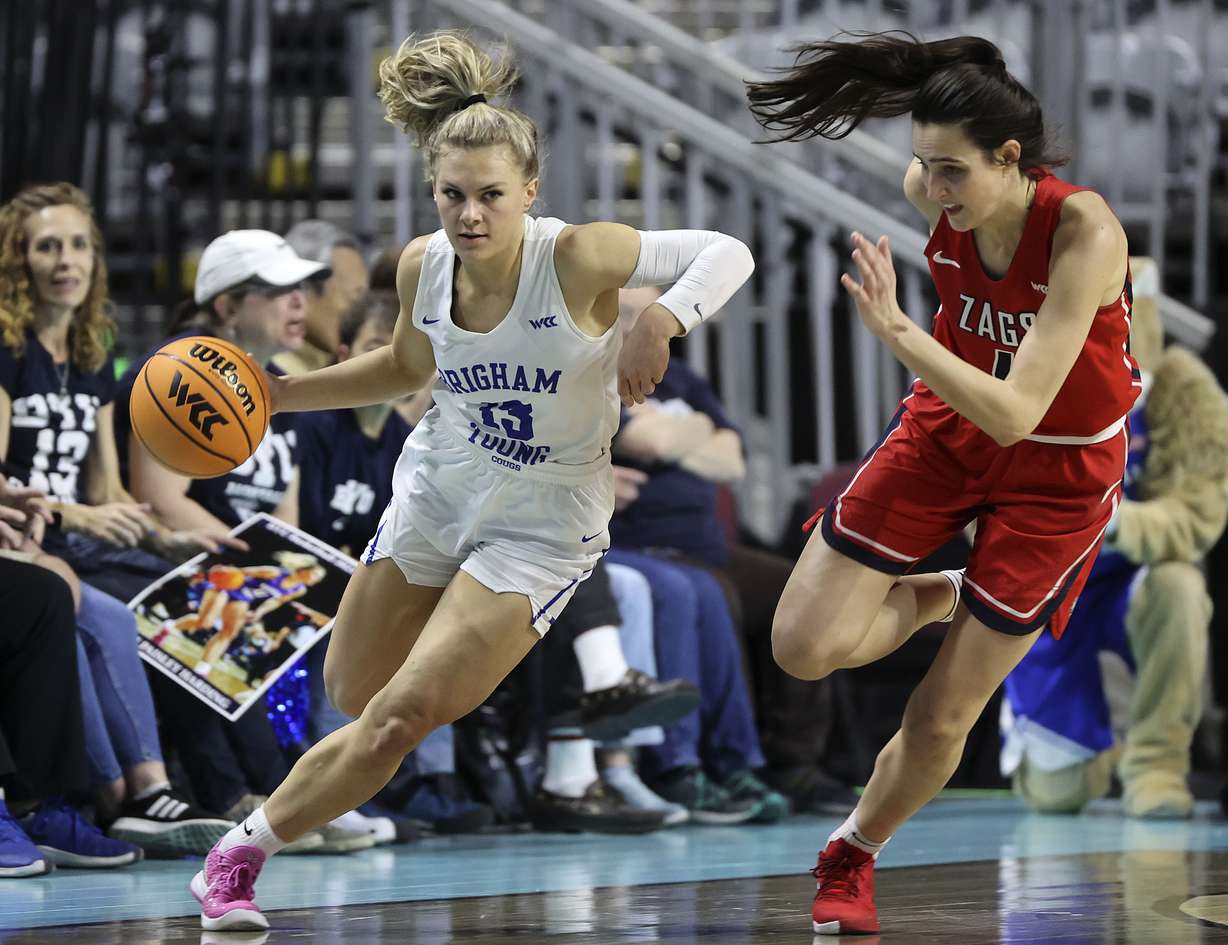 But Harding may have a secret weapon, or at least, a little extra reason for being. Not only did the three-time all-West Coast Conference first-team selection crack the Cougars' all-time top 15 in career scoring with 1,402 points, but she's also a Washington native. Harding grew up in Everett, a town of about 109,000 in Snohomish County, located roughly 25 miles from Seattle.
Never underestimate the willpower of the local kid trying to make a dream come true.
Harding (nee Johnson) grew up a Storm fan, and hopes to represent a success story for all of the girl basketball players following in her footsteps out of Glacier Peak High School.
"I kind of feel like a hometown hero for the girls back in Everett; we can make it out of a small town and make it to the WNBA," Harding said. "It's really nice to come back to Seattle and even be invited to training camp. I feel blessed to even get that opportunity."
She also has the experience of BYU to lean on, including the historic 2021-22 season where the team finished 26-4 with a 15-1 mark in WCC play that included the team's second outright regular-season conference title since joining the league a decade ago.
It also happened to be the final year of head coach Jeff Judkins, who retired after 21 years as the BYU women's basketball team.
More than anything, her time at BYU taught her one thing, more than just scoring, passing and defending, including owning her trademark ability to draw charges on defense.
"If you're going to play at a high level, you have to know how to work hard. I think college is the level that teaches you about that," Harding said. "There's a big step from college to the WNBA, but it's all about working hard, knowing your concepts, and getting ready for it."
×
Photos
Related stories
Most recent BYU Basketball stories