Estimated read time: 2-3 minutes
This archived news story is available only for your personal, non-commercial use. Information in the story may be outdated or superseded by additional information. Reading or replaying the story in its archived form does not constitute a republication of the story.
SALT LAKE CITY — Roads across Utah were coated in a layer of snow after moderate to heavy snowfall throughout areas of the state Sunday morning.
The Salt Lake City International Airport said the snow removal team has been out keeping runway traffic moving amid the snowfall. Flight Aware reported 330 delays and three cancellations due to winter storms.
Salt Lake City Erin Mendenhall advised drivers to stay safe and off the roads as the city's snowplows made their way through the city Saturday night.
That warning was reinforced Sunday by the Utah Highway Patrol asking drivers to slow down and plan ahead for wet roads. "This storm will be sticking around well into the week and when it isn't snowing it will be cold, which means icy conditions," UHP tweeted. "Plan ahead and get there safely."
As of 7 p.m., UHP reported that troopers had handled 114 crashes and over 169 public assists statewide.
Widespread snow and rain are expected across the state through Sunday night, according to a Utah Department of Transportation road weather alert. The department said the main road snow concerns would be across mountain routes in northern Utah and routes across the Wasatch Front as the band of snow travels through the state north to south.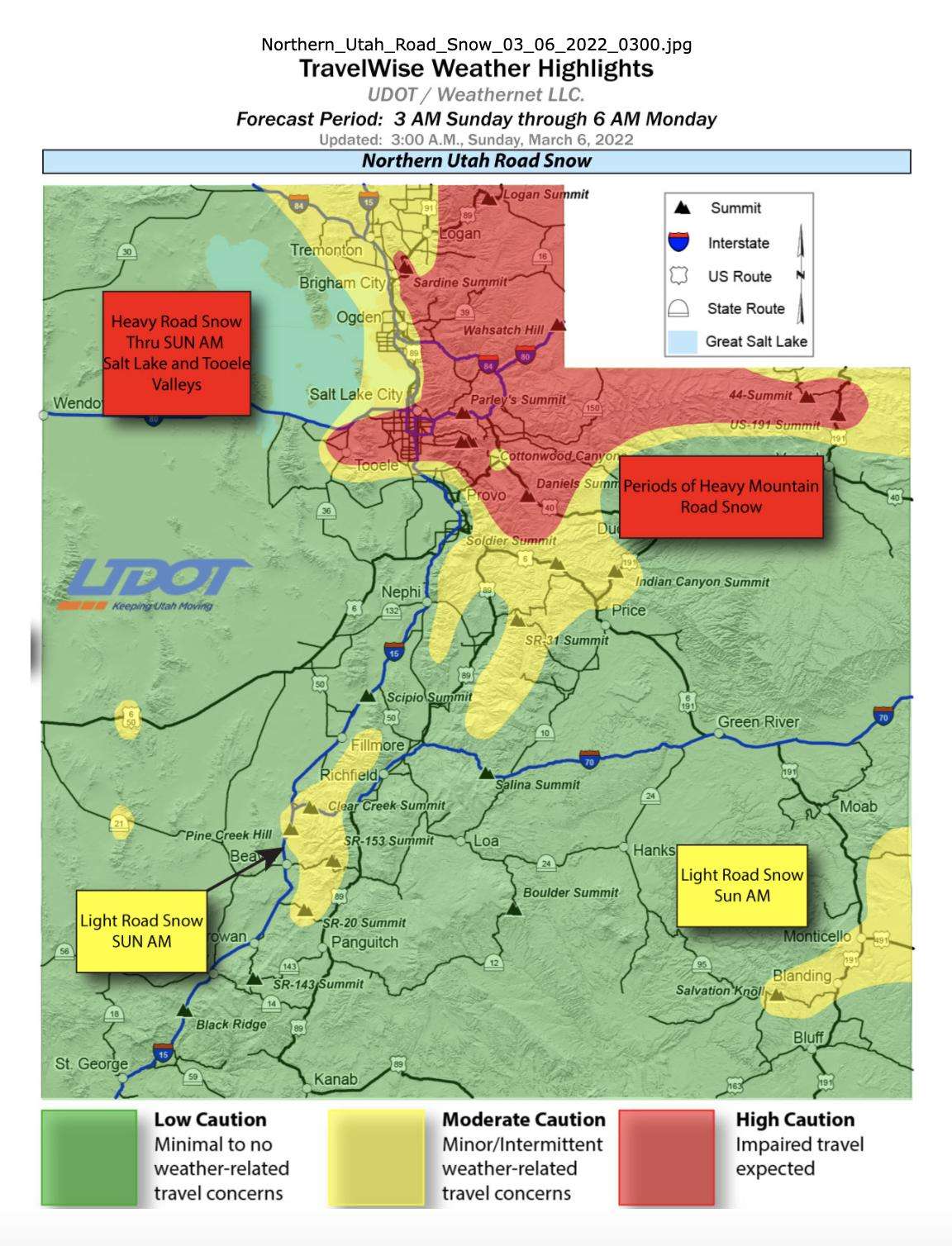 Traction restrictions were lifted around 2 p.m. for all vehicles traveling Big Cottonwood Canyon and Little Cottonwood Canyon, according to Utah Department of Transportation.
Salt Lake police were busy Sunday morning responding to a variety of weather-related hazards throughout the city.
Two people were transported in serious condition after a head-on hit-and-run crash near 420 S. Redwood Road, Salt Lake police said.
Officers are at a head-on crash near 420 S. Redwood Road. Not only were weather conditions less than ideal, we are investigating this as an impaired-driving, hit and run crash. Paramedics transported 2 people to the hospital in serious condition. #slc#utwx#saltlakecity#slcpdpic.twitter.com/UzxRly1rzn

— Salt Lake City Police (@slcpd) March 6, 2022
Police said that although weather conditions are "less than ideal" they are investigating the collision as an impaired driving hit-and-run crash.
Officers also responded to downed wires around the city, including a fallen tree on a utility wire that created a small fire.
Rocky Mountain Power reported more than 6,300 customers in the Salt Lake City area were without power as of noon Sunday. By 7 p.m., it was down to 2,575 customers without power.
Crews were responding to the scattered outages throughout central Utah caused by the winter storm, the company's website said. The website also advised customers to treat any wires downed by the storm "as live and dangerous."
Northeast Bountiful City experienced an outage due to an open breaker in a substation. Power was restored about 9:42 a.m., according to the city.
This story will be updated.
The roads are wet, please slow down and give yourself extra time. This storm will be sticking around well into the week and when it isn't snowing it will be cold, which means icy conditions. Plan ahead and get there safely.

— Utah Highway Patrol (@UTHighwayPatrol) March 6, 2022
×
Related stories
Most recent Utah stories