Estimated read time: 2-3 minutes
This archived news story is available only for your personal, non-commercial use. Information in the story may be outdated or superseded by additional information. Reading or replaying the story in its archived form does not constitute a republication of the story.
SALT LAKE CITY — Parts of Kharkiv, Ukraine, were unrecognizable to natives living in Utah Thursday after the Ukrainian Ministry of Internal Affairs reported dozens killed and hundreds injured in the latest attack on the country's second-largest city.
It's been more than two years since Elina Mendoza has visited the streets and buildings she knew so well growing up in the northeastern city of Kharkiv. But the pictures from her last visit stand in stark contrast to the images that came out of the city Thursday.
"There were lots of schools that got burned down. And people's apartments. Parks ... where my friends' kids were playing days before, they got destroyed," Mendoza said.
The Ukrainian Ministry of Internal Affairs reported bombs, shells and rocket-propelled grenades hammered residential and government buildings in Kharkiv, killing 34 people and injuring 285 others.
Mendoza's mother, brother, sister-in-law and 5-year-old nephew are still in the city, hunkered down in their apartment. Stuck inside for eight days. She says her brother managed to leave Wednesday to get some food for his family.
"My sister-in-law, she really wants to leave but she's very scared," Mendoza said, because of areas nearby that have been under attack.
Mendoza also has a sister who lives on the west side of Ukraine. She and her children fled to Poland early on. Her brother-in-law stayed behind to help defend Ukraine.
"Ukrainians are beautiful, beautiful people," she said. "And I'm proud to be Ukrainian. I'm so proud of them for standing up like that and not giving up."
---
Ukrainians are beautiful, beautiful people. And I'm proud to be Ukrainian. I'm so proud of them for standing up ... and not giving up.
–Elina Mendoza
---
"We'll do everything we can to fight and keep going because we don't want to lose our freedom or become part of any other country."
Mendoza says she wishes the United States acted more quickly when the invasion started. But she said she does think, "sanctions are working because that's what's helping Russians realize that this is not good for them either."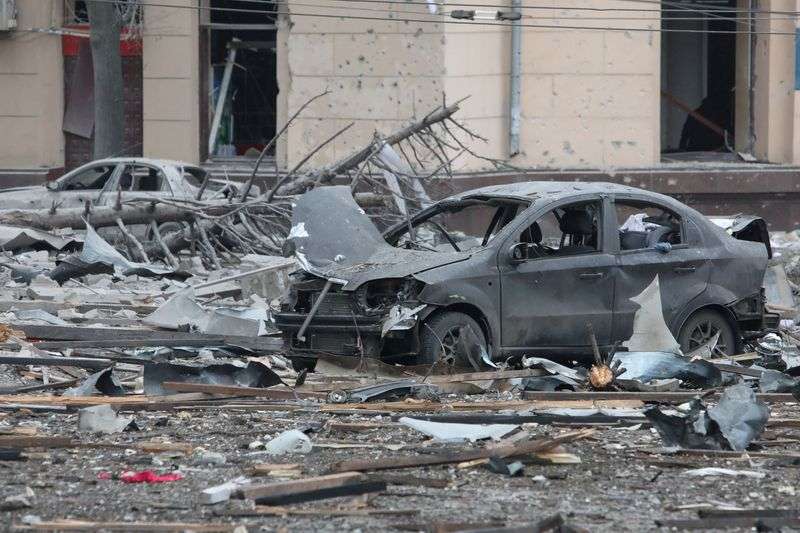 One week into Putin's attack and the scenes playing out in Ukraine are becoming increasingly difficult to watch. Elina does not know what the coming days and weeks may bring, but she can't help but hope for the normal sights and sounds she remembers growing up there.
"For people to have their homes again and for their kids to play at the parks again. And just go to school and not ever have to think about this again."
×
Related stories
Most recent Utah stories