Estimated read time: 6-7 minutes
This archived news story is available only for your personal, non-commercial use. Information in the story may be outdated or superseded by additional information. Reading or replaying the story in its archived form does not constitute a republication of the story.
PROVO — Jaren Hall had a little extra pep and a bit more zip on his ball when the BYU football team opened its monthlong spring practice season.
He was happy, healthy and having fun playing the game he loved as the Cougars officially turned the calendar from the 2021 season to 2022, and beyond Monday in the school's indoor practice facility.
It wasn't just because the former Maple Mountain star was allowed to sleep a little longer when his baby daughter was crying the night before, thanks to his "superhero" wife, former Utah Valley soccer standout Breanna McCarter.
Hall was one of four local athletes who signed a name, image and likeness deal with the Utah Warriors rugby club earlier Monday morning, an agreement between himself, offensive tackle Kingsley Suamataia, linebacker/safety Chaz Ah You and former Utah star Britain Covey to promote the fifth-year Major League Rugby franchise in exchange for monetary value.
Under terms of the agreement, the quartet would be responsible for making appearances in Warriors matches, participating in the pre-game ball delivery ceremony, and signing autographs for fans after each game.
They'll also receive 50% of sales from a custom piece of team merchandise that will be available in the Warriors' team store soon. And while Hall, who also played basketball and baseball in high school, doesn't know much about rugby, he's excited to learn the game and help promote a local team as he supports his young family and focuses on his team for what might be the redshirt junior's last season at BYU.
"Go Warriors," quipped Hall, who will be at Zions Bank Stadium in Herriman for the Warriors' home opener Saturday against MLR expansion side Dallas Jackals (12 p.m. MST, KMYU). "I'm learning; it's definitely a great opportunity."
Hall threw for 2,583 yards and 20 touchdowns while winning eight of the 10 games he started for the Cougars in 2021, and he's back a year later without looking too far over his shoulder. He's the incumbent starting quarterback ahead of a crowded room that includes former four-star recruit Jacob Conover and Boise State transfer Cade Fennegan backing him up.
Between spring ball practices, school and his new baby, Hall doesn't have much time to work a job and support his family. He's also spent the bulk of the past six months — since the season opener against Arizona in Las Vegas — trying to get healthy.
Hall revealed Monday he first hurt his ribs in the win over the Wildcats, an injury that got progressively worse with subsequent hits taken against Utah, Arizona State and the rest of the 2021 schedule that caused him to miss BYU's bowl game.
By Monday afternoon, he (finally) felt healthy again.
"I feel really good. Back to 100%," he said.
NIL deals like the one with the Warriors play an even bigger role in his life than other (read: single) college athletes.
"As some of the state's top football players that all have Utah roots, they stand for everything that the Warriors represent in being a part of this great state," said Warriors co-founder and CEO Kimball Kjar, a former BYU rugby player. "Football's roots are tied to rugby, which is one of the world's largest sports, and we're excited to work with these athletes to showcase the connections and athleticism of both sports here in the state of Utah and beyond."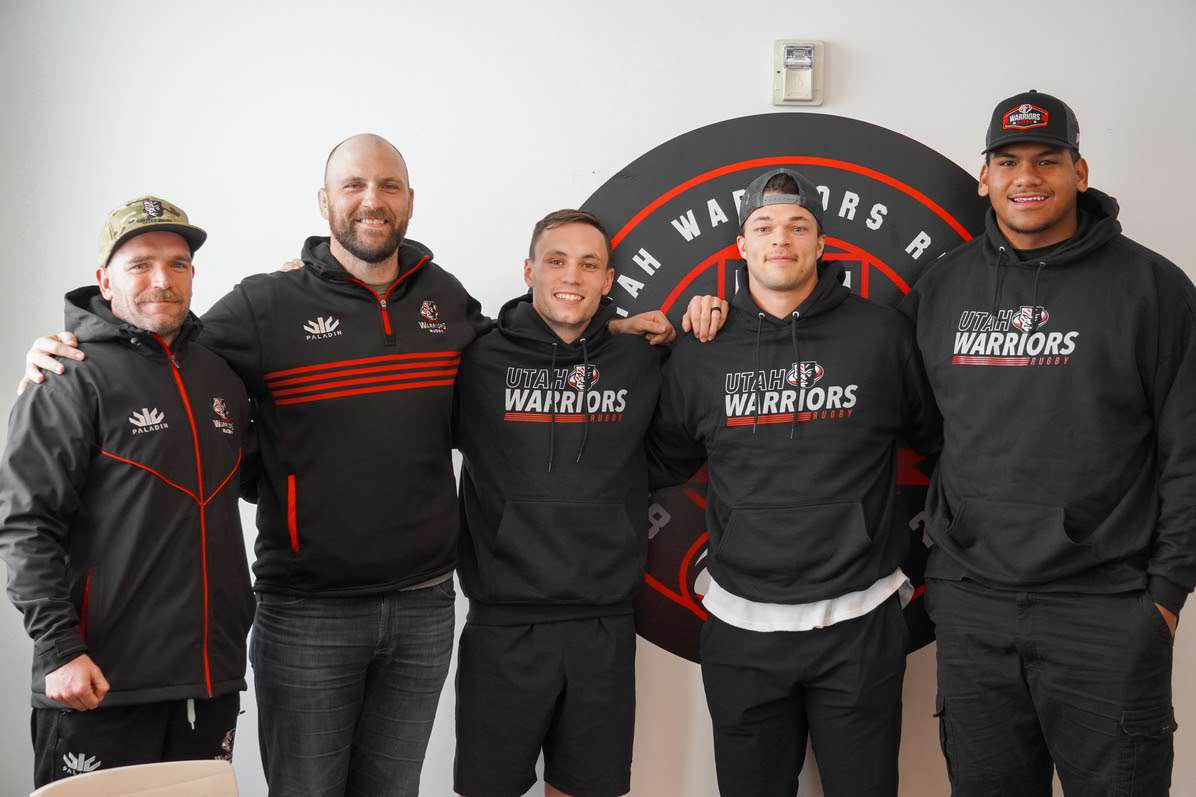 A lot has changed in college athletics over the past year, but one of the biggest rule amendments continues to reshape the NCAA since the association opted to allow college athletes to profit off their name, image and likeness rights a year ago.
BYU has been at the forefront of NIL player rights since establishing the Built 4 Life program last summer, including pushing the envelope with a team-wide partnership with Built Brands that pays the price of tuition for all walk-ons in exchange for in-person and social media promotion of the company's protein bars.
Monday's announcement by the Warriors was also a first: the first professional rugby team to partner with college athletes on an NIL deal, and one of the first pro sports franchises to sign a players' rights to an agreement.
Work will be required for the four college athletes who signed the agreement with help from Orem-based Oncoor Sports. But it's also a job, and one that allows players like Hall to support a family while also playing the game they love.
Breanna also doesn't have to work and can stay home with the couple's first-born child, Hall added.
"A little bit of money here and there to support my family and my baby girl takes a lot of stress off my shoulders," he said. "It allows me to go out, play football, and do everything I need to do.
"I'm just grateful for all the people who take a shot on college athletes to help us out. It's a great thing, and I'm really happy and grateful for it."
Only a handful of college athletes have been offered truly life-changing money — six figures and above — from large national brands to pitch their products while they play.
And while USC quarterback Caleb Williams and Clemson's DJ Uiagalelei (among others) have been allowed to make something comparable to a professional salary, most NIL deals are much smaller in scope — like the deal between Provo-based location services company Smarty and every BYU female athlete worth up to $6,000 a year.
"NIL has been awesome," said BYU defensive end Tyler Batty, one of the first Cougars to sign an NIL deal when he inked an agreement with Idaho-based Balmshot lip balm. "We're just getting started; for a lot of people, they're still waiting on new deals. But for me personally, it's had a huge impact on what I have to do day-to-day.
"During the summer, I don't have to work an extra job. That's huge, giving me a lot of time to train, recover, and studying football. I think that's the biggest advantage. ... There's a lot that goes into the game, and I think NIL is huge because it allows student-athletes to hone their craft a little more."
Notes
Among the newcomers on BYU's spring roster is Ma'a Natoa, the Skyridge High star and first-team all-state tailback who redshirted his freshman season at Dixie State. The 5-foot-10, 200-pound Lehi native wore No. 47 as he took reps in the backfield alongside CAl transfer Christopher Brooks, who looked "light on his feet" running routes at 6-foot-1, 235-pounds with the first-string players.
Keanu Saleapaga also made his return to BYU after departing the roster a year ago. The 6-foot-6, 310-pound redshirt senior from Lakewood, California has one final season of eligibility remaining.
Among the number changes on the Cougars' roster are Jackson Kaufusi, who will wear a slimmed down No. 13 in the spring, and tight end Dallin Holker, who broke in his new No. 5 jersey with an acrobatic one-handed grab while tiptoeing the sideline on the first day of spring practices.
×
Photos
Related stories
Most recent BYU Cougars stories