Estimated read time: 3-4 minutes
This archived news story is available only for your personal, non-commercial use. Information in the story may be outdated or superseded by additional information. Reading or replaying the story in its archived form does not constitute a republication of the story.
SPRINGVILLE — A father and son said Tuesday they believed the same sophisticated theft ring behind a string of crimes in Pleasant Grove, American Fork and Lehi last month may have been at it again with a new series of heists that included a truck from the father's driveway.
Marc Johnson, himself a retired law enforcement officer who worked for 36 years at the Utah County Sheriff's Office, said sometime either late Feb. 9 or very early Feb. 10, his truck was stolen from the side of his driveway.
"It was a very unpleasant surprise to walk out of your home and look on your driveway and be missing your truck," Johnson said of the 2005 Dodge Ram 3500 Big Horn Edition last seen with a camper shell, xenon headlamps, stainless steel running boards and Utah plate D942KL.
In addition to reporting the theft to Springville police, Johnson called his son, Devin Johnson, and put him on the case.
Devin Johnson quickly posted about the stolen truck on Facebook and was surprised when someone made a connection to the theft of a RZR off-road vehicle and trailer in Spanish Fork on the same night.
"(The individual) had looked at their Ring doorbell and said they saw what looked like a Dodge truck — seemed to be white with a camper shell and a dual-wheel configuration — take their RZR," the son said.
Two video sources showed the truck accelerating through the neighborhood with the RZR and trailer attached.
Spanish Fork Police Lt. Cory Slaymaker noted that was one of two side-by-side vehicles stolen in the city that same night.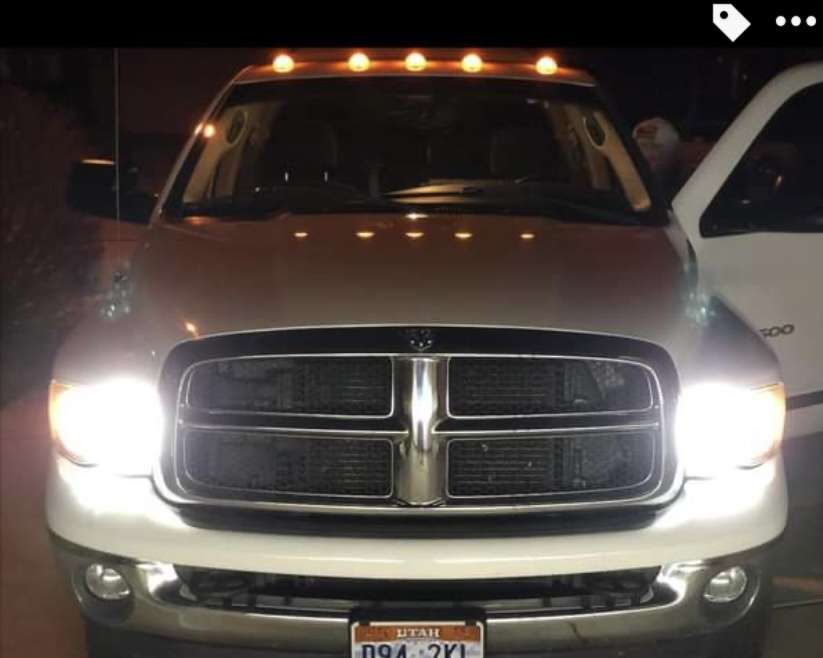 Devin Johnson said he also subsequently learned about two other trucks similar to his father's stolen in Pleasant Grove early Feb. 10, as well as another one apparently stolen on Feb. 12.
Pleasant Grove police officials confirmed the Feb. 10 heists but said they weren't aware of those trucks being used in the commission of any other recent crimes and weren't yet certain of any connection, other than sharing the same date with the Springville and Spanish Fork thefts.
The son also noted the series of similar thefts last month in Pleasant Grove, American Fork and Lehi, in which stolen vehicles were used to steal other trailers and off-road vehicles.
"This is a county being taken advantage of by a very organized ring of car thefts and side-by-side/ATV thefts," Devin Johnson asserted.
Springville police officials said Tuesday night they were interested in taking part in a more coordinated look at the series of crimes.
Slaymaker said the apparent similar methods used in the recent crimes at least suggested a possible connection to the thefts last month.
American Fork Police Lt. Josh Christensen said his department was already in the process of coordinating with other agencies in Utah County after last month's spree.
Marc Johnson feared he may never see his truck again and lamented what that meant for the future of family vacations and other excursions.
"As you take the report and file it, you don't quite get the same feeling as when it is your property and a violation of that," said the man with 45 years total law enforcement experience.
---
Let's take these individuals that are responsible and let's send them up for a little vacation time where they belong.
–Marc Johnson
---
He said he was proud of his son for working quickly to try to connect the dots across multiple jurisdictions through social media.
"It's all on this young man — he's dedicated 24 hours a day since the loss," the father said. "My Sherlock Holmes here."
Both the father and the son hoped officers in every city would pay attention to the series of crimes and work together to try to make arrests.
"Let's take these individuals that are responsible and let's send them up for a little vacation time where they belong," Johnson said.
×
Related stories
Most recent Utah stories