Estimated read time: 6-7 minutes
This archived news story is available only for your personal, non-commercial use. Information in the story may be outdated or superseded by additional information. Reading or replaying the story in its archived form does not constitute a republication of the story.
SALT LAKE CITY — Leaders of Utah's capital city say they are impressed with a proposed redesign of Pioneer Park but they also are wary the city is leading residents along after they were presented with its projected price tag.
That's because it was announced as officials look to improve or design other parks across the city in the coming years.
"Sometimes we're setting the expectations high. … This project is amazing and I'm generally supportive of it, but we also need to see all the other projects we need to fund," said Salt Lake City Councilman Alejandro Puy, during the council's work session Tuesday.
"I don't want the neighbors near Pioneer Park … to be disappointed when we say, 'Well, we also need to do all these other things and we have a limited amount of money,'" he continued.
Members of Salt Lake City planning and public lands divisions briefed the council on the plan that would drastically change Pioneer Park during the work session meeting. The redesign is expected to cost somewhere in the range of $20 million, according to Sean Fyfe, an architect for the city.
The final estimate is yet to be determined only because the Salt Lake City Engineering Division hasn't completed its final proposal. The city's preferred vision plan, which was unveiled last month, is wrapping up a public comment period this week.
The plan calls for new basketball and pickleball courts, an enhanced dog park, a mist-producing cooling fountain, an event pavilion and more trees for shade among other improvements.
Fyfe explained that the plan will likely be completed in phases, which can be primarily funded in three different ways: impact fees, city bonds or state funding. Salt Lake City currently has about $3.4 million in impact fees dedicated to the project, which are one-time fees developers pay for every new building in the city that can only go to certain sources, like park funding.
City administration is also mulling a community reinvestment bond, while Salt Lake City Parks and Public Lands is seeking a $5 million investment toward Pioneer Park, Fyfe said. He also pointed out that the Pioneer Park Coalition has a state appropriated request under consideration that would include $5 million toward physical park improvements.
It is slated to be presented to the Historic Landmark Commission next month because the park — one of the city's first parks — is considered historic. If all goes according to plan, the division would release a phased implementation plan later this year.
The division plans to use feedback from its open comment period to determine which project would come first. But work on the first phase could start in early 2023 with the money already in hand, Fyfe said.
"Should additional funding be made available, those second-phase plans would proceed as well. And the team will strive to implement those plans in a cost effective and timely manner," he added.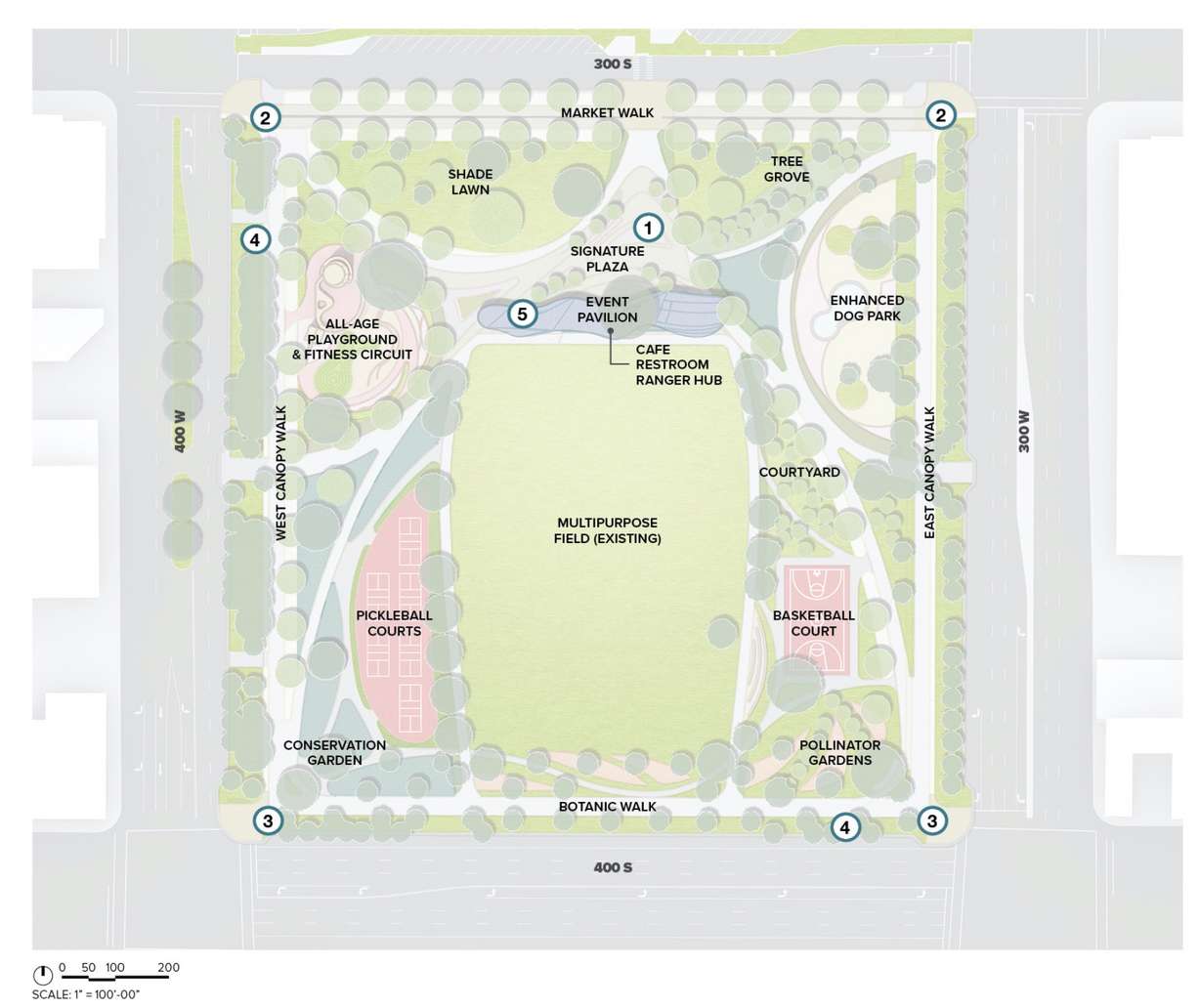 Ana Valdemoros, whose district includes Pioneer Park, said she has "high hopes" for the greenspace. However, the council feedback on the presentation was anything but a walk in the park — especially considering the other projects in the pipeline.
Puy and Salt Lake City Councilman Darin Mano, thinking out loud, both questioned if it's worth spending that much money redesigning a current park when the money could go elsewhere in the park system. Salt Lake City, using impact fees, acquired Allen Park in Sugar House for $7.5 million two years ago, and there are plans to make major improvements to the aging space there.
The city has also talked about turning the old Raging Waters water park in Glendale into a regional park, which is expected sometime in the future. Then there's the planned Fleet Block Project in the Granary District.
"Personally, I have no concerns with the vision plan as it was presented, but I just want to make sure we're having that discussion in terms of — this is a big investment, so where do we want to put that park's money?" Mano said.
It's also why Salt Lake City Councilwoman Amy Fowler suggested it might make more sense to shift the $3.4 million directed to the Pioneer Park redesign to another park project until it's known where funding for the remaining $16.6 million is.
And should the entire improvement funding come, then there's the question of what that means for park maintenance.
"This looks like a unicorn, and I just want to make sure we continue feeding the unicorn if it happens," Fowler said, listing those concerns.
There will likely will be more maintenance time in the future for some of the new amenities but that has not yet been calculated, Kristin Riker, director at Salt Lake City Parks and Public Lands, said in response.
She said park maintenance crews currently spend about 80 hours on the park; however, she contends the plan upgrades the park's aging infrastructure which will reduce some of the current 80 hours because crews typically spend more time working on older materials like pipes.
When asked about street safety accessing the park, Anna Laybourn, a principal at the Design Workshop that helped design the preferred plan, said the total cost of the project doesn't include just the park's 10 acres. It includes money for improved crosswalks to the park and a transit stop there, as well.
Meanwhile, as a former member of the Historic Landmark Commission, Salt Lake City Councilwoman Victoria Petro-Eschler said she remembers the struggles that went into putting a new walkway based on historic merits. She asked whether the project could get the support of the commission.
"This design, while beautiful, certainly destroys any of that classical concentric square concept — the formal park concept — that was presented at that time as being what would be most honoring, historically," she said.
Katherine Maus, a Salt Lake City Public Lands planner, explained that the team already presented a cultural landscape report to the commission which was received "very well" for the most part. But many of the components of the plan, such as making it a gathering space and maintaining the perimeter tree structure of the park, fall under the history of how the park has always been.
That previous feedback is why Maus says the team is optimistic about their official meeting, which is scheduled for March 3. The project needs approvals there before it moves forward.
The public comment period on the plan wraps up on Friday.
×
Related stories
Most recent Outdoors stories