Estimated read time: 6-7 minutes
SALT LAKE CITY — Have you ever seen a bird facing into the wind and hovering in place over an open field?
If so, chances are it was an American kestrel. One of America's smallest falcon's abilities and hunting strategies is to hover over open areas looking for prey.
All about the American kestrel
Kestrels have been known to hover as high as 60 feet as they survey the ground looking for prey, searching for insects like grasshoppers, cicadas, dragonflies and small rodents and lizards. Occasionally, a kestrel might prey on small songbirds or even a frog or snake, as noted by the Cornell Lab of Ornithology.
Still not sure that's what you saw? The best description of the bird is found in "The Audubon Society Field Guide to North American Birds."
The guide describes the male kestrel as having a "rufous crown, back and tail; blue-gray wings and head; buff breast and nape; white underparts with side spotting. Black markings behind ear; black mustache and terminal tail band. The lateral ear markings are said to resemble eyes as seen from above by large hawks."
"(The) female's head resembles that of the male, but back and wings are darker rufous overall with heavier streaking below," the guide adds.
Hovering is not the kestrel's only hunting method. Much of its hunting is done from perching on a tree branch, fence post, telephone pole or power line. From these vantage points, the kestrel will watch for prey and then swoop to the ground securing it in its sharp talons. Kestrels will eat the prey on the ground, fly back up to a perch and eat it, or take it to a clump of grass, tree or rock cavity and cache it for later, according to Wildlife Informer.
The "American" in the species' name comes from the fact that it can be found in the Americas from Alaska to Tierra del Fuego, per New Hampshire PBS. They have also been called "sparrow hawks" because at 9 to 12 inches they are only a bit bigger than robin-size, for comparison. Another common name is "grasshopper hawk," as grasshoppers make up a large part of their diet.
American kestrels in Utah
Kestrels have been known to frequent city parks, and nesting sites have been found in human structures both abandoned and in-use in suburbs and cities. Kestrels will winter throughout their range, though northern birds are migratory, according to "The Audubon Society Field Guide to North American Birds."
Based on migrating bird counts, the U.S. Geological Survey's Breeding Bird Survey and nest box monitoring data, it is estimated that there is a 50% drop in the numbers of kestrels throughout the United States with higher percentage drops in localized areas in the northeastern states.
A kestrel's preferred habitat along the Wasatch Front — and in most of Utah — is open areas with sparse trees. You can find kestrels near meadows, grasslands, farm fields, pastures, deserts, short ground vegetation areas around the edges of Great Salt Lake, and along the open areas near the mountains.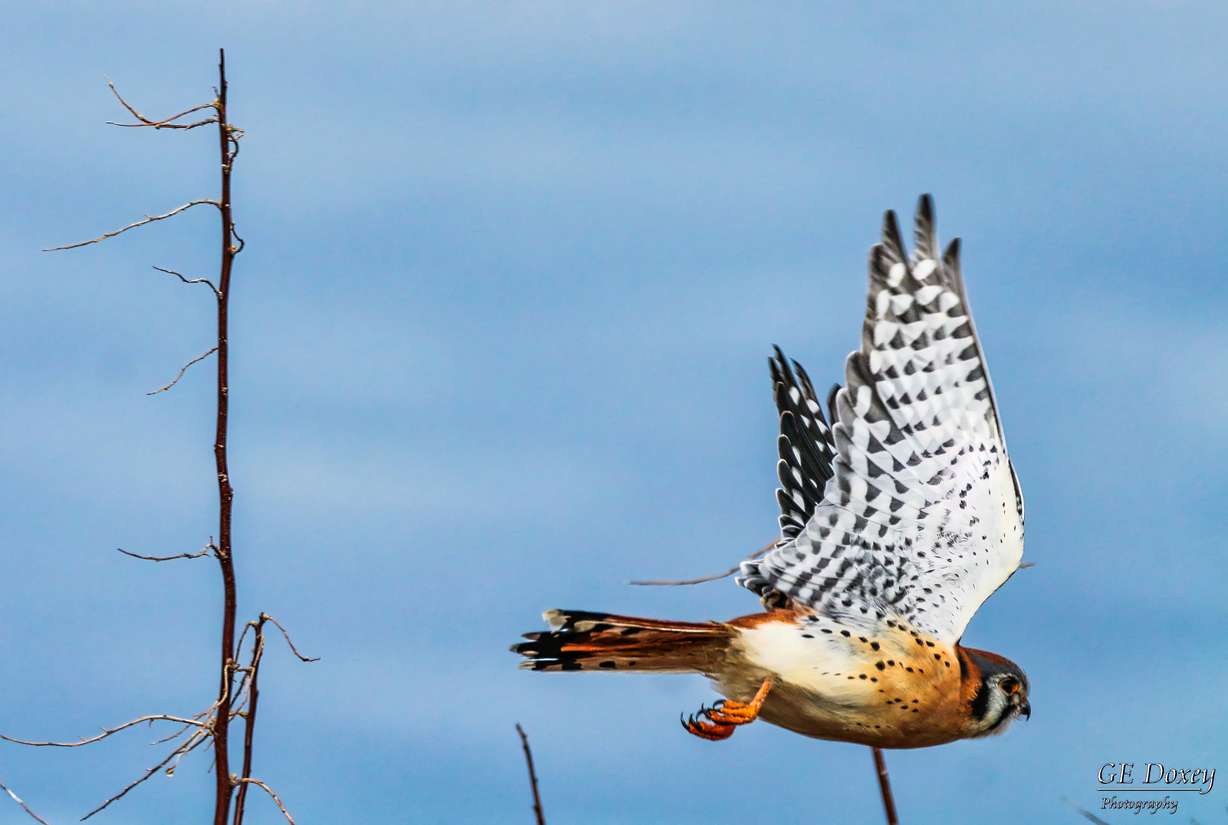 Dave Oleyar, the director of long-term monitoring and community science with HawkWatch International, explains there are several methods are used to determine kestrel numbers in Utah. Experts take in data from sources like the Breeding Bird Survey, Christmas Bird Count, migration sites and eBird to estimate the size of bird populations.
"Occasionally, other survey efforts can provide insights too, and these include winter road surveys and nesting studies. Each method has limitations and any good estimate will include a description of variance and uncertainty," Oleyar said. "We have both year-round resident and migrant kestrels. Migration and winter monitoring data suggest that the proportion of kestrels that migrate in western North America is decreasing and that winter populations are increasing."
Are Utah kestrels bucking declines?
Oleyar seems to be cautiously optimistic with kestrel numbers in the western U.S. and Utah with a decrease in populations in certain geographic areas of the country. He said the counts of kestrels in the winter, migration and breeding seasons show "continental scale" declines.
"The central and eastern parts of North America show the most declines across all seasons; the story in the West appears a little better based on increasing winter counts in some areas," he said.
The kestrel does appear to have a healthy breeding population in the greater Salt Lake region, while populations look "stable" in Utah, according to Oleyar. But trends in other parts of the country may be a key to figuring how the long-term stability of the species.
"While this is good news, understanding the dynamics of apparently healthy populations is important in that it can serve as a baseline for comparison to those that are struggling," Oleyar added. "Additionally, if urbanization (and) development is an important factor in kestrel declines in the east, it could portend future challenges to western populations, including those in Utah — given the rapid pace of urban growth in the West."
There are other factors to consider as possible concerns with kestrel populations that Oleyar also mentioned. These include contaminants, loss of nest sites and predation by growing numbers of Cooper's hawks or other predators.
"Much work is ongoing to better understand these factors, including efforts in and around the Salt Lake area," he said.
How to help American kestrels in Utah
There are several ways Utahns interested in kestrels can get involved in protecting the species, Oleyar said. He pointed out that HawkWatch International's team does consist of professional biologists, land management groups, as well as local, county, and state governments — but it also consists of volunteers.
"Those that live in or near our core study area (roughly an 80-mile stretch from Willard Bay south to Provo) can join our efforts by signing up to monitor nest boxes and the nesting attempts of any birds that use them," he said.
Residents can also report online sightings of kestrels that have "uniquely coded color bands," which can be read through binoculars, spotting scopes, or powerful camera lenses. This information helps researchers in their long-term studies of the species.
The organization is planning a virtual kickoff and information session on March 5 for the upcoming breeding season. More information about the event can be found on its website, as well.
"Installing nest boxes is another way that people can help kestrels and other cavity-adopting raptors like screech owls," Oleyar added. "We do encourage those that install nest boxes to consider registering them in our network and sharing monitoring data."
×
Photos
Related stories
Most recent Outdoors & Rec stories