Estimated read time: 9-10 minutes
This archived news story is available only for your personal, non-commercial use. Information in the story may be outdated or superseded by additional information. Reading or replaying the story in its archived form does not constitute a republication of the story.
SALT LAKE CITY — Utah wildlife biologists fear there was another 10% drop in the statewide mule deer population in 2021 as mostly dry conditions reigned through the first half of the year.
The projection is based on below-normal adult and fawn survival rates, as well as fawn production in the second half of the year, Utah Division of Wildlife Resources officials told KSL.com.
While they are still tabulating their numbers for a final population estimate ahead of the 2022 hunting season, their preliminary estimates suggest a 10% decrease from the 314,850 deer estimated at the end of 2020. That would put the 2021 count on track to be somewhere in the range of 285,000 — much fewer than the 376,450 deer recorded in 2018.
Drought is a large contributor to this decline in recent years, but there are many factors behind the drop in mule deer populations. In fact, the trends in Utah aren't entirely unique — they mirror some of the mule deer trends across the West, according to the Western Association of Fish & Wildlife Agencies.
However, with the return of monsoons, a wet October and December, along with collaborative efforts between biologists, conservationists and even hunters, experts are hopeful trends are about to change. They say these trends are happening in other parts of the West, too.
"I believe we're at an inflection point for deer and deer management. ... We've largely stopped the decline," said Joel Pedersen, the president and CEO of the Utah-based Mule Deer Foundation.
That optimism highlighted the foundation's inaugural Mule Deer Summit on Friday. The summit, Pedersen said, was planned for previous years but then was put on hold due to COVID-19.
It brought experts from across the region together in Salt Lake City, to share information about the problems plaguing mule deer and highlight the solutions being used now that are helping mule deer populations grow in other parts of their native habitats.
It's also where U.S. Department of Interior Deputy Secretary Tommy Beaudreau explained how a record $1.5 billion will go to states to help fund hunting and fishing education and conservation projects, helping out species like the mule deer.
The 'synchrony' behind deer decline
Leading mule deer experts have informally met for years over why the West's mule deer populations started declining. Meetings go all the way back to the 1990s, and it wouldn't be too uncommon for experts to meet off the clock while sharing a cold brew on a Thursday night.
What informal meetings, research and collaboration determined is that mule deer populations weren't impacted by just one factor but a "synchrony" of events happening all at once, said Jim Heffelfinger, the chairman of the Western Association of Fish and Wildlife Agencies and Mule Deer Working Group.
To be clear, the mule deer is nowhere near endangered status, but populations are below where biologists and outdoor enthusiasts would like to see. Many of the issues found then are still at play today.
"We seem to keep coming back to the same things that haunt us. ... The bottom line is habitat continues to be lost, fragmented or degraded faster than it's being restored," adds Ed Arnett, the CEO of The Wildlife Society.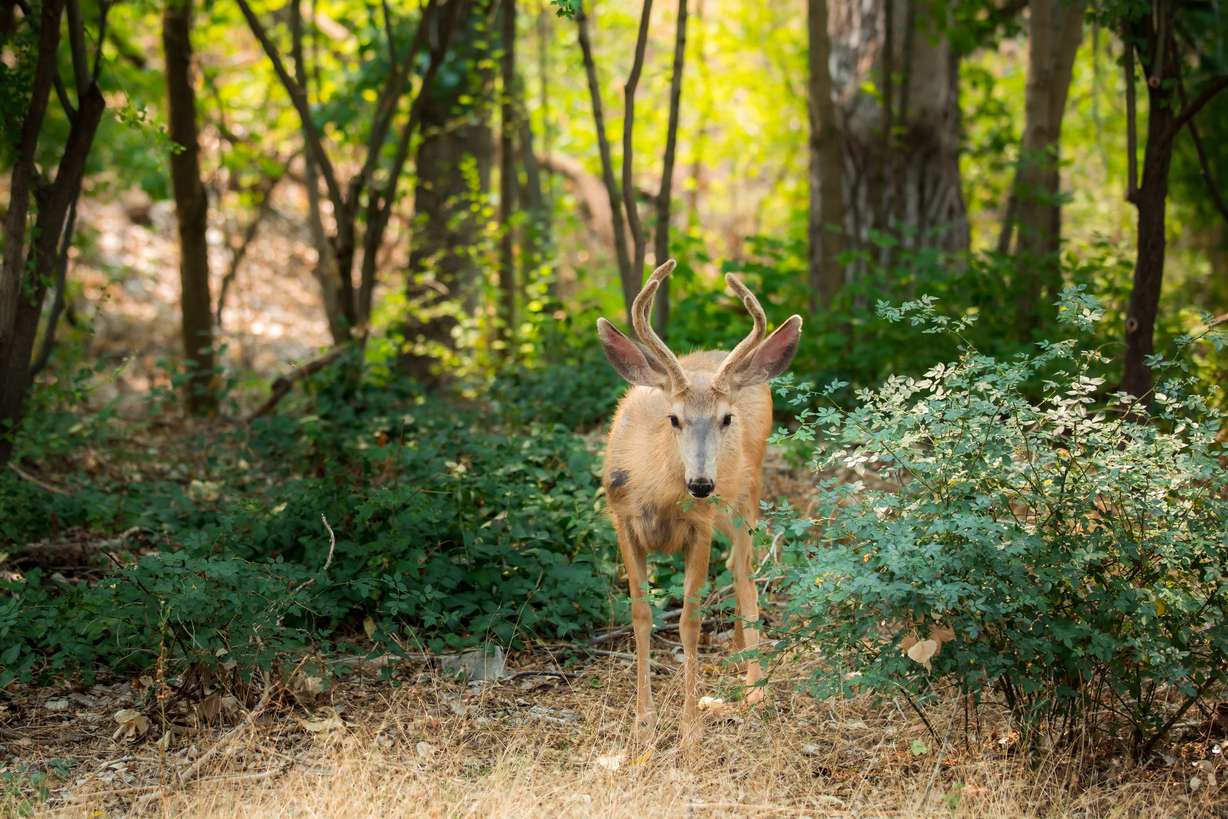 Drought is one reason — the West has suffered through a historic megadrought over the past couple of decades, for that matter. Droughts don't just mean there is less available water, but less vegetation also.
Death by malnutrition is more common when there are fewer food sources available for deer before the winter, such as during drought years. Randy Larsen, a professor of plant and wildlife sciences at BYU, contends this usually results in "miserable" ways for the deer to die.
Utah Division of Wildlife Resources biologists, who weren't part of the summit presentations, said survival rates for both adult and deer fawns are below normal statewide due to the ongoing "exceptional drought."
They add that this isn't true of all parts of Utah. For instance, most of the deer decline between December 2019 and December 2020 happened in southern Utah, which had the driest conditions throughout 2020.
But there are plenty of other reasons, according to Arnett, Larsen and Steve Belinda, the Mule Deer Foundation's conservation director. Wildfires, invasive species, diseases, over-hunting/poaching and human development — from drilling to new roads and homes — can also negatively impact deer populations.
The way many fires are suppressed is resulting in ecosystems "not coming back" like they would after a "normal" fire, resulting in native vegetation not regrowing like it otherwise would after a fire, Arnett added. This, he says, is especially impacting all animals that depend on sagebrush, including deer.
Parts of the list are also behind the 50-60% survival rates of deer between 1 and 2 years old, which Larsen referred to as a deer's "teenager" years.
"(Deer at this age) are super vulnerable to (mountain) lions and to roadkill — cars and cougars," he said.
Arnett is quick to point out that not all roads are the same. Small country roads may not impact deer movement much while highways and freeways impede deer migration, which also affects their success.
Related:
Increased outdoor recreation in areas referred to as winter range habitats — happening at the same time as the ongoing severe drought — is a new issue that Belinda finds troubling. The habitats are areas closed off to the public because most deer need to be kept away from people and predators for a reason in the winter.
"I won't go into the biology of fat reserve burning and everything else but let's face it, those animals aren't gaining any weight in the wintertime and they have to use their fat reserves to get through until they move off," Belinda said. "We often say in the biology world, deer don't die in December, deer die in April and May. ... We have to care about all of that."
Arnett adds that since it's such a new issue, there aren't any studies on it and some researchers are still in the middle of studying those effects.
Another issue in recent years is the rise of chronic wasting disease, which is a fatal disease that attacks a deer's nervous system. Matt Dunfee, the director of special programs for the Wildlife Management Institute, says this is an issue affecting deer in 29 states that can essentially only be stopped by hunting at the moment.
Recent technology, however, has helped track deer better and figure out reasons for their decline. Larsen says these technologies, like collaring, are leaving biologists an "unprecedented amount of data" that can be used to understand behaviors and craft policies that help deer thrive.
An inflection point?
There are signs deer are on the rebound, though. The 2021 Western Association of Fish and Wildlife Agencies report noted mule deer populations are stable in 10 U.S. states and Canadian provinces. There are six other areas reporting increases.
While Utah has had a potential population drop in the range of 90,000 deer within the past three years, it's starting to show some signs of recovery. State wildlife biologists said the summer monsoons that returned in the second half of last summer helped improve deer body conditions in both young and adult deer recorded in December.
"Because of these factors and the current mild winter with decent moisture so far, we expect good survival overwinter and good fawn projection this June," the agency wrote in an email to KSL.com on Friday.
---
Will we ever hit the heyday of mule deer population numbers that we had 40 years ago? Probably not. ... But I do believe we can make a difference.
–Joel Pedersen, Mule Deer Foundation
---
These rebounds are why Pedersen refers to now being an "inflection point" for mule deer populations. The turning point isn't just because of rain but also efforts to help deer habitats coming from all sorts of places, including government agencies and organizations.
The Mule Deer Foundation, for example, reported Friday that it was able to help improve land and water conservation in 264,685 acres over the past two years through $45.7 million in money either raised by the foundation or matched by partner organizations, agencies and businesses.
About 115 miles of fencing was also removed or converted to "wildlife-friendly designs" that reduce impacts on wildlife migration. The $1.5 billion in wildlife grants to states may end up going to similar projects at a larger scale — something that Pedersen is excited about.
"We've got the opportunity take this curve that was going down (and) flattened out — to turn it and make it go back up," he said. "Will we ever hit the heyday of mule deer population numbers that we had 40 years ago? Probably not — given the habitat loss and challenges that deer face. But I do believe we can make a difference."
With the data collected, biologists have found ways to fix some of the issues deer face.
For example, more than 700 animals, including 414 deer, crossed a wildlife bridge over Interstate 80 in Parleys Canyon last year alone, according to the Utah Department of Transportation. More of those types of solutions are expected elsewhere in the U.S. in the coming years.
When we talk about keeping Utahns moving, that includes our furry friends who call Utah home. This wildlife crossing in Parley's Canyon helps wildlife get to the other side of the canyon, and most importantly creates a safer road for everyone. @UtahDWRpic.twitter.com/X0Kxk1ziBG

— Utah DOT (@UtahDOT) January 3, 2022
"We know that overpasses and underpasses work and now we have a huge bit of money coming in — $350 million — (in a) dedicated fund to construct wildlife crossing structures," Arnett said. "That's a first of its kind (fund). ... That can at least take a chunk of the overpass and underpass needs across the country."
There are some issues that will be trickier to solve. Arnett adds that it's nearly impossible to stop subdivision housing because of how quickly communities are growing in the West. He encourages organizations to work with developers to help make them more wildlife-friendly instead.
Ike Eastman is sure efforts to help deer are working.
Eastman, the president of the iconic hunting publication Eastman's Hunting Journal, said he was impressed with the number of healthy deer he found over his recent trips into the outdoors.
"In the last 20 years, it's never been as good as it was this year. What you guys are doing on the ground is making a difference," he said, to a room full of biologists and other experts. "It's finally turning that corner and it's starting to go up."
But there's much more work to be done to get mule deer populations back to normal. In Utah's case, state wildlife biologists have previously said they have a goal of 404,900 deer. If the most recent December count is a 10% dropoff from December 2020, then it's currently about 120,000 deer off that objective.
That's why Arnett believes every possible solution should be considered in the coming years to help struggling wildlife like the mule deer.
"We're going to need a suite of options, ideas and solutions," he said. "There is no silver bullet or panacea to solve any of these complicated ecological problems."
×
Related stories
Most recent Outdoors stories