Estimated read time: 6-7 minutes
This archived news story is available only for your personal, non-commercial use. Information in the story may be outdated or superseded by additional information. Reading or replaying the story in its archived form does not constitute a republication of the story.
PROVO — Just 12 seconds after checking into the game in the first quarter of a pivotal game against Gonzaga, Sara Hamson stretched out her 6-foot-7 frame and stuffed a shot attempt by Gonzaga's Melody Kempton.
In just 12 seconds, Hamson showed exactly how she can change a game — and that she doesn't need a spot in the starting five to do it.
It's why Hamson came back for a fifth year of college basketball, and why head coach Jeff Judkins accepted her with open arms. Even without a guaranteed starting spot in the lineup, the former West Coast Conference defensive player of the year changes games.
Even off the bench, where she's averaging 2.6 blocks per game after a five-block performance in a win over the Bulldogs.
"It's pretty intimidating," Judkins said of his shot blocker. "She's one of the best players I've had who can change the game defensively. She just makes people miss shots and layups because they think she's around.
"It made the team special."
Hamson had 6 points, six rebounds, five blocks and an assist with no turnovers and just three fouls in the 16th-ranked Cougars' 62-50 come-from-behind win at Gonzaga. And while that may not be as flashy as Paisley Harding's 22 points or Shaylee Gonzales' stat-stuffing 11-point, eight-rebound, seven-assist, two-steal effort, it's no less important.
Almost as important as Hamson's biggest priority: winning.
"My goal when I enter the court is to change the game however I can," Hamson said. "A lot of times, that means being the big man on defense and protecting the rim.
"I'd rather be a bench player on a winning team than a starter on a losing team; and this year we have a winning team."
And how.
The Cougars are 19-2 after a 12-point road win Saturday night, one that followed the second loss of the season, a 75-64 upset at Portland. That snapped BYU's 10-game winning streak before tipoff against the Zags, but it didn't break the Cougars, who led the WCC by 1.5 games with six games remaining.
BYU (19-2, 9-1 WCC) is no longer just playing for a spot in the Big Dance. The Cougars are already playing for tournament seeding, after being projected as high as a No. 3 in ESPN's bracketology projection before the selection committee left BYU outside the top-16 national seeds in their first look.
A spot in the top-16 — and the opportunity to host the first two rounds of the NCAA women's basketball tournament, which will expand to 68 teams this year for the first time in history — might be too much to ask for BYU, which can't host games on Sundays due to university policy.
But beating Gonzaga — adding it to wins over Fresno State, Arizona State, Florida State, West Virginia, Utah and Washington State, among others — won't hurt their chances, at least.
The Cougars fell one spot to 14th in the NCAA's NET ratings after the loss to Portland, while Gonzaga is a top-25 team in the same metric.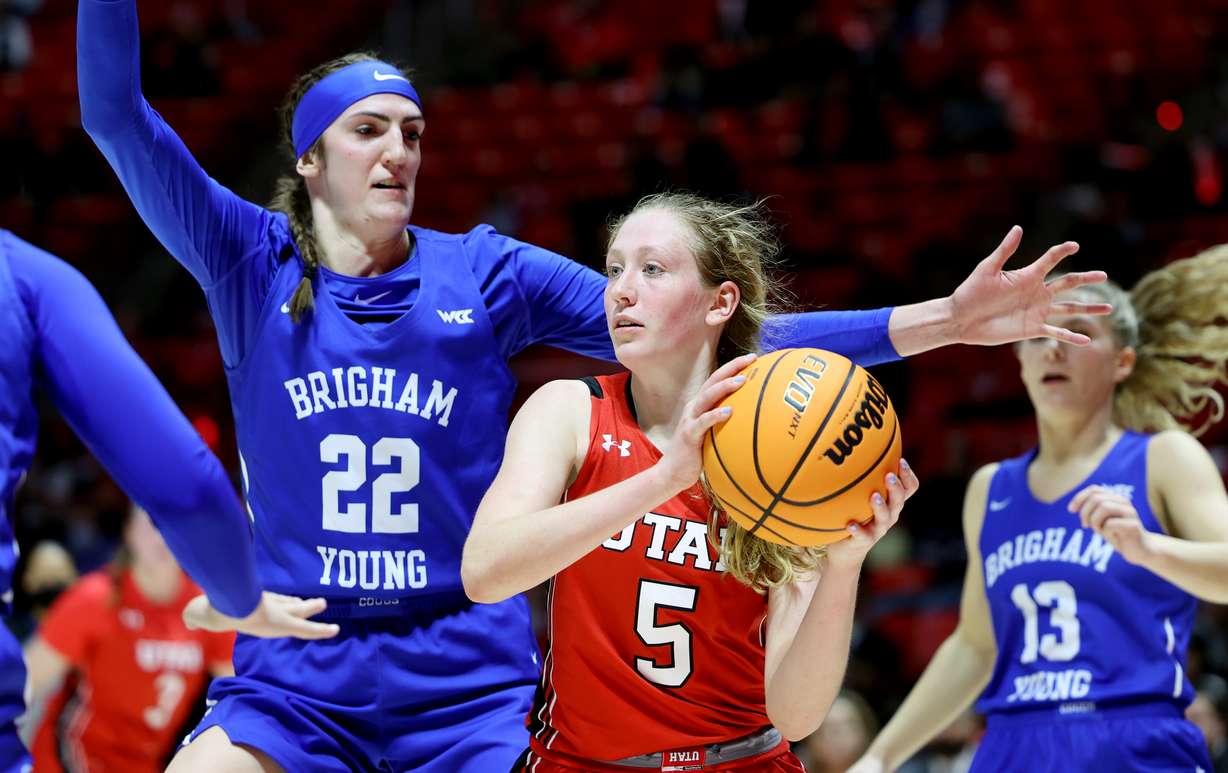 The Cougars' offense — which opened the week tied for third nationally with a 20.6-point scoring margin — needs little introduction, from dynamic guards Gonzales and Harding to Lauren Gustin, who had her 11th double-double of the season Saturday.
But Hamson's move to the bench has been instrumental in BYU's resurgence. In many ways, it's improved Hamson's personal play, too.
The Super Senior is shooting 75.4% from the field, including a career-best 66.7% from the free-throw line, while averaging 3.7 rebounds and 5.0 points, down just 2.3 points per game from her career-best in 2019-20. She's also on track to top the 61 blocked shots she posted last season, with 50 so far on the season for 2.6 per contest — and she's doing it averaging just 2.4 fouls per game to the 2.7 and 2.4 she averaged as a starter.
"Every game, Sara got in foul trouble," Judkins explained. "She'd end up with 1-2 fouls in the first five minutes of the game, and then we're stuck for the next quarter and a half, and she couldn't be as aggressive."
The move to the bench has changed that, and allowed Hamson to be more fresh and able to make an immediate impact in her 14.8 minutes per game, as she did against the Zags.
"Sara is a mismatch," Judkins said. "And for us to go where we want to go, Sara is a big part of the train."
Hamson's small price in exchange for a second season was worth it, for one reason: As much as she loved to start, there's one thing she loves even more.
Winning.
"Any kind of change is a challenge, especially going from starting to non-starting. But I'm all-in for this team, and I'm happy to do whatever I can," she said. "If that means I have to lead from the bench, then I'll do it from the bench and do what I need to do.
"I think it's been interesting to see a team have to adjust mid-game rather than starting out with their game plan. It's definitely a different feeling, but I'm all-in for this team and whatever role that might be."
She's the ultimate team player, her coach added.
"Nobody's happy to not start. But she's willing to do whatever it takes for us to win," Judkins said. "She came back for a fifth year for two reasons: to win and to go further in the NCAA Tournament, and to play with her sister and her teammates. But she's gone through so much and she's so smart that when she plays with any of the younger girls, she's such a help defensively. She's a real coach and leader on the floor."
Hamson was all-in on her fifth season of eligibility with the chance to key one of the top BYU teams this century, finish her college degree and play a year with her younger sister Heather, a freshman forward on the 2021-22 squad.
"This team is so good," Hamson said. "And I'm all in for this team. Why wouldn't I want to spend another year with these girls? I love these girls, and love this team."
She's also leading an assault on the BYU record books.
Hamson ranks second all-time in career blocked shots at BYU, where she's amassed a total of 444 — trailing only her mother, Tresa Spaulding Hamson, who posted 494 from 1984-87. Older sister Jennifer Hamson is third, totaling 340 during her career from 2010-2014 while also splitting time with the women's volleyball team.
That's right; the Cougars' top-three shot blockers ever — or at least, since the NCAA began tracking the statistic in 1980-81 — come from the same family. Hamson also ranks sixth all-time with 761 rebounds — her mother and sister are No. 2 and No. 3, respectively, behind Tina Gunn Robinson's top mark of 1,482 boards.
Needless to say, having a Hamson at BYU is better than not having one. And Sara Hamson is proving to be as good as they come — whether starting or off the bench.
"She comes in and she gives that defensive presence that is pretty intimidating," Judkins said. "She's one of the best players I've had that can change a game defensively. She just makes people miss shots, even layups, just because she's around."
×
Related stories
Most recent BYU Cougars stories