Estimated read time: 9-10 minutes
This archived news story is available only for your personal, non-commercial use. Information in the story may be outdated or superseded by additional information. Reading or replaying the story in its archived form does not constitute a republication of the story.
Editor's note: This article is a part of a series reviewing Utah and U.S. history for KSL.com's Historic section.
CEDAR CITY — When the Southern Utah University men's basketball team rushes onto the court Thursday for its matchup with Idaho, the team's look may catch students and spectators off guard.
The team is set to debut a new teal jersey with orange trim — well, more specifically, it's turquoise and coral. The exact name of the color scheme is a bit of a sore point for many of the university's older alumni and donors.
"If you reference (this color) as orange, you are immediately corrected ... I love it," said KC Smurthwaite, the senior associate athletic director for external affairs at SUU, with a chuckle.
The jerseys may seem out of the ordinary for current students, especially given that they are vastly different from the red and white schemes that have dominated the school's athletics uniform pallet for nearly 40 years. The players themselves were puzzled when they first saw it.
However, turquoise and coral were indeed the primary school colors at one point. Records from the era show the colors garnered mixed opinions at the time. That said, the reviews of these new "throwback" jerseys have, to this point, generated positive feedback among the older alumni who were around when those were the school's primary colors in the 1960s and 1970s, Smurthwaite added.
"When (they) have seen the shirts, when they've seen some of the gear — their eyes light up," he said. "It's almost as if these jerseys and apparel are keys that are unlocking their memories from the past. They just open up and they start to tell stories. And at the end of the day, we want our alumni ... to have a connection back to this institution regardless of its name."
If you want a short and simple story as to why SUU is switching to a vastly different look Thursday, it's because the university is about to celebrate its 125th anniversary and throwback apparel is in style again. The jerseys are just the beginning of a celebration of the university's history.
But the longer story of why SUU moved away from those school colors in the first place is much more interesting. Evidently, it's a tale of how basic economics heading into the 1980s ended what would otherwise be one of the more unique set of school colors in Division I athletics today.
SUU: A chameleon of names and colors
The story of how this throwback SUU jersey was designed starts quite a bit ago. SUU executives spitballed the idea for some time even before Smurthwaite took over his current position in 2020. His role holds a range of responsibilities, including the oversight of donor outreach, apparel sales and men's basketball.
The discussion was recently revived about the same the university began preparing to celebrate a major birthday — it turns 125 in March. The athletic department wanted to find some sort of way to be part of that celebration.
With retro apparel in style, they knew they wanted to find a jersey that celebrates the past and builds toward the future. Yet settling on something from SUU's past is sort of tricky because it's had so many different school names, school colors and even mascots over the course of its existence. Smurthwaite likens this history to a chameleon, although it's worth noting a chameleon is not one of its previous athletics mascots.
"You have your blueblood programs that have had the same color scheme and the same logo for years but a lot of your mid-major institutions, they've all gone through something," he said. "Granted, we were a little bit of an outlier because we really went through something. We were kind of going through the awkward teenage years for a long time."

The school was founded in 1897 as the Branch Normal School. It would become the Branch Agricultural College in 1913, keeping that name until it became the College of Southern Utah in 1953. The school was renamed Southern Utah State College in 1969 and then became Southern Utah University in 1991.
Its athletics program also originally held "Aggies" and "Broncos" nicknames before settling on the "Thunderbirds."
Its school colors were originally red and white in 1897 before becoming azure blue and white, and then navy blue and white, according to an article printed in the university's student newspaper on Sept. 26, 1983.
Turquoise and coral — a scheme closer to natural colors one can find in southern Utah — emerged in the 1960s after the university broke off from being associated with Utah State University. This is also when the athletic program became the Thunderbirds.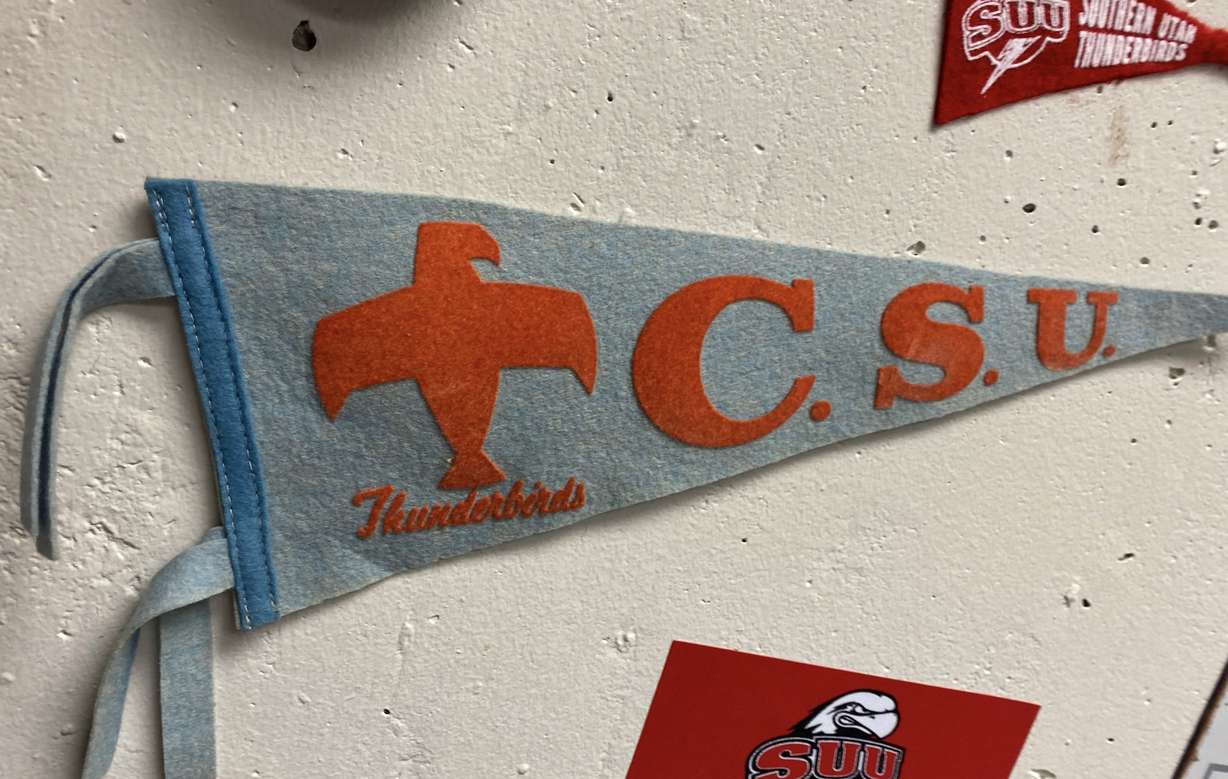 The school colors eventually switched to Columbia blue, white and orange in 1980. Then, in 1983, went back to red and white — with royal blue included. Black has since replaced royal blue as a common alternate color, usually found within the athletics program.
There have been countless more logos over this span of 125 years. Needless to say, there were many throwback options to explore.
What killed turquoise and coral?
Smurthwaite jokes that the university leaders probably expected a "safer" color scheme for the planned throwback night.
Yet as the staff searched for the right throwback option to bring back for a night, he kept hearing about the turquoise and coral scheme from alumni and donors. The department decided on those colors rather quickly. SUU has catered to this history in the past; the colors were one of a few colors encouraged for its 2016 homecoming celebration, according to The Spectrum.
So if those colors bring back so many memories, why did SUU ever move away from turquoise and coral?
Smurthwaite admits that some of the records weren't really kept well over the years and the history is hazy at best. This might explain why some old newspapers report the switch to turquoise and coral happened in 1965, while SUU officials today report that the change occurred in 1961.
As the story goes, the color scheme ended up being too unique for its own good. Former basketball coach Boyd Adams told the student newspaper in 1983 that he believed the colors "classed up the campus a little bit" when they were first introduced but pointed out that the colors were also "difficult to purchase."
Former football coach Don Conrad, among those who didn't like the old colors, added that SUU — known as Southern Utah State College when his teams wore the uniforms — "never had uniforms that looked very good" because the school didn't have much money to spend on jerseys and everything had to be specially ordered, according to that 1983 article.
Most uniform suppliers eventually stopped manufacturing jerseys with turquoise and coral schemes because, well, not many schools have those colors. It made little sense to keep producing them. If there was anything available, it was too expensive.
Nikki Koontz, the assistant vice president of marketing communication at SUU, said the school had to switch to orange and light blue in 1980 because it was too difficult to find manufacturers who could supply the turquoise and coral color scheme.
This makes sense, Smurthwaite says. Even today, athletic programs face higher markups for jerseys that feature designs that go well beyond the patterns a supplier offers even if technology has made the process easier and cheaper over the past few decades.
Columbia blue was a quick fix in 1980 but it just wasn't the same. As was reported in 1983, university officials felt that the shade of blue was "too passive" and red seemed to stick better with prospective students. The choice was clear from there, and aside from dropping blue altogether, the university hasn't looked back.
Had SUU kept turquoise and coral, it would certainly stand out in college sports today, just as its nickname does. The university is one of 358 Division I schools, and the only one with the Thunderbirds moniker. While some schools use teal and many more use orange, none use both. Florida A&M, which has the colors green and orange, might be the closest to old turquoise and coral.
Honoring the past
SUU is now going back to its roots for at least one more night. However, the unkept uniform records also made it difficult to recreate the throwback look, Smurthwaite explained. He knows because designing the jersey also fell under his list of responsibilities.
He's also the first to admit that he did take some creative liberties in putting together the final look, merging what the old basketball jerseys would look like with some of the team's more recent looks. Since there aren't many records, photos or old uniforms still known to exist, he relied on feedback from those who remember what the old uniforms looked like.
It helped that some of the old letterman jackets were donated to the athletics program. Alumni and donors shared old memorabilia, like jerseys, caps and pennants, that helped Smurthwaite piece together previous designs in the turquoise and Columbia blue eras.
"The history of our color schemes were so blurred that we had to go back and revisit — in some ways it felt like we were rewriting history a little bit," he said, of the "throwback" jersey design. "When I say this was a complete team effort, it was — from campus, to community and athletic department."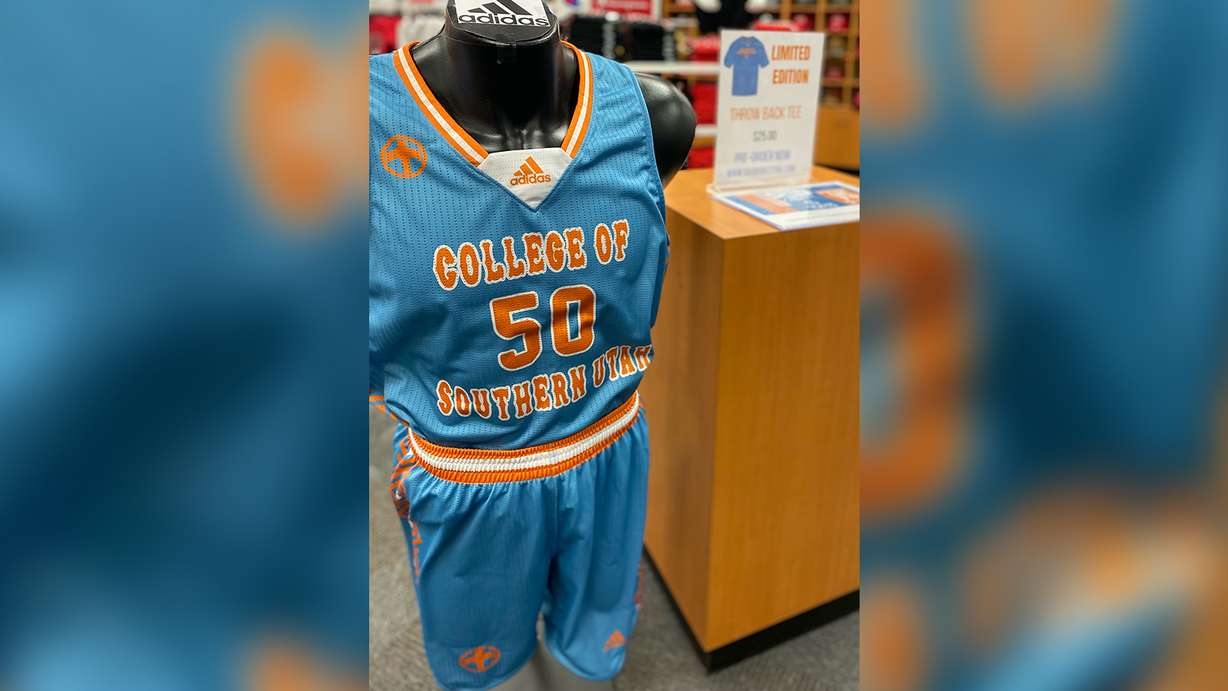 The turquoise jerseys this time have coral numbering styled in an old College of Southern Utah font. There's also a coral and white trim running down its side. SUU's current Thunderbird logo and brand is on the back of the tops, where a nameplate typically goes, while an old Thunderbird logo from the College of Southern Utah era is on the front of the jerseys.
The jerseys will be a one-off promotion — at least this season. They will be auctioned off during the game, with proceeds going toward SUU's athletic scholarship fund, according to Smurthwaite.
The university is also selling T-shirts with the color scheme at the school bookstore for the same cause.
Koontz says it's just the beginning of ways to celebrate the school's 125th birthday. The university is planning a year of events, concerts, tours, service projects and virtual birthday parties throughout the year. She told KSL.com that more details about those events are expected to be announced in a couple of weeks.
As for using old colors and logos, Smurthwaite says there are plans to expand the school's history to other sports teams in the future. It won't replace the primary colors and logos; rather, it would celebrate the path to where the school is now.
"I want this to be a future thing and I hope this is something that we can build upon, to make it one game a year for each (team) to help celebrate the program — where they were to where they're going," he said. "I think this going to become a tradition at SUU."
×
Photos
Related stories
Most recent Historic stories