Estimated read time: 4-5 minutes
This archived news story is available only for your personal, non-commercial use. Information in the story may be outdated or superseded by additional information. Reading or replaying the story in its archived form does not constitute a republication of the story.
PLEASANT VIEW — Weber High School students suffering food insecurity gain access to food at school, thanks to the work of the student clubs.
Weber School District reached out to the high school with its intentions to open a food pantry and Weber High School principal Chris Earnest enlisted the help of Jennifer Bird, the school's Health Occupations Students of America adviser, to lead the meeting of the minds, or clubs, in this case, that led to the food pantry opening its doors.
"The administration came to our club and said, 'Hey, what do you think of a food pantry?'" Bird said. "As we looked at research and stigmas and different things associated with it in our community, we thought that was a great initiative."
After Bird agreed to take on the project, her club contacted the Weber High School chapters of the Distributive Education Clubs of America Weber and the Family, Career and Community Leaders of America to collaborate on the project.
"Our advisors came to us and asked us if we'd be interested in starting this project and we said yes," said Madalyn Keyes, a Weber High senior.
"To be able to have all these clubs come together and have all of their passion, their ideas and their excitement, (it has) really driven this program to a different level," Bird said.
In addition to meeting a community need, as Weber County has experienced increased rates of food insecurity since the start of the COVID-19 pandemic, especially among children, the food pantry will serve as a project for the clubs to present at their respective state competitions.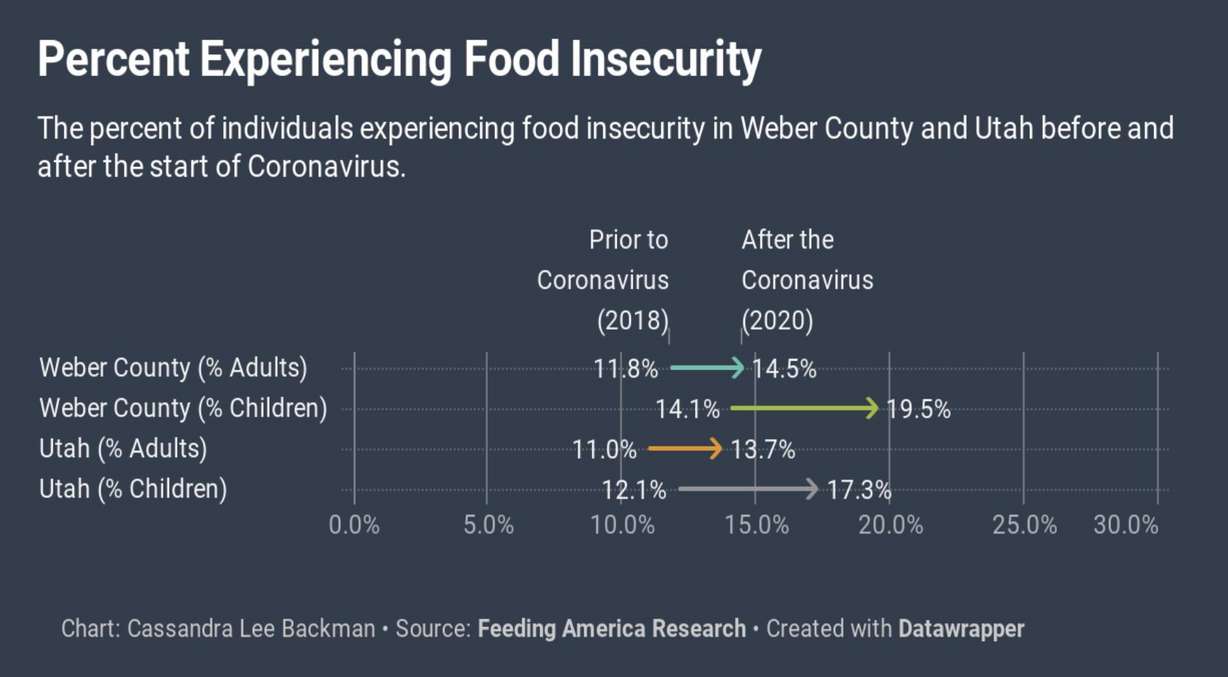 "What we're trying to do is raise awareness (for hunger) and we would present these at state (competitions) and then hopefully, if we place top-three, we move on to nationals and we would present it at the national competition," said Hannah Teo, another Weber High senior.
The clubs converted an old storage closet at the high school into a new location for the food pantry, that carries the slogan of "Friends Don't Let Friends Go Hungry." The pantry houses a plethora of nonperishable food items and the clubs also hope to eventually stock the pantry with winter gear, hygiene kits and menstrual hygiene products.
To stock the pantry, the clubs have received donations from Besst Realty, Catholic Community Services, Weber School District Foundation and Young Subaru.
Additionally, they have a system in place that allows students to access food during the school day.
"We gave about 20 teachers and office staff a grab-and-go box full of Pop-Tarts and granola bars and applesauce, so if a kid is hungry and if they miss breakfast or anything, they can just ask the teacher so they're not as hungry at school," Weber High sophomore Izzy Bird said.
To stock the grab-and-go box, the clubs hosted a food drive and are still accepting donations, which can be made here.
The food pantry is available to all Weber High School students, who must make an appointment to access the pantry where they're then able to grab a quick snack, a meal, or even take food home to their families.
"We are also partnering with Tri-City Exchange where we will give students referrals for that bigger food pantry. If we see they have a really big need, we will send them there so that they can get even more support," Keyes said.
For the students in the clubs, bringing a food pantry to their school has been a gratifying experience not just for what they're providing for current Weber High School students, but also in the groundwork they laid for future food insecurity initiatives.
"The best part, as of right now, is the community rallying together to kind of bring this project alive at Weber High. We've raised over 5,000 food donation items within two weeks," said Raegan Rogers, a Weber High junior. "Not a lot of students can say that they've been able to participate in something as worthwhile as helping student hunger in your school."
"It's so amazing to know that we're opening a food pantry that's going to help kids now and hopefully keep going for years and years to come and that we were the ones that kind of pioneered that and (were) able to help that get going," Alyse Radle, a Weber High School sophomore said.
×
Related stories
Most recent Education stories