Estimated read time: 2-3 minutes
This archived news story is available only for your personal, non-commercial use. Information in the story may be outdated or superseded by additional information. Reading or replaying the story in its archived form does not constitute a republication of the story.
SALT LAKE CITY – Leaders from major shipyards and rail yards from around the country visited Utah Monday to find solutions for the nation's broken supply chain.
They looked to Utah's Inland Port. Solutions were already in motion as about 100 shipping containers arrived by train in Utah Friday. That's just the beginning.
To get more of the containers here in Utah, and around the region, some major hitches in the supply chain need lasting fixes. "Today's supply chain is very visible, some would say too visible," said Dr. Noel Hacegaba from the Port of Long Beach. "And the way it's manifesting itself is 100 ships at anchor, containers piling up at the terminal, store shelves empty."
We have the pandemic to blame, but industry leaders at a panel hosted by the Inland Port Authority all agreed it's now on them to work together and find solutions.
"It always was running at sort of that ragged edge," said Jack Hedge, executive director of the Utah Inland Port Authority. "We were always having congestion issues when I was at the port of L.A. There were always trucker shortages and turn times were always too slow."
Now a broken supply chain is forcing some modern-day solutions. Many at Monday's meeting of the ports believe Utah's Inland Port will play a key role by getting containers on trains in the hundreds at a time, rather than on semis.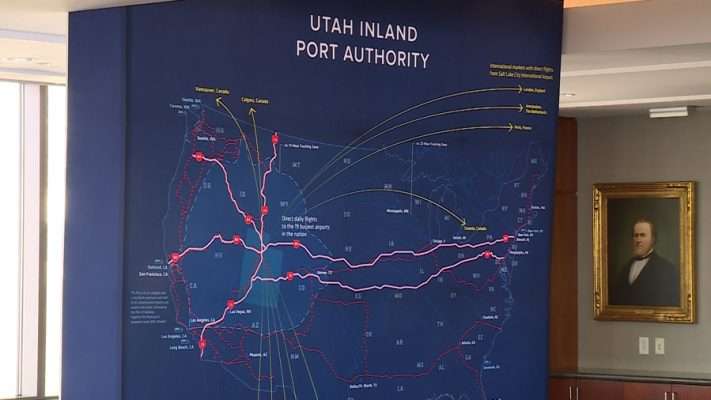 "We can reduce the number of trucks coming this way," said Nathan Anderson from Union Pacific Railroad. "Those numbers that we cited earlier, 90% of the containers that leave the L.A. Basin are coming by truck. We can put more of those on rail. We can clean up our air."
This is still just a start.
Andrew Scott, founder and CEO of QuayChain Technologies said, "All of a sudden, our industry is forced to have to work together."
The disruption to our supply chain is painful for many people and businesses along that chain, but these industry leaders believe we'll come out stronger and more efficient in the end.
---
90% of the containers that leave the L.A. Basin are coming by truck. We can put more of those on rail. We can clean up our air.
–Nathan Anderson, Union Pacific Railroad
---
Hedge said, "It's a horrible thing to have happen, but it did bring into sharp relief the problem with our supply chain, with our logistics networks, the way they work now."
This is likely the first of many similar discussions to come.
The goal is to eventually get things running more efficiently and cost-effectively than they were before.
×
Photos
Related stories
Most recent Utah stories