Estimated read time: 7-8 minutes
This archived news story is available only for your personal, non-commercial use. Information in the story may be outdated or superseded by additional information. Reading or replaying the story in its archived form does not constitute a republication of the story.
SALT LAKE CITY — Utah isn't alone in an uptick of traffic crashes, injuries and deaths over the past two years.
The number of fatalities nationwide in 2020 was the most in 14 years, but early estimates indicate 2021 was even worse, as was the case in Utah.
Fatal crashes have become so rampant across the country that the national roadway safety coalition Advocates For Highway and Auto Safety has made "Out of Control" the theme of its 2022 Roadmap of State Highway Safety Laws report.
"We have a crisis right now in deaths on the highway and accidents that needs to be dealt with," said Rep. Jan Schakowsky, D-Illinois, during a news conference hosted by the organization Tuesday.
A public safety crisis
The U.S. Department of Transportation reported 38,680 traffic deaths across the U.S. in 2020, which was the country's most since 2007 and a 7% increase from 2019. That was despite a noticeable drop in miles driven as a result of COVID-19 impacting business and leisure travel.
There were 20,000 deaths on U.S. roadways in the first six months of 2021, an 18% increase from the first half of 2020, according to Cathy Chase, the president of Advocates For Highway and Auto Safety. The federal transportation department is expected to release its 2021 fatality figure later this year.
Utah's preliminary 2021 data might offer a glimpse of what to expect when the final number is reported. State transportation officials reported 320 people killed on Utah roads last year, which was a 16% increase from 2020 and the most in the state since 2002.
The Advocates For Highway and Auto Safety report released Tuesday also notes that the first half of 2021 indicates a "trajectory continuing with a nearly 20% spike in crash deaths" from 2020. It adds the increase in the first half of 2021 is the largest jump recorded in the history of the Fatality Analysis Reporting System that was implemented in 1975.
---
What's really important is that we don't lose sight that these facts and figures represent people.
–Cathy Chase, Advocates For Highway and Auto Safety
---
The dangerous trends emerging in Utah last year — speeding, impaired driving and less seat belt use — also appear to be a growing nationwide problem. Alex Otte, the president of Mothers Against Drunk Driving, pointed out that alcohol and drug impairment, speeding and not wearing seat belts were common leading contributors in crashes and fatal crashes.
The rise of all three factors comes at a time when the total miles traveled nationwide still hasn't returned to pre-pandemic levels.
"This is a public safety crisis," she said.
Other Advocates For Highway and Auto Safety members note that the uptick over the past two years is a quick reversal of safer driving habits since the coalition was formed in 1989.
For instance, the uptick in deaths reported in 2020 is well below national roadway deaths before the push for safer roads. There were a little more than 46,000 motor vehicle deaths every year on average during the 1980s, according to U.S. Department of Transportation data. There have even been three years since 1975 where the number reached over 50,000.
Related:
The upward shift started before the pandemic because 2019 ended with the most deaths since 2007. It just spiraled even further in 2020 despite fewer people on the roads and appears to have gotten even worse last year.
"While many lifesaving advances have been achieved preventing untold numbers of crashes, fatalities and injuries, we are currently facing an alarming upward trend in traffic fatalities over the past two years," said Alan Maness, the vice president of federal affairs and counsel for the insurance giant State Farm.
Maness added if everyone used seat belts at all times, then upwards of 2,000 people who die annually in fatal crashes would be alive today.
Utah transportation officials noted earlier this month that seat belt use rates dropped to a five-year low in the state last year, with a 88% usage rate. That means a little more than one out of every nine individuals on Utah's roadways was not wearing a seat belt last year. There were also 74 deaths tied to unrestrained people in vehicles.
Motor vehicle crashes also come at a tremendous economic cost. The report found crashes result in $292 billion in annual costs nationwide — and $2.1 billion in Utah. These include costs of property damage, medical bills, lost workplace/household productivity and other costs associated with crashes.
"What's really important is that we don't lose sight that these facts and figures represent people — they are family members, friends and loved ones who are being tragically impacted by preventable losses and serious, debilitating injuries," Chase said.
Outlining the problem
Oro Valley (Arizona) Police Department Lt. Carmen Trevizo said nationwide deaths as a result of speeding jumped 11% in 2020, while deaths as a result of drunk driving also increased at 9%.
"These are shocking figures," she said. "The public is understandably alarmed by these and other deadly driving behaviors."
The Advocates For Highway and Auto Safety conducted a poll last month about traffic safety issues. They found most respondents had concerns about leading fatal crash causes.
At 84%, distracted driving — talking on a cellphone or texting — was the leading concern among those who participated in the survey. Drunk or impaired driving (80%), running red lights/stop signs (70%), speeding (68%) and lack of the use of seat belts or child safety seats (65%) rounded out the top five.
Only about one out of every four respondents marked they were aware of the sudden increase of fatal crashes to start 2021. However, over two-thirds still believe there isn't enough being done to prevent fatal crashes.
Take seat belts as an example. About 40% of those who took the survey said they don't always use a seat belt in the back seat of a vehicle because it's not required by law in their state; 60% said a law would convince them to change their habit.
Utah, by the way, is among the states that require seat belts to be worn in the back seat of a vehicle.
"We need states to take action now," Otte said.
What Utah does and doesn't do well
The Advocates For Highway and Auto Safety report concludes with 16 roadway laws that the coalition recommends for safer roads. They include laws that curb distracted and impaired driving, as well as laws that improve teen driving safety, occupancy protection and child safety.
The coalition then ranks the states on a scale of "green," "yellow and "red" based on how many of those laws the individual states have implemented. New York and Rhode Island, with 13, have the most laws, while California, Delaware, Louisiana, Maine, Oregon and Washington all had at least 10 laws to earn a green rating.
Missouri and Wyoming had the least amount of laws on the books, with three. Arizona, Florida Montana, Nebraska, New Hampshire, Ohio, South Dakota, Vermont and Virginia also received red ratings.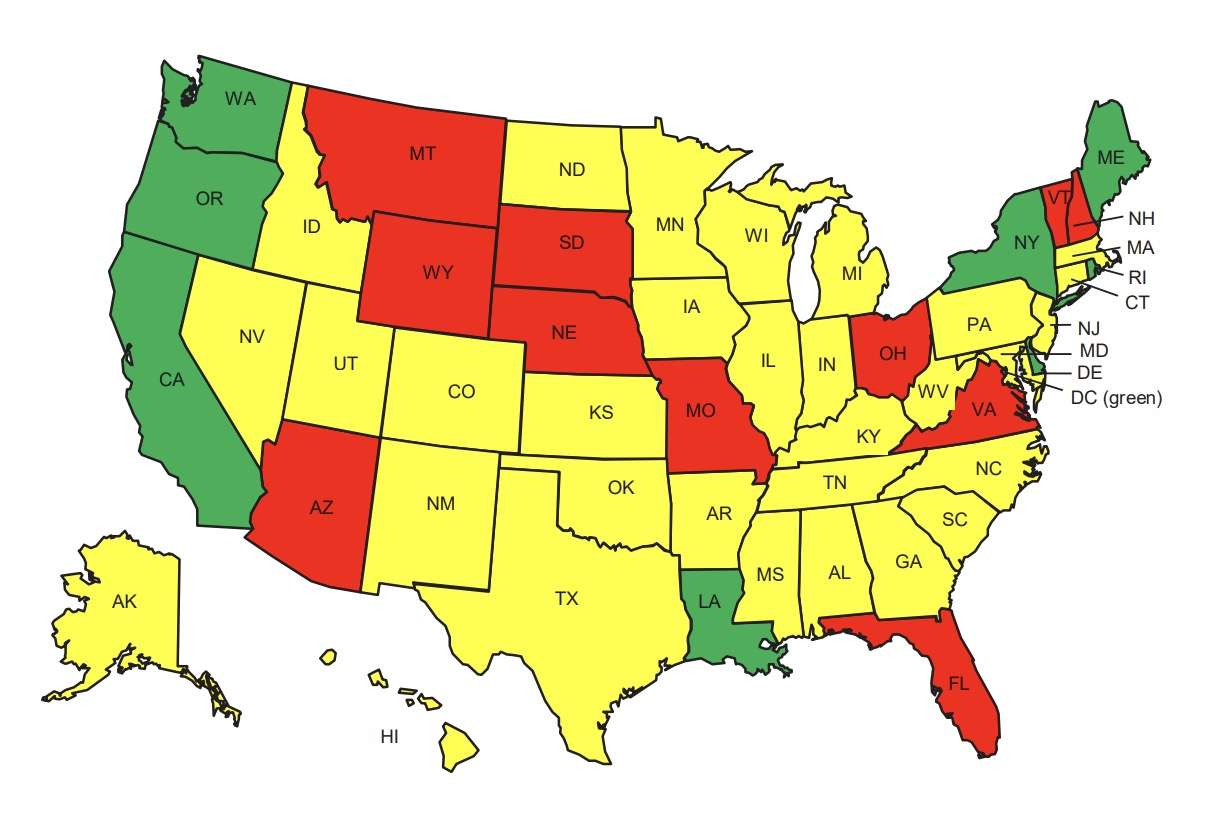 Utah has nine of the 16 recommended laws, making it one of 31 states in the yellow category. The coalition says those states have many laws that improve safety on roadways but they contend more safety laws are needed.
The Beehive State is lauded for laws that enforce seat belts in the front and back seats, and for having booster seat laws. Our state also has a six-month holding period provision for new drivers.
It's also one of just a handful of states in the nation with all five recommended impaired and distracted driving laws.
Ignition interlocks for all impaired driving offenders
Child endangerment laws for impaired drivers
Open container laws
Text messaging restrictions for all drivers
Graduated driver licensing cellphone restrictions
Utah was mostly dinged for laws centered around younger drivers. The coalition suggests Utah should bump the minimum age for a learner's permit from 15 to 16 years old, and make 18 the minimum age for an unrestricted license. It also recommends that stronger supervised driving requirements and nighttime restriction laws be in place.
There were 44 fatal crashes in Utah last year involving a teen driver, tied with 2016 as the most over the past decade.
The report also urges that Utah adopt laws that require helmets for all motorcycle riders and craft a law that requires all children to be rear-facing in car seats until they are at least 2 years old.
"We can and must do more to address this constant and widespread danger which is also contributing to the growing fatality figures," said Maness, while discussing the 16 outlined laws. "Each law enacted prevents future tragedies."
×
Related stories
Most recent Utah stories