Estimated read time: 3-4 minutes
This archived news story is available only for your personal, non-commercial use. Information in the story may be outdated or superseded by additional information. Reading or replaying the story in its archived form does not constitute a republication of the story.
WEST VALLEY CITY — Support is flooding in for the families of three West Valley City teens who were shot Thursday afternoon. Two were killed in the shooting near Hunter High School, while the other teen is in critical condition.
Ephraim Asiata, 15, is hospitalized from injuries in the shooting, which happened during lunchtime.
A growing memorial at 4100 South and Mountain View Corridor never stayed empty Friday as crowds of family, friends and community members came and went.
Friday evening, dozens upon dozens showed up and lit candles.
Some brought flowers; others hung posters and balloons. They all paid their respects to 14-year-old Tivani Lopati and 15-year-old Paul Tahi.
Ramiro Vega walked up with his mother and younger brother. He laid a bouquet down to honor Paul, who was Ramiro's classmate.
"He was funny. If you were down, you were tired, he would wake you up, put energy in you, you know," Ramiro said. "Like, when a class seemed boring, he would always just be there to make it better. He was always a good friend if you needed anything, he'd be there for you."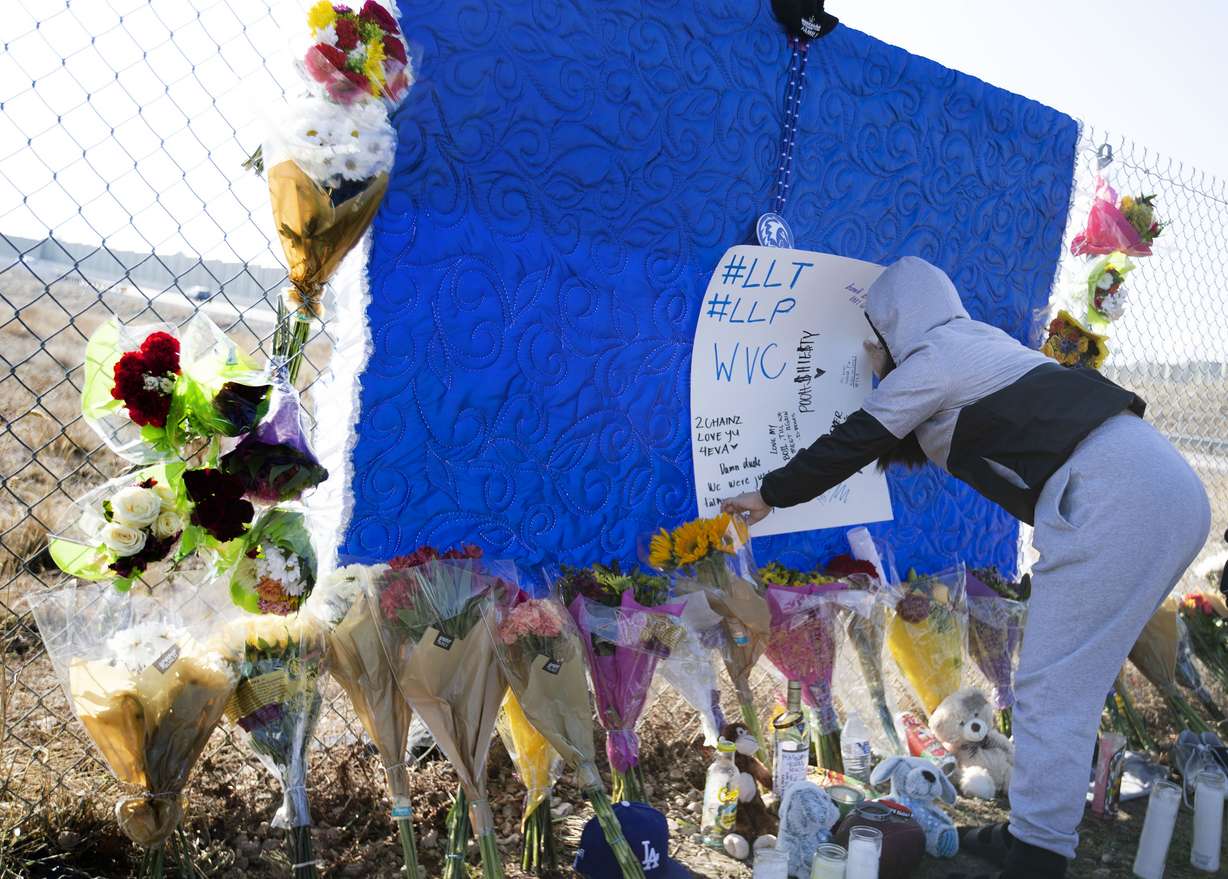 After shots rang out in the same spot just a day before, Ramiro said he was at lunch in the cafeteria. He said he and his friends ran outside, only to see the aftermath of what happened. At the time, Ramiro didn't know Paul had been killed.
Paul's kindness, jokes, and generosity make this hard to take in. Ramiro said Paul didn't deserve what happened to him, and was supposed to have a long life ahead of him.
"Just thinking about it really nonstop. It's just running through your head. Just replaying it, almost," Ramiro said.
The Hunter High School family is hardly alone in their grief.
West Valley City Councilman Jake Fitisemanu, who knows both families, expressed how the deaths of Tivani and Paul have devastated the entire Pacific Islander community, where family roots run deep.
"I can't imagine what it would be like to lose a child, and these boys were members of a very tight-knit, strong community," Fitisemanu said. "And really, we're all family, and so it was really one of loss and a really great feeling of sympathy for the families."
He said he's spent time with both families, who are still in shock.
As so many people surround those who knew and loved Paul and Tivani, at Intermountain Medical Center in Murray, a huge support group rallied for Ephraim and his family.
People spent all day Friday waiting outside the hospital — some sitting outside the front doors, and others staying in their cars to keep warm. Some brought food to share. They expressed that they wanted to let the Asiata family know they are there for them, and are fighting for Ephraim's recovery.
It's that showing up, Fitisemanu indicated, that lets Ephraim, Paul and Tivani's family and friends know they're not alone, and they're here with them to cope.
"It's unimaginable what they're going through, but it is a nice reassurance to know that there are many others who are sharing that grief as well," Fitisemanu said.
We know many of you have questions about the shooting of 3 teens yesterday near Hunter High. We want to be as helpful & transparent as possible about the investigative process & what happens now. This thread is to answer some of the questions out there as best we can right now.

— WVC Police (@WVCPD) January 14, 2022
West Valley City police gave an update Friday on the investigation into the shooting, which ended with the arrest of a 14-year-old. They explained that they are getting questions like how the young teen got a gun, and if that teen brought the gun to school. They said they are working to figure those things out, and that the investigation will take time.
They did confirm that they believe the gun they recovered Thursday is the gun used in the shooting, though ballistics testing will need to be done before they know for sure.
"We get one go at an investigation," a tweet from West Valley City Police stated. "We want to be absolutely thorough and successful in determining facts. Accuracy trumps speed."
×
Photos
Related stories
Most recent Utah stories