Estimated read time: 5-6 minutes
PROVO — Mark Pope didn't want to talk about silver linings or moral victories, even if he did see good things from BYU basketball's 26-point loss to No. 2 Gonzaga in Spokane.
He wasn't upset with his players' efforts, but rather himself for not preparing the Cougars well enough.
The Zags (14-2, 2-0 WCC) have made plenty of teams feel that way. When BYU made what Pope called a "conscious decision" to crowd the paint and take stars Drew Timme and top-rated recruit Chet Holmgren out of the game, Gonzaga responded by hitting 10 3-pointers on 15 attempts in the first half through the play of Andrew Nembhard.
When the Cougars took the opposite approach, Timme and Holmgren did their work. It was a game of pick your poison, and to the outside observer, BYU picked wrong both times.
"That's just what a good team does," Pope said.
Gonzaga thoroughly beat BYU, with four players in double-digits led by Timme's 30 and a double-double of 22 points with 12 assists from Nembhard that included a game-high four 3-pointers.
The Zags scored 28 points on 14 turnovers, kept the Cougars off the offensive glass 28-15, and limited a BYU team that shot reasonably well — 45% from the field and 13-of-29 from 3-point range aren't terrible numbers — to just 8 second-chance points.
And then, of course, there were the 110 points — the second-straight game the Zags have topped the century mark and fourth consecutive matchup with over 93 points. That was the biggest outlier for a BYU team that had held opponents to 75 points or less for six-straight games, including a season-low 43 points last weekend against Saint Mary's.
"We can't let a team score that many points and expect to beat a high-caliber team like Gonzaga," said Caleb Lohner, who had 17 points and five rebounds. "We've just got to take this game, put it away, learn from it and get better."
But maybe, just maybe, there's a silver lining — or glimmer, rather.
Lohner had his best game of the season against a Division I opponent, and best overall — at least, from an offensive output — since scoring 19 against NAIA Central Methodist on Nov. 20. The sophomore from the Dallas area who prepped at Wasatch Academy shot 7 of 10 from the field with two 3-pointers and a pair of steals that helped make up for four turnovers.
"He's been working really hard," Pope said of Lohner. "He's a really talented player. I was happy for him tonight."
After scoring a total of 9 points in the previous four games, Lohner erupted in 22 minutes, when every time he touched the ball — from an hour before tipoff until the final whistle — the Gonzaga student section would mercilessly boo him after a comment he made about the Zags being the most-hated team in the conference went viral among Bulldog social media circles.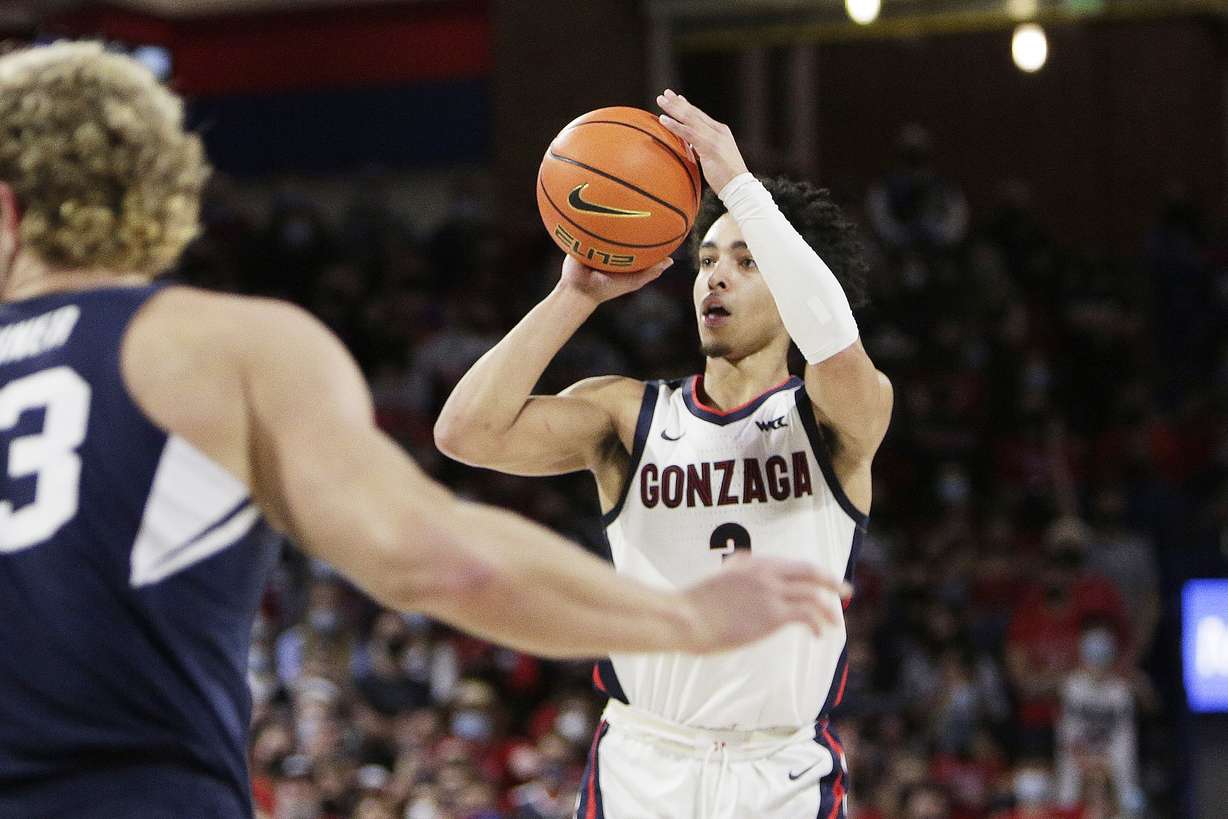 He's not necessarily wrong — opposing fans tend to hate teams that dominate any league the way Gonzaga has run the West Coast conference for the past 20 years — and neither were the students for booing him.
Lohner will take the role of villain with a grain of salt, and also a smile on his face. In some ways, it made him play harder.
"There's a recurring theme where somehow I'm the hated person in every away game we go to," the son of former BYU guard and Provo High standout Matt Lohner told the Deseret News after the game. "It's fun; I'll take it. But I respect every team we play. It's all fun."
That respect extends to the Cougars' next opponent. After the most lopsided defeat in Pope's three seasons at BYU, the Cougars travel to the Hilltop to take on a surging San Francisco team that has been the surprise of the conference.
The Dons are 15-2 and ranked No. 34 by KenPom — just seven spots behind BYU — and boast No. 55 adjusted offense to go with a top-30 defensive team.
The Cougars have never lost consecutive regular-season games under Pope, but that streak will be put to the test Saturday night (9 p.m. MST, CBS Sports Network).
Third-year coach Todd Golden is 48-28 with the Dons, and Jamaree Bouyea leads the team with 17.8 points per game with a 41.7% 3-point clip that ranks 11th nationally. Yauhen Massalski is also one of the top post players in the WCC, averaging 14.4 points and 8.2 rebounds per game since joining USF from his former school, San Diego.
Like BYU, the Dons are receiving votes in the AP top 25 and might have peeked into the rankings were it not for a narrow loss to Loyola Chicago in a hastily scheduled game at Salt Lake Community College a week ago. The Ramblers, by the way, are rated 28th in KenPom with the 18th-best adjusted offense in the country.
"San Francisco's a real-deal team," Lohner said. "We've got to do the things we know how to do, and go in there and get a win."
The Cougars licked their wounds for about two minutes, Pope said, and moved on to the next one by the time they hit the charter flight late Thursday night from Spokane to San Francisco.
It's part of the deal when you play the top three teams in the conference in back-to-back-to-back succession.
"We don't have a choice," Pope said. "It's coming quick; jump on a plane and head down to play against a really, really explosive offense that can cause a lot of problems defensively.
"We had two minutes of grieving, and then we've got to get instructive. Our team is good at that … and it's what we've got to do."
How to watch, stream, listen
BYU (14-4, 2-1 WCC) at San Francisco (15-2, 2-0 WCC)
Saturday, Jan. 15 at War Memorial Gym
Tipoff: 9 p.m. MST
TV: CBS Sports Network
Streaming: CBS Sports App
Radio: BYU Radio 89.1 FM, KSL 102.7 FM/1160 AM (Greg Wrubell, Mark Durrant)
Series: BYU leads, 22-9
×
Related Stories