Estimated read time: 4-5 minutes
This archived news story is available only for your personal, non-commercial use. Information in the story may be outdated or superseded by additional information. Reading or replaying the story in its archived form does not constitute a republication of the story.
OREM — It's been quite the year for Rowland Hall senior Drew Lang.
The defending 6A state champion for West High is looking to defend his title at 145 pounds, and he's looking to be the favorite at the weight after an eighth-place finish in the prestigious Doc Buchanan Invitational in California ahead of this weekend's Rockwell Rumble in Orem.
But first, the Princeton-bound senior had unfinished business.
A year after Juab star Channing Warner edged Lang 4-3, the defending state champion earned his revenge with an 8-3 victory in the Ross Brunson Utah All-Star Duals held Tuesday evening at the UCCU Center in Orem, the first time the event brought together the top boys and girls wrestlers in the state on the campus of Utah Valley University.
"He's been on my dual teams since I was in fourth grade. His family is around my same wrestling scene," said Lang, who was born in Tokyo and lived in New Jersey prior to his family moving to Utah when he was younger. "We have a lot of respect for each other because we know the thousands of hours of work to get to the point we're both at.
"My mentality for this week was that I know I'm good enough, that I can be one of the best wrestlers in the country, and I wasn't going to let him take that from me. … It's my last year, and I want every win. I want to be the best."
With the result clinched, Lang can look ahead toward the Rumble, the 6A divisional tournament, and a spot atop the podium at the 6A state tournament, where he'll be the favorite.
For the dominant senior season, Lang credits his mother for helping him keep straight A's at Rowland Hall, West first-year coach Gary Coffman, and his private coach Cyler Sanderson — as well as special attention from his older brother Jack, who is a sophomore at Princeton.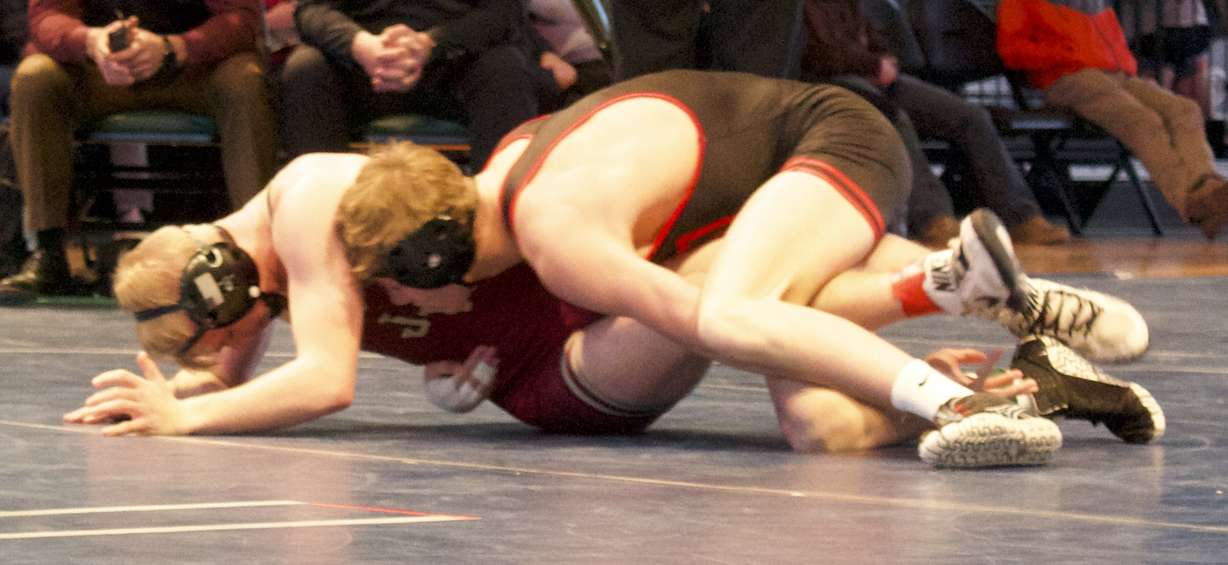 Drew Lang has come a long way since his first wrestling match as a scrawny 3 year old watching his older brothers Jack and Will compete in New Jersey.
"I remember my first match. It was against a girl and I got pinned — in the first period," said Lang, whose father David wrestled at Ithaca College. "Even though that kind of sucked, I stayed on the course and had my two older brothers push me, which is what really got me to where I'm at. They sacrificed so much to help me get where I'm at, and I want to show them how much that work paid off."
After the season, Lang plans to follow his brother to Princeton, where he hopes to study finance, following the steps of his father who works in banking. To do that, he had to focus as much on academics as the mat — one at Rowland Hall and the other at West.
"My mom and dad know that we can perform and accomplish anything we want to," Lang said. "If we're not meeting those standards, they ride us, and my brothers can get on us, too.
"When I was young, my dad pointed me in the right direct. And then in high school, I pushed myself and my coaches pushed me. Then my brother Jack came back to train with me, and he convinced me that I earned everything. It was awesome to have him in my corner, to be a better wrestler, and to love the sport more."
Other standouts from the all-star dual included Box Elder's Bridger Ricks, who topped Pleasant Grove's Jacob Carson 10-6 to set up his run for a fourth state title. Mountain Ridge's Kyison Garcia held off Morgan's Will Korth to build on a month that included a second-place finish in the Reno Tournament of Champions a year after finishing third at state while finishing the tournament on a fractured fibula.
"I think I could've done a little more on my feet and blow the match open," said Garcia, who won a state title as a freshman. "I've been putting a lot of time in at racking up points. But sometimes you've got to just get gut out wins."
Ross Brunson HS All-Star Duals
Boys Wrestling
UCCU Center, Orem
Jan. 11, 2022
106 — Layne Kleimann, Mountain Ridge, p. Rowdey Petersen, Juab, 3:44.
106 — Korbin Chuchran, Westlake, p. Asher Farr, Snow Canyon, 4:21.
106 — Connor Knudsen, Timpanogos, d. Dak Eldredge, Millard, 1-0.
113 — Geronimo Rivera, Layton, d. Andrew Fox, American Leadership, 2-0
113 — Dillon Ivie, Altamont, d. Tyler Vivanco, Corner Canyon, 7-5.
113 — Aaron Garcia, Payson, d. Carter Nelson, Mountain Crest, 3-1.
120 — Bridger Ricks, Box Elder, d. Jacob Carson, Pleasant Grove, 10-6.
120 — Michael Alexander, Uintah, d. Dayson Torgerson, Richfield, 7-3.
120 — Easton Evans, Mountain Crest, p. Weston Blake, South Sevier, 1:20.
126 — Kyison Garcia, Mountain Ridge, d. Will Korth, Morgan, 5-3.
126 — Byron Christiansen, Emery, d. Heath Clyde, Wasatch, 9-4.
126 — Luke Schroeder, Emery, vs. Gatlen Farnsworth, 12-9.
132 — Ryder Robinson, Wasatch d. Seth Armstrong, 9-2.
132 — Blake Woolsey, Morgan, d. Dallan Hunsaker, American Fork, 7-4.
138 — Brigham Bagley, Corner Canyon, vs. Russell Evans, Beaver
138 — Koda DeAtley, Pleasant Grove, d. Austin Kelly, Wasatch, 6-4.
138 — Austin Kelly, Wasatch, d. Russell Evans, Beaver, 8-6.
144 — Brady Merkley, Uintah, d. Kaden Olson, Riverton, 5-4.
144 — Drew Lang, West, d. Channing Warner, Juab, 8-3.
144 — McKray Gayler, Piute, d. Trey Butler, Delta, 7-3.
144 — Gayler d. Terrell Lee, Mountain Crest, inj. def. 1:37.
150 — Josh Millward, Skyridge, d. Dillon Dick, Uintah, 3-1.
150 — Colton Erickson, Woods Cross, d. Jarron Campbell, Morgan, 6-4.
150 — Keagan Boyce, Desert Hills, d. Quade Thompson, Milford, 5-1.
157 — Mac Bray, Millard, d. Sam May, Farmington, 7-4.
157 — Moses Espinoza-Owens, Viewmont, d. Trysten Dennett, Hurricane, 12-4.
157 — Carson Neff, Bingham, d. Kelan Layton, Manti, 15-6.
165 — Jordan Faifai, Syracuse, p. Riggin Boger, South Summit, 4:17.
165 — Marcus Espinoza-Owens d. Kael Bennie, Layton, 9-4.
165 — Bryant Mullins, Altamont, d. Christian Boli, Desert Hills, 4-1.
175 — Will Harmon, Juab d. Landen Shurtleff, Payson, 4-3.
175 — Trevyn Gates, Pleasant Grove, d. Blake Barnes, Milford, 9-2.
175 — Brock Guthrie, Mountain Crest, d. Charlie Fassold, Wasatch Academy, 10-7.
190 — Andrew Jensen, Maple Mountain, d. Mahkyi Smith, Lone Peak, 2-1.
190 — Maddex Christman, Emery, p. Bowden Brown, Beaver, 4:21
215 — Stone Combs, Park City, p. Rylee Creasey, Morgan, 2:54.
215 — Hunter Hammer, Mountain Crest, p. Dean Busher, Enterprise, 2:41.
215 — Cash Henderson, Woods Cross, d. Damon Armenta, Cyprus, 11-10.
285 — Kort Wilkinson, Pleasant Grove, d. Dawson Bundy, Desert Hills, 8-2.
285 — Gage Howard, Uintah, p. Cole Keele, Morgan, 4:53.
285 — Isaac Terrell, Lehi, d. Mason Bodell, 7-2.
Ross Brunson HS All-Star Duals
Girls Wrestling
UCCU Center, Orem
Jan. 11, 2022
100 — Aspen Nielson, Juab, p. Sadie Hardy, Bear River, 0:41.
100 — Kristina Kent, Davis, p. Addyson Van Cott, Stansbury, 3:54.
105 — Tenley Jones, Morgan, p. Mailien Tran, Bingham, 2:38.
105 — Made Turnbow, Mountain Crest, d. Annika Futch, Park City, 9-7.
110 — Joey Kay, Juab, p. Jaise Wakley, Mountain Crest, 4:25.
110 — Lexus Bertagnolli, Roy, d. Ellie Jensen, Maple Mountain, 7-1.
115 — Chanley Green, Uintah, p. Kristie Jensen, Canyon View, 2:37.
115 — Ashley Cannon, Westlake, p. Rylee Turnbow, Mountain Crest, 1:47.
120 — Valery Ethington, Springville, d. Sophie Miller, Bear River, 8-6.
120 — Brooklyn Pace, Copper Hills, p. Donna Wright, Maple Mountain, 5:09.
125 — Easton Nyman, Mountain Crest, d. Grace Holman, Juab, 14-4.
125 — Celeste Detoles, Westlake, d. Izzy Clements, Springville, 16-1.
130 — Brinlee Gines, Fremont, p. Corrie Williams, Enterprise, 0:42.
130 — Madelyn Topham, Ridgeline, p. Katelyn Wolf, Provo, 0:48.
135 — Kaianne Sabagala, Timpview, p. Nya Jolley, Rich, 5:39.
135 — Neida Valle, Hunter, d. Ayelen Grilli, Cedar, 9-4.
140 — Zarieh Powers, Mountain View, p. Kaizley Clark, Grantsville, 3:23.
140/145 — Elleni Johnson, Murray, p. Lizzie Shunn, Westlake, 1:05.
140/145 — Josie Redman, Bear River, p. Cristell Flores, Mountain Crest, 4:41.
140/145 — Emmy Finlinson, Westlake, p. Annie Peart, Rich, 3:07.
155 — Emmy Finlinson, Westlake, p. Talia Johansen, Mountain Crest, 1:31.
155 — Brooklyn Hays, Pleasant Grove, p. Hotaia Valeti, Springville, 5:39.
170 — Taimane Fiatoa, Timpview, p. Anya Hatch, Copper Hills, 5:39.
170 — Hannah Brodrick, Grantsville, p. Teagan Hall, Mountain Crest, 3:02.
190 — Tilisa Matakaiongo, Canyon View p. Cheyenne Ruiz, Taylorsville, 5:39.
190 — Tilisa Matakaiongo, Canyon View, p. Mikaylee Stitcher, 3:31.
190 — Nya Seiuli, Maple Mountain, p. Kennedy Peapealalo, Mountain Crest, 2:41.
235 — Hailey Butts, Juab, p. Sheccid Alvarado, Mountain Crest, 3:52.
235 — Likki Rarick, Westlake, d. Karla Padilla Zapeda, Northridge, 10-5.
×
Photos
Related stories
Most recent High School stories