Estimated read time: 2-3 minutes
This archived news story is available only for your personal, non-commercial use. Information in the story may be outdated or superseded by additional information. Reading or replaying the story in its archived form does not constitute a republication of the story.
ROY — An alleged gas station gambling operation in Roy is no longer running after state agents and Roy police officers raided the business Monday, seizing nearly two dozen machines, along with all the cash inside.
Roy police indicate that they've had their eyes on the Texaco gas station on the corner of 4400 South and 1900 West for quite a while, and that some locals even refer to that business as "Lil' Wendover."
Around 9:30 a.m. Monday, several state and local law enforcement vehicles pulled up all at once and surrounded the Texaco. Undercover agents hopped out and stormed inside the front door to serve a search warrant.
The bust comes after months of secretly surveilling the gas station, including sending uncover officers inside to play machines that Detective Josh Taylor with the Roy Police Department said lined the perimeter inside the gas station.
Taylor described how Roy police received many complaints about the Texaco.
People driving by looked out their windows curiously, watching the crackdown unfold.
Agents from the Crimes Against Statewide Economy Task Force rolled out the alleged gambling machines. Four machines were hooked together into one unit, and television screens displayed the games that people played.
"They put a cash bill in, just like you would a Coke machine — anywhere from a $1 bill to a $100 bill — and you play games and hopefully win money, I suppose," explained Brendan Call, section chief of the Proactive Investigations and Street Crimes Unit at the Utah Attorney General's Office.
He added that many people probably didn't win much in return. In fact, some victims have lost tens of thousands of dollars in the illegal machines, investigators said during Monday's operation.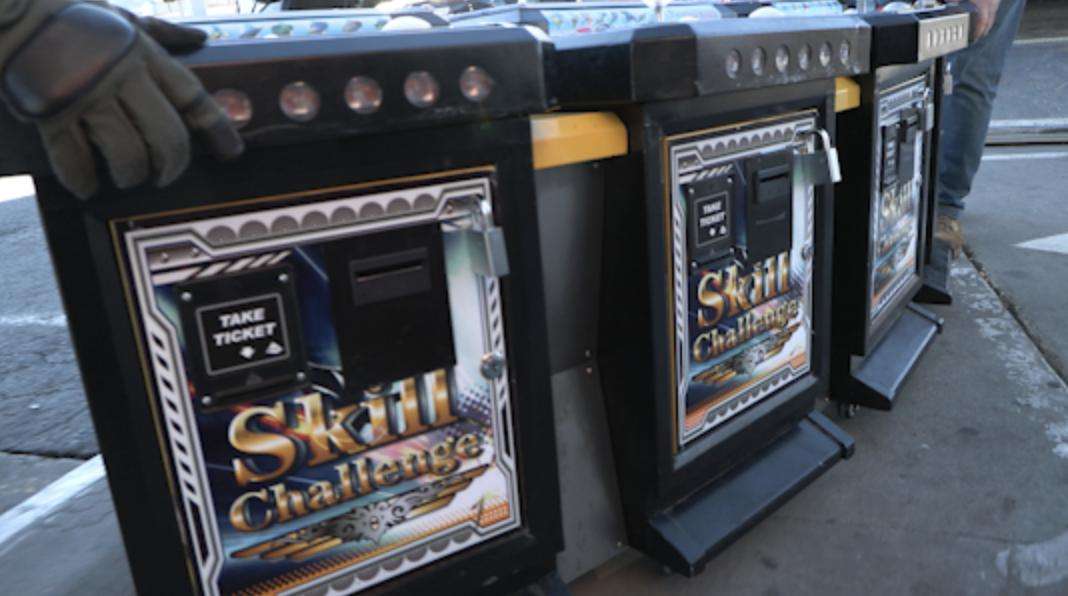 Taylor mentioned that they used to find more of those gambling rings a few years ago. The state took many of them down, and legislators passed laws to tighten what's allowed in Utah.
"Most of the gas stations have kind of gotten rid of them. Most of the convenience stores have gotten rid of them," he said.
Still, they don't want a single operation in business — and not just for the gambling aspect.
"It just brings lots of other crimes," Call said.
He said Roy police have reported dealing with many issues in the area of the Texaco.
"There's been DUIs, there's been shootings."
Taylor echoed the problems they've seen.
"Recently, we had a kidnapping attempt here," he explained. "We do see kind of some more crime coming out of this area. Hopefully with this, it can kind of help deter that a little bit."
After finding the master set of keys for the machines, agents opened each of the 20 machine doors, then took out all the cash.
Right off the bat, they bagged up $12,000, and still had more to count.
Now they've seized the machines and the cash, Call said he expects an arrest, followed by charges being screened. He said they anticipate multiple felony charges, including possession of a game machine, money laundering and pattern of unlawful activity.
×
Most recent Utah stories