Estimated read time: 7-8 minutes
This archived news story is available only for your personal, non-commercial use. Information in the story may be outdated or superseded by additional information. Reading or replaying the story in its archived form does not constitute a republication of the story.
SALT LAKE CITY — The first few days of 2022 have been a sobering reminder that COVID-19 isn't over in Utah and across the world.
Gov. Spencer Cox released a video Thursday where he pleaded again for Utahns to get vaccinated after the state recorded yet another pandemic-record high number of new cases. In it, he said record numbers are expected "for the next few weeks," as a result of the omicron variant of the coronavirus.
Summit County officials also reissued a mask mandate over the rise of new cases caused by the variant.
Public health experts first reported that the omicron variant had overtaken the delta variant as Utah's dominant strain in late December. However, recent Utah Department of Health data shows exactly how quickly Utah's cases shifted from primarily delta to primarily omicron.
The more recent variant now accounts for more than four of every five cases the state sequences. And it got there much faster than the delta variant got there.
The sudden rise of omicron
The Utah Department of Health has tracked variants since pretty early in the pandemic. They do it by taking a random sample of positive tests and sequencing them to figure out the most active strain of SARS-CoV-2 — the virus that causes COVID-19.
Dr. Kelly Oakeson, the Utah Public Health Lab's chief scientist for bioinformatics and next-generation sequencing, explained recently that the lb sequences about 3,000 cases per week. The average test takes a little over a week to return with a result.
It's worth noting all of this data is published online but the information for every week, especially more recent weeks, changes because of the lag in sequencing time and then another lag in time before results are reported. KSL.com collected data for this story based on the information available on Thursday.
We know the omicron variant first appeared in Utah in late November or early December — it was officially announced Dec. 3. Researchers sped up the process by sequencing the test sample of someone who had recently returned from a trip to South Africa instead of first waiting to confirm it was a positive test.
Ultimately, that test was one of six that came back with the variant during the sample week starting Nov. 28. It accounted for 0.5% of Utah's sequenced cases compared to 93% that were identified as the delta variant. It didn't change much the following week either, where just 1% of cases sequenced in Utah were identified as the omicron variant, according to the health department.
The first noticeable spike in omicron came the week of Dec. 12, when the variant accounted for 11% of sequenced cases. That's also when delta's reign over Utah started to fall. About 83% of cases were identified as delta that week.
Then, on the week of Dec. 19, the percentage of omicron cases jumped to 47% compared to delta's 49%. Omicron cases now account for 81% of Utah's sequenced cases, according to the most recent week in available data, the week of Dec. 26.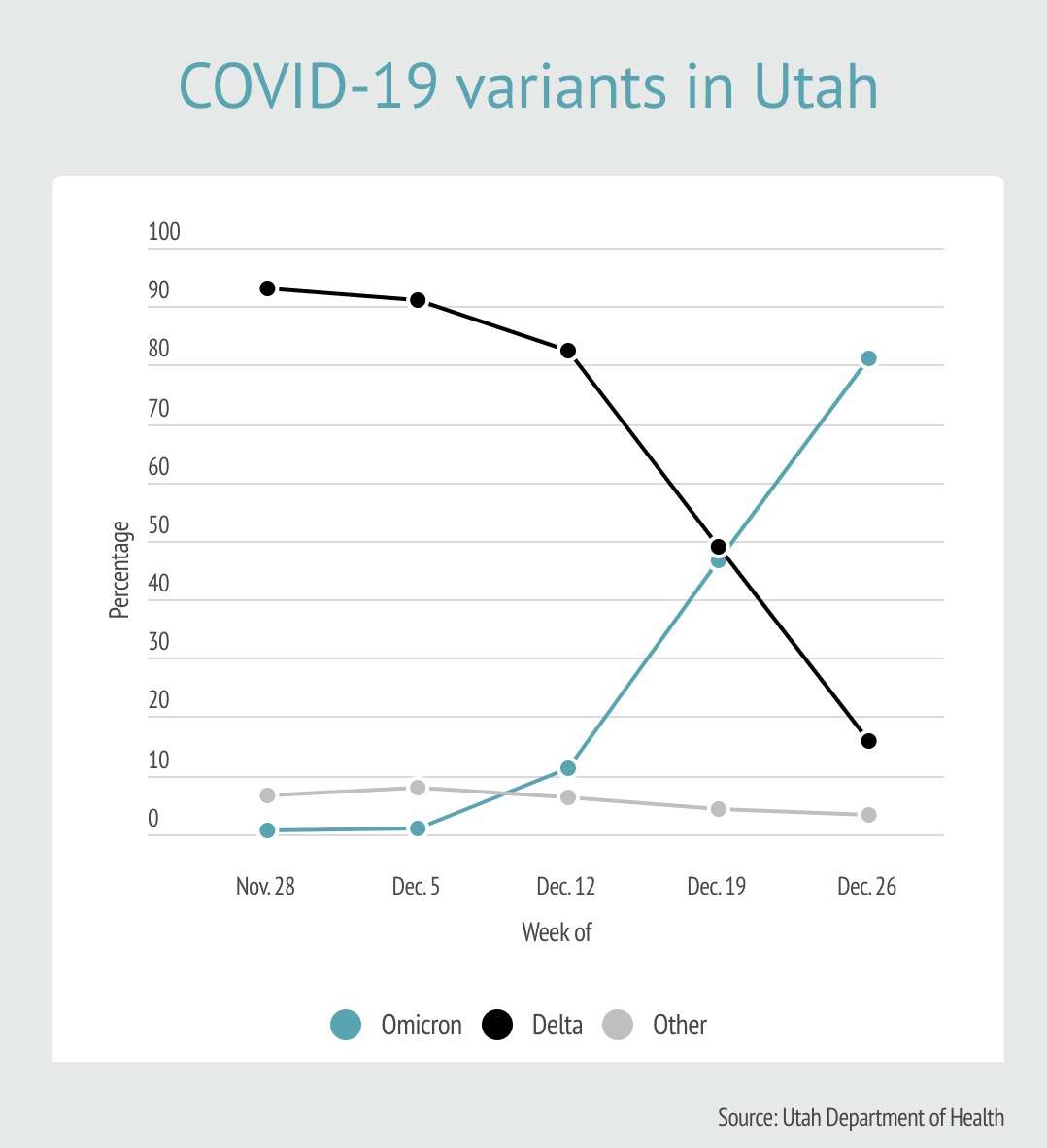 It took about four weeks for omicron to go from first identified case to over 80% of them, according to the health department data.
Comparing omicron's rise to delta
This same method is how public experts saw the rise of the delta variant, which took a much slower route to become the dominant variant in the state despite the Centers for Disease Control and Prevention noting the variant is twice as transmissible as the original coronavirus strain.
Utah's first delta variant case was identified in early April 2021; by mid-May, the variant accounted for about 12% of all sequenced cases. It wouldn't reach 80% until the week of June 20 — close to two and a half months after the first case was identified. It had been the dominant strain in Utah from June up until a few weeks ago.
Another interesting statistic to measure the two is Utah's test positivity rate. Data shows Utah's seven-day running average of person-over-person positivity rate maxed out at 18.6% in the time the delta variant emerged in April through mid-December. The rate had fallen to 11% by Dec. 20, but it's taken a dramatic turn since the time omicron took over the majority of randomly screened cases.
It's now at 24%, which is a level that hadn't been reported in Utah since early January 2021. There aren't any indications that's stopping anytime soon, either. A higher percentage indicates a greater risk of unreported cases.
Preliminary data from other experts over the past months seems to indicate that the rise in Utah isn't a fluke; however, it's still too early to know how much more transmissible omicron is compared to delta.
NPR, in mid-December, reported that omicron could be twice as infectious as delta, based on early research. A Columbia University study of South Africa, published on Dec. 21, found it to be 36% more transmissible than the delta variant.
The CDC expects that the omicron variant "will spread more easily than the original SARS-CoV-2 virus," but as of Thursday, reports say they don't have an accurate picture yet of how much more transmissible it is compared to the delta variant.
The seriousness of the omicron variant is also up for debate compared to delta and previous variants. The World Health Organization on Thursday reported that omicron appears to produce less severe infections than the delta variant, but added it doesn't mean the variant is "mild," Reuters reported.
Omicron and Utah's COVID-19 situation
The average of COVID-19 hospitalizations in Utah is back on the rise after it dropped between Dec. 8 and Dec. 23. It went from about 39 new hospitalizations per day to about 59 on Tuesday.
It's still nowhere near the peak of 94 a day in mid-November 2020. But there's a lag between reporting a new COVID-19 case and new hospitalization. Intensive care units, though, are running at 95% capacity statewide.
Utah health department data also seems to show what global public health experts have said for weeks — that more vaccinated people are still at risk of getting infected with this new surge.
Unvaccinated people are 2.6 times at greater risk of contracting COVID-19 than vaccinated people, based on data over the past 28 days, health officials said Thursday. The 28-day risk was 6.3 times three months ago and 3.6 times greater a month ago.
While that's shrinking, the data suggests the divide in serious disease is increasing. The department reports unvaccinated Utahns are at 8.9 times greater risk to end up in the hospital and 17.1 times at greater risk of dying than vaccinated Utahns based on data over the past four weeks. Those risks were seven and 6.4 times just three months ago, respectively.
Recent COVID-19 case counts and deaths are a sobering reminder of just how contagious this Omicron variant is. Like every other state, we expect record case numbers for the next few weeks.

We have the tools to beat this, but they only work if people use them. pic.twitter.com/juzRA53cuh

— Utah Gov. Spencer J. Cox (@GovCox) January 6, 2022
It's a trend the CDC has also picked up on with the global rise of the omicron variant. Experts say the vaccine is still holding up well against severe illness and death, as it has with other variants, including delta.
"The recent emergence of omicron further emphasizes the importance of vaccination and boosters," the agency writes.
Omicron's rise is also why Summit County returned to a mask mandate and hospital officials say they are again reaching a "crisis phase."
The data is also why Cox issued a video Thursday pleading with Utahns to get vaccinated.
"The good news is we have the tools to beat this, but they only work if we use them," he said. "If, for whatever reason, you have been putting off getting vaccinated or boosted, now is the time. ... They are the most important things you can do to protect yourself, your loved ones and your community."
×
Related stories
Most recent Coronavirus stories