Estimated read time: 9-10 minutes
This archived news story is available only for your personal, non-commercial use. Information in the story may be outdated or superseded by additional information. Reading or replaying the story in its archived form does not constitute a republication of the story.
SALT LAKE CITY — Dr. Andrew Pavia said Friday morning that he believed it was likely that the newly-named omicron COVID-19 variant was here in Utah.
"If you just look at that map, I think it's highly likely that if it hasn't reached Utah, it's a matter of days," said Pavia, chief of the division of pediatric infectious diseases at University of Utah Health and the director of epidemiology at Primary Children's Hospital.
Turns out he was right.
The Utah Department of Health confirmed its first case of the variant Friday afternoon. The individual who tested positive is described as an "older adult who lives within the Southwest Utah Public Health District" who recently came back to Utah from a trip to South Africa.
A spokesman declined to provide further information about the case, including when the person returned to Utah, got tested or the county they live in, out of respect for the individual's privacy. Dr. Kelly Oakeson, the Utah Public Health Lab's chief scientist for bioinformatics and next-generation sequencing, said it typically takes the state eight to 10 days from a person getting a COVID-19 test to the time a sequence result comes in, but this case was fast-tracked by testing the sample before it was a confirmed case.
Officials said the individual was fully vaccinated and received monoclonal antibody treatment. He or she is recovering at home with mild symptoms. They added that close contacts of the individual have been "extraordinarily cooperative" and are following isolation, quarantine and testing guidance of public health authorities.
Dr. Leisha Nolen, the state's epidemiologist, said nobody who was in contact with the infected person has shown symptoms since the individual returned to Utah. Those people have been tested "a few times" already and none of the results have come back positive as of Friday afternoon.
Nolen said she, like Pavia, was not surprised that the variant was found its way to Utah just based on the "high number" of Utahns traveling out of state. The variant has already been detected in Colorado, California, New York and Minnesota this week and the number of cases is expected to grow because at least one of the cases didn't involve out-of-country travel.
But as the science focus shifts on omicron, Pavia says Utahns shouldn't overlook the variant most prevalent in the state right now — the delta one. Utah health officials on Friday confirmed 1,873 new COVID-19 cases in the state, as well as 19 additional deaths associated with it.
Data from the Utah Department of Health shows the number of new COVID-19 cases has gone back up the last few days after the state's seven-day rolling average began to fall again. Pavia says this may show a post-Thanksgiving-related surge. The nearly 2,300 cases reported Tuesday is the second-highest single-day count since the widespread rollout of the COVID-19 vaccine, according to state data.
The department data also shows nearly all of the state's sequenced cases in recent weeks came back as the delta variant. There are also 513 hospitalizations as a result of COVID-19, as of Friday. The state's intensive care unit beds are also 92% full, well over the percentage that triggers the utilization warning. Close to 40% of ICU beds at the state's largest hospitals are filled with COVID-19 patients.
"Everyone's focused on omicron and the press understandably is very interested in it, but we're still getting hammered by delta and we need to get it under control," Pavia said.
Understanding the omicron variant
As for the omicron variant, Pavia explains the research indicates that it does hamper the effectiveness of monoclonal antibodies and it does a better job of causing reinfection. But he said there's still work to be done before researchers know for certain if the variant acts differently in people than previous variants do.
Nolen says that's exactly the biggest challenge omicron poses right now.
"Is it going to spread to a lot more people a lot easier? We don't know for sure yet," she said. "But other things like how severe is the illness, we don't know that. That is really just starting to be better understood. We're going to have to watch that information evolve."
The problem with what's known so far is that most of the stories that have emerged come from clusters of college-age people in South Africa, not wider groups of people worldwide, Pavia said. Since those cases have generally involved younger people, the symptoms have tended to be milder. It may take a few weeks for a better understanding of the variant across other age groups.
He urges the public to be patient while researchers race to learn more about the variant.
"Anybody who tells you they know is basically responding to stories and not to real data," he said. "We'll learn more as we see it spread more broadly and we see a broader range of groups of people infected. So be patient. We'll have answers soon but we can't make stuff up right now."
There is a good chance that the single case confirmed Friday isn't the only case in the state. Oakeson said the Utah Public Health Lab sequences about 3,000 cases per week and that won't change just because of the new variant.
Since there are still many unknowns, the state health department, citing the Centers for Disease Control and Prevention, recommends that all international travelers who are unvaccinated should stay home and away from others for a full week after their trip and all travelers should get tested two to five days after they return to Utah.
"We have a system set up so that people who have come in internationally will receive a letter sort of outlining what we ask in terms of getting tested when they arrive (back to Utah) and if they aren't vaccinated, quarantining at home for seven days," Nolen said.
How to treat these different variants
Still, the science points to the same precautions as the original strain and its many other variants. In announcing the state's first omicron variant case, Nolan said it hasn't changed the state's precautionary approach.
"The discovery of this case does not change the way Utah residents should protect themselves but reinforces that we all need to take this virus seriously," she said in a statement. "Please take action to protect yourself. Get vaccinated and get a booster dose when you qualify, wear a mask in crowded, indoor settings, get tested early if you have symptoms and stay home if you are sick or test positive."
Pavia offered similar advice when asked about the probability that the variant was in Utah. He says people who haven't already should get vaccinated and those who have already been fully vaccinated should get a booster shot.
He recommends that masks should still be worn in indoor areas around unvaccinated people and crowds, too. If everyone in a smaller setting has taken the same precautions, including getting a booster shot, he said that's when he'd feel comfortable taking the mask off.
"I think we know how to deal with omicron, we're not just doing it all the time," he said. "What isn't going to work against omicron is saying, 'We're tired of the pandemic and we're so done with it that we can't take precautions.' That's going to lead to a lot more illness."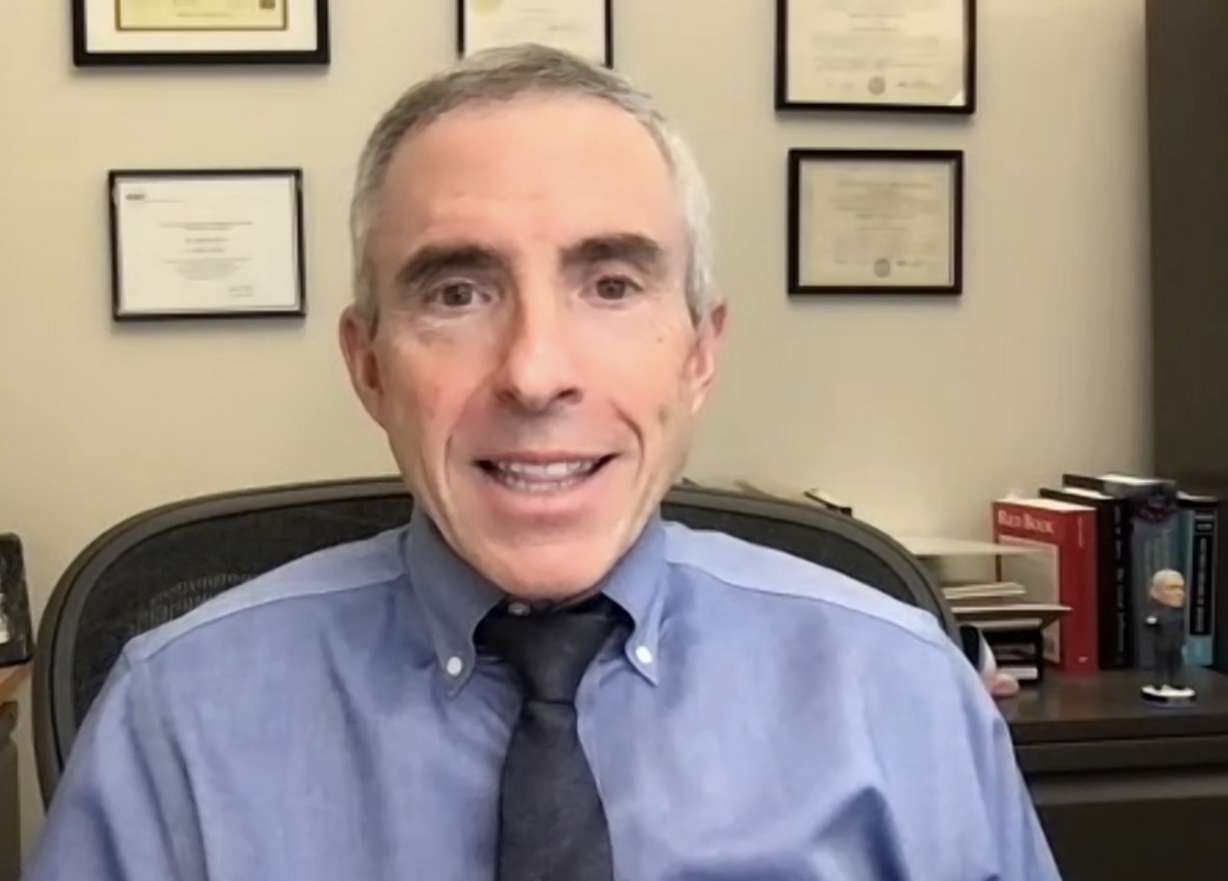 Pavia added that the rise of new variants may be solved by booster shots or vaccine manufacturers may need to alter their formulas to account for the virus mutating. Both of those options, he explained, should be explored as a precaution.
The reality is that the omicron variant probably won't be the last variant, especially if the virus that causes COVID-19 is still floating around the world. That's why Pavia said the health measures are important in Utah and on a global scale.
"This virus mutates and it has shown it's really flexible. It is evolving and it's evolving to become a better pathogen, to be better at infecting us and spreading," he said. "The only way that we're going to control the emergence of variants is to decrease the number of infections. We can't do that by just decreasing the number of infections in the U.S., we have to decrease the number of infections around the world."
Utah reports 1,873 new cases, 19 new deaths Friday
Utah Department of Health officials on Friday confirmed 1,873 new cases of COVID-19, as well as 19 new deaths. With the update, the state's seven-day rolling average for new cases is now 1,407 per day, and the positive rate of those tested is 14.4%, the health officials said in its daily update.
School-age children represented 362 of the new cases — 176 were ages 5-10, 87 were 11-13, and 99 were 14-17, health officials said.
The health department reported no deaths Thursday due to a reporting system error. One of the 19 new deaths reported occurred before Wednesday, the others happened since. Sixteen of the 19 were hospitalized at the time of their deaths.
They were described as:
A Cache County woman between the ages of 65 and 84 who was hospitalized at the time of her death.
A Davis County woman, 45-64, not hospitalized.
A Davis County woman, 45-64, hospitalized.
An Iron County woman, 65-84, hospitalized.
Two Salt Lake County men, 45-64, both hospitalized.
Two Salt Lake County men, 65-84, both hospitalized.
Two Salt Lake County women, 45-64, both hospitalized.
A Salt Lake County woman, 65-84, hospitalized.
A Salt Lake County woman, 25-44, hospitalized.
A Salt Lake County man, 65-84, not hospitalized.
A Tooele County woman, 45-64, hospitalized.
A Utah County woman, 45-64, hospitalized.
A Washington County woman, older than 85, not hospitalized.
A Washington County woman, 45-64, hospitalized.
A Washington County man, 65-84, hospitalized.
A Weber County woman, older than 85, hospitalized.
Health care workers administered 21,242 vaccine doses since the previous day's report, bringing the total doses given in Utah to 4,196,422. About 69.2% of all Utahns 5 or older have received at least one dose of a COVID-19 vaccine, while 56.1% are considered fully vaccinated. The department reports 438,833 Utahns have received a booster dose among the over 1.8 million fully-vaccinated residents.
The department reports 654 new breakthrough cases among those considered fully vaccinated. There have now been 50,248 of those cases statewide, accounting for about 2.8% of all fully vaccinated Utahns. There have also been 2,120 breakthrough hospitalizations and 302 breakthrough deaths, which represent 0.1% and about 0.02% of hospitalizations and deaths among fully vaccinated Utahns.
State health officials say it's still more likely for those unvaccinated to contract COVID-19, end up in a hospital or die from COVID-19. They report that those who are unvaccinated were 3.5 at greater risk of contracting COVID-19, 9 times at greater risk of becoming hospitalized from COVD-19 and 12.7 at greater risk of dying from COVID-19 over the past four weeks.
×
Related stories
Most recent Coronavirus stories