Estimated read time: 7-8 minutes
TAYLORSVILLE — The first call came Monday, and by Wednesday afternoon the contract had been signed.
All that was left was for the game — a top college basketball game featuring two of the top teams in NCAA Division I.
On a junior college court.
But Salt Lake Community College athletic director Kevin Dustin wasn't talking about his school, even if the top-ranked Bruins' men's basketball team is in the middle of its championship-contending season in the third year under head coach Kyle Taylor.
The call that Taylor received Monday was for a very different game, but one the Bruins were more than happy to address.
The University of San Francisco needed a game for Thursday, and with Gonzaga extending its COVID-pause, no West Coast Conference team was available. So the Dons called fellow Jesuit school Loyola Chicago, and the two quickly worked out a way to fill in the 15th and final nonconference game in their schedule.
The only problem? Neither one of them wanted to travel to the other's home gym. Other restrictions made traveling from the Bay Area to the Windy City — or vice versa — on short notice even more difficult, so Dons coach Todd Golden searched for an appropriate neutral site.
That left Salt Lake City as a midway point between two of the top mid-major teams in college basketball, a pair of squads ranked No. 18 and 34 in the NCAA's NET rankings, and a deal was quickly struck.
"We've got three officials, we've got two teams, and we're going to tipoff tomorrow afternoon," Dustin told KSL.com just hours after the contract was signed and with both teams safely in Salt Lake, "as far as we can tell."
In a world where the omicron variant of COVID-19 has set college basketball schedules afflux from coast to coast and conference to conference, one of the better tales is how the Dons and Ramblers came together to create a top matchup that is sure to have ramifications on the NCAA Tournament field come March.
It wasn't going to happen, but for some shifty maneuvering. And were it not for a phone call to Taylor, who before he pasted a 66-9 record in his first three years at SLCC worked at Idaho State, Utah State and Division III Covenant College, the deal may not have happened.
Certainly, it wouldn't have happened in Salt Lake, which boasts the right combination of a major international airport with a large hub, plenty of hotel space, and a basketball-friendly market. Even the gym at the Lifetime Activities Center was quickly set up to stream the game live on the WCC network — though that was being finished at the last minute, despite its previous advantages of streaming on the Bruins' own Scenic West Athletic Conference subscription service and the cameras set up for the NBA G League's Salt Lake City Stars.
Come Thursday at 12 p.m. MST, college basketball fans in Utah will have two more teams to watch, for a $10 admission (available online here, free for SLCC students/faculty/staff) or on the conference network with SLCC's own Jon Oglesby and "the coach" Joe Cravens on the call.
"We would love any BYU basketball fans in the Salt Lake area to come support the Dons on Thursday at SLCC at 12 noon Mountain time," tweeted Golden, the 36-year-old head coach adept at using social media to publicize his top-35 NET team with the 13-1 record. "A win for USF would be great for the Cougs and the WCC!! You can even wear blue!!"
It wasn't without its complications, first being scheduling. The Bruins' women's basketball team was scheduled to play at 5 p.m. MST at Bruin Arena, but head coach Marcilina Grayer offered to move tipoff with rival Snow College back an hour to make the transition work.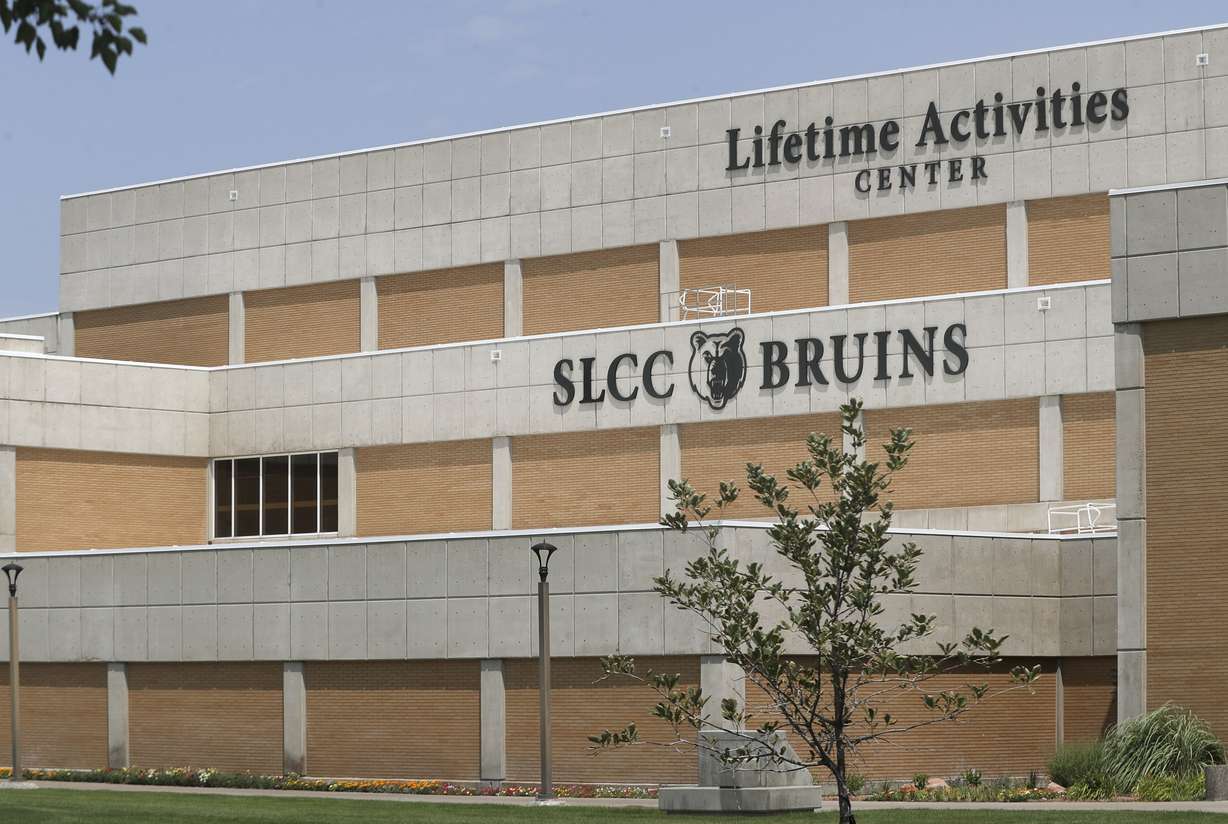 Then there was the issue with livestreaming — all solved between the time Dustin spoke with KSL.com late Wednesday afternoon and early Thursday morning.
When a few parties are motivated to make something happen, things have a way of working out. And the Bruins were just as motivated to make this unique arrangement work out, as werethe Dons and Ramblers.
"The big thing for us is visibility," Dustin said. "We have a school that we think is special, and a basketball program that is terrific. Sometimes it's just about getting the word out, either through the Stars, high school games or events like this. We take every opportunity we can to promote Salt Lake Community College.
"If this game ended up even with one ESPN highlight, it would take a lot of money from a marketing point of view to mimic."
So thank you to USF, to Loyola, to the athletic directors at all three schools. And again, thank you as well to Taylor, the former Pepperdine video coordinator and California native who knows the WCC as well as anybody.
"He's fantastic. He's obviously got the team ranked No. 1 in the country, and we have some players who are going to get significant Division I offers," Dustin said of a Bruins lineup that features former American Fork star Tanner Cuff, Davis' Tyson Garff and Lone Peak's Jaxon Pollard, among others. "We think we can provide a lot for kids in the way of finding a Division I school, and a really nice blend of both local and out-of-state talent.
"Kyle's the real deal. He's well-connected and extremely well respected around the country. He's been in the business for a while, and these things come as a result of those positive relationships."
After the Zags left San Francisco with an opening, Taylor was on the phone with Golden's staff. A leaked report that night to CBS Sports' Matt Norlander sent the deal into hyperdrive, and by Tuesday morning, an agreement had been reached.
No contract had been signed — that was done Wednesday morning — but both USF and Loyola Chicago were charter flight-bound for Salt Lake City. The game was happening, and at breakneck speed reminiscent of ESPN's former midseason Bracket Buster classics, or the BYU-Coastal Carolina football game of 2020.
"When adversity hits, you have to find a way to pivot and make things work. We preach that every single day," Loyola Chicago coach Drew Valentine told KSL.com through a spokesman shortly after the Ramblers' game Thursday with Illinois State was called off due to COVID-19 concerns within the Redbirds' program. "This is another example of what we preach and showing them that adversity is nothing more than a roadblock, that there's always another way. San Francisco is one of the best teams in the country and Todd Golden is another young and passionate coach. We saw that they had a cancellation just like we did, so we reached out to make it happen and he was happy to try to work something out.
"This is an incredible opportunity for us to get to play another high level team in a tournament style game."
Immediately following the game, the two teams are scheduled to get on a pair of flights home. USF has a home game Saturday against San Diego, what will be the WCC opener for the Dons, while Loyola is scheduled to return to Missouri Valley Conference play against Bradley following their first meeting with USF since 2010 and sixth overall.
"It's been fun," Dustin said. "It's been a real challenge; the facility is obviously big enough to host a game of this size, though.
"I think we'll have a robust presentation both inside and outside the arena, and hopefully the game will get out to each fan base — both in San Francisco and Chicago."
How to watch, stream and listen
San Francisco (13-1) vs. Loyola Chicago (9-2)
Lifetime Activities Center at Salt Lake Community College
Tipoff: 12 p.m. MST
Streaming: WCC Network (Jon Oglesby, Joe Cravens)
Radio: KNBR 1050 (Pat Olson, Jim Brovelli)
Series: Tied, 3-3
Ramblin' On. Loyola has not played since Dec. 10, a 69-58 win over Vanderbilt for the Ramblers' third win over a power conference team this season. Each of the last five games against Norfolk State, Davidson, Southern Illinois, Saint Xavier and Illinois State have been canceled or postponed due to COVID-19 concerns.
Shootin' Dons. San Francisco, which plays in the Beehive State every year to face West Coast Conference mate BYU, is coming off a 111-78 win Dec. 28 over Academy of Art. The Dons are led by a handful of double-digit scorers, including Jamaree Bouyea, who ranks second nationally with 17.8 points per game and fourth with 38 made 3-pointers.
×
Related Stories