Estimated read time: 5-6 minutes
This archived news story is available only for your personal, non-commercial use. Information in the story may be outdated or superseded by additional information. Reading or replaying the story in its archived form does not constitute a republication of the story.
PROVO — Two weeks after Christmas, and BYU's campus is still looking like a Winter Wonderland amid storm advisories along the Wasatch Front.
But for college basketball purposes, it's beginning to look a lot like … last year.
That goes for the Cougars, who got off to a 12-3 start in finishing nonconference play as one of the top-35 teams in the NCAA's NET ratings, only to have the first weekend of West Coast Conference play called off due to cancellations and postponements as the omicron variant rages across the country.
Every men's and women's basketball game was called off in the conference, arguably the hardest hit as teams returned from holiday break with new cases and additional ones found through more testing protocols. That includes the Cougars' conference opener last Saturday against Portland, and an extended pause by Gonzaga and Saint Mary's as the two WCC superpowers struggle to contain a current flare-up on their respective campuses.
Which makes the Cougars more appreciative of Thursday's new WCC opener against Pacific (7 p.m. MST, BYUtv).
"It just is our life. We've been through it," BYU coach Mark Pope said after practice Tuesday. "It's one of the challenges that we're going to face this year, for sure.
"By the end of the week, I think Gonzaga and LMU might be four games back on the schedule … we'll just have to piece it together as we go."
With no team to play on the weekend, Pope called a team meeting via Zoom late Wednesday night after the Cougars' 65-53 win over Westminster and made a big announcement. After putting together one of the top nonconference series by the metrics in his three seasons in Provo, Pope was giving the Cougars two days off.
No practice. No shootaround. The gym wasn't even open for 48 hours while his players recovered from a nonconference schedule that included seven returning NCAA Tournament teams, in addition to Power Five opponents like rival Utah.
"I think that recharged us," BYU guard Alex Barcello said. "He pulled a coach Carter; that's not something we expected. … He told us to take some time, rest the legs, and come back ready for conference play.
"It's going to be a battle every week. I definitely think it re-energized us. I think these guys are in a good mindset."
That starts Thursday — assuming the Tigers (5-9) make it to Provo (knock on wood, right?).
After the Cougars' WCC opener against Portland was postponed due to COVID-19 cases within the program, the Pilots extended the pause through Thursday's game against Loyola Marymount. That was par for the course for the conference, which postponed every men's and women's basketball game of opening weekend and now has three more postponed games Thursday between San Francisco and Gonzaga, as well as Saint Mary's and Santa Clara.
The WCC will try to use Monday and Tuesday to re-schedule as many of those dates as possible, but with some schools as many as four contests behind, it seems likely that the league will revert back to the "no contest" era and rank teams in the standings the same way they did a year ago.
With no game on Thursday, the Dons got creative, called a fellow mid-major darling of the Missouri Valley Conference in Loyola Chicago, and scheduled a last-minute neutral-site game at Salt Lake Community College.
Tipoff from the Lifetime Activities Center will be at 12 p.m. MST Thursday, as first reported by CBS Sports. Television details have not been confirmed, but it will be sure to attract a suitor. The two teams are receiving votes in the latest Associated Press Top 25, and rank in the top 35 of the NCAA's NET ratings — led by the Ramblers' No. 18.
In KenPom, Loyola Chicago ranks 22nd while San Francisco is 36th.
Could the Cougars use a similar model to reschedule an off-date with a nonconference opponent? That's unlikely, Pope admits, as BYU used all of its 15 nonconference games and a full exemption tournament in Hawaii to put together a mostly untouched round of play before conference play begins.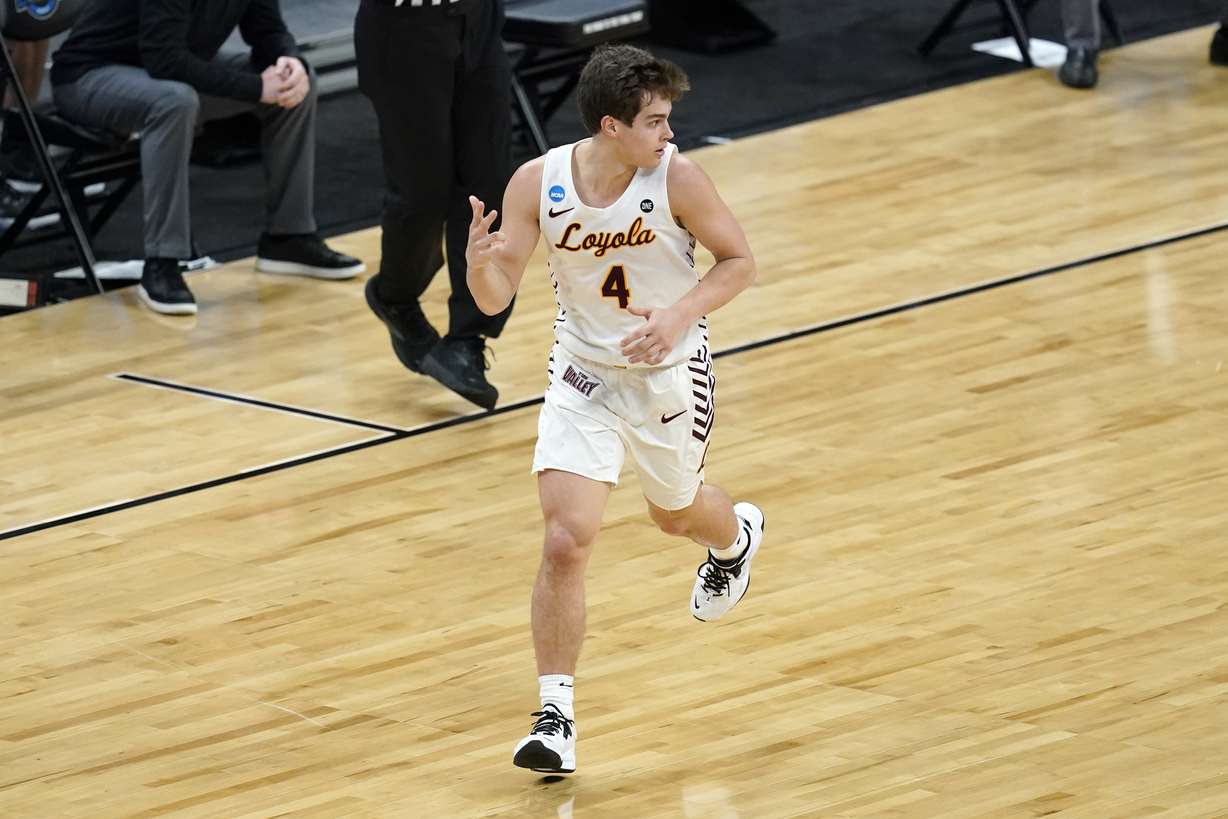 "What we're hoping is that the league — with no way to play a full schedule — will give us some flexibility where if we lose a game, then we can get something out-of-conference," Pope said. "That would be our only avenue towards getting creative with our schedule. I think it could be really good for our league."
The Dons are scheduled to play San Diego on Saturday — a team that had its first two games postponed due to a combination of virus protocols at USD and Gonzaga — and would fly back to the Hilltop after Thursday afternoon's tipoff.
Maybe they should keep the Cougars on speed dial, though. After all, if Saint Mary's has to continue its pause — or work around a new conference configuration — it might be easier to move the date between BYU and USF to Saturday night in Provo, with an ESPN audience already awaiting them.
That's unlikely to be known until after Thursday's contest, now the only one on the WCC calendar.
Welcome to the world of scheduling college basketball games during the COVID-19 pandemic — part 2. To quote CBS Sports' Jon Rothstein: wilder than a goat rodeo.
"It's just a bummer," Barcello said. "We prepare so hard for each game. We love playing; it's what gets us up in the morning, and going through the preparation for it — in their arena, or our arena. There's a lot of energy around it, and I would just say it's a bummer."
Injury update
BYU guard Spencer Johnson, who missed last week's nonconference finale against Westminster with an illness, returned to practice Tuesday but was limited in full-contact sessions.
Fellow junior Seneca Knight, who was also ill, was a full participant in practice.
"We weren't as deep as we imagined last week," Pope said, while giving praise to the play of Gideon George and Hunter Erickson in the win over the Division II Griffins. "It's nice to have those guys back, for sure."
How to watch, stream and listen to BYU basketball
Pacific (5-9, 0-0 WCC) at BYU (12-3, 0-0)
Thursday, Jan. 6
Marriott Center, Provo
TV: BYUtv
Streaming: BYUtv.org
Radio: BYU Radio Sirius XM 143/89.1 FM, KSL 102.7 FM, 1160 AM
All-time series: BYU leads, 13-6
×
Related stories
Most recent BYU Cougars stories