Estimated read time: 7-8 minutes
This archived news story is available only for your personal, non-commercial use. Information in the story may be outdated or superseded by additional information. Reading or replaying the story in its archived form does not constitute a republication of the story.
FARMINGTON — One of the more divisive issues to ever come across the Utah Wildlife Board ended with a rule change Tuesday as the board voted to ban the use of trail cameras in hunting through most of the big game hunt season.
The vote came after a spirited debate and multiple surveys over the past few months on the issue.
"We did slow down on this process," said Kevin Albrecht, chairman of the Utah Wildlife Board, prior to the final vote. "We wanted additional surveys to make sure that we really (had) a pulse on the public."
Albrecht went on to cast the deciding vote in favor of the plan, breaking a 3-3 tie between board members.
Under the new rule, hunters would not be allowed to use handheld and non-handheld transmitting and non-transmitting devices between July 31 and Dec. 31. A trail camera is defined by the state as a "device that is not held or manually operated by a person and is used to capture images, video or location data of wildlife and uses heat or motion to trigger the device."
The "sale or purchase of trail camera footage or data to take, attempt to take or aid in the take or attempted take of big game animals" is also prohibited under the new regulation.
Government and educational organizations will be allowed to use trail cameras during a hunt. Private landowners who use cameras to monitor their property for trespassers or active agricultural operations are also allowed to use their cameras during the dead period. However, those cameras cannot be used for any type of big game hunting.
The board also voted to ban night-vision devices to locate or try and locate any big game animals beginning 48 hours before any big game hunt opening date and remaining in place until 48 hours after that big game hunt ends.
The argument over trail cameras and other technology started from a bill passed during last year's legislative session. The bill, sponsored by Rep. Casey Snider, R-Paradise, called for tighter regulations on the use of trail cameras in hunting.
It was then up to the Utah Division of Wildlife Resources to come up with a plan. The agency first proposed the rule change in August, but that was scrapped almost immediately before the agency surveyed more hunters. Board members returned with another proposal in November.
The plan split Utah hunters, prompting Albrecht to joke that everyone on the board will "probably have 50% less friends" regardless of how they voted Tuesday.
The DWR completed two surveys among thousands of hunters that found a division between hunters most generally supported a ban of trail cameras and night vision devices during the hunting season.
The proposal generated 46 online comments over the span of a month, according to Justin Shirley, the director of the Utah Division of Wildlife Resources. Twenty-five people, or a little over half, responded they either "strongly or somewhat agreed" with the plan, while 20 people, or 44%, "strongly or somewhat disagreed."
Covy Jones, the big game coordinator for the Utah Division of Wildlife Resources, explained that the division amended the proposal following a formal public comment period; however, most were only technical clarifications. For instance, it clarifies that a trail camera does not qualify as a night vision device.
A night vision device includes any device that aids in finding animals during the night, including thermal imaging devices. The division also made an adjustment to allow farmers or ranchers to continue to be able to use transmitting cameras to aid in removing cougars or bears that might prey on their livestock even during the hunting season.
"Our intent here was never to harm a producer, it was to make a rule that prevented the use of transmitting trail camera for hunting big game," Jones said, adding that they specified the animals that could be hunted to close any opportunity for people to use that change as a loophole around the rule.
Albrecht explained that it was clear there was "a voice on both sides" when it came to the rule proposal.
Snider told the board Tuesday that he had similar responses when his bill went through the legislative process. Ultimately, he said the responses from his bill and the DWR surveys show "overwhelming support" for more changes in how trail cameras and other technologies are used in hunting.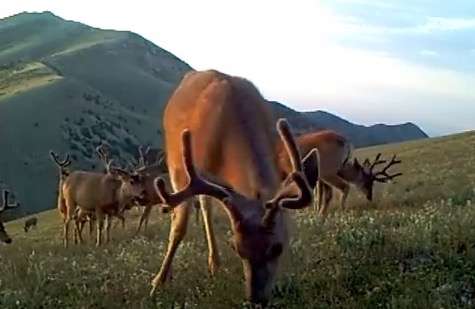 Tuesday's meeting mirrored that experience, to an extent.
One individual said they believed the law would be difficult to enforce. But more showed up in support of limiting the use of trail cameras and night vision devices because they said it was ruining the nature of hunting. That is, they argue technology is making it easier to find and kill big game animals.
"It's not a fair hunt any longer," said House Majority Whip Mike Schultz, R-Hooper. "So we have a responsibility ourselves, as sportsmen that care about the wildlife, to make sure we're being ethical in the things that we do."
Schultz, who did not vote on Snider's bill last year, said he attended Tuesday's meeting to support the proposal as an individual and not as a representative.
---
At some point, we as hunters have to take a look in the mirror and ask what we can do to help our critters.
–Kevin Norman, Utah hunter
---
Kevin Norman, a Utah hunter, shared similar sentiments, adding he believes the changes were "a step in the right direction" but don't go far enough. He voiced concerns during the meeting over how emerging technologies have altered the thrill that comes from spotting a large buck in the wild. They've also made it difficult for those opportunities to happen.
"We, as hunters, have become very selfish, and want our cake and eat it too," he said. "At some point, we as hunters have to take a look in the mirror and ask what we can do to help our critters."
The debate continued in front of the board before a decision was made. Wade Heaton, a member of the Utah Wildlife Board, argued the ban would likely affect the average Utah hunter more than a hunter on a guided tour.
He added that the board typically doesn't handle situations like they were tasked with Tuesday because Utah is typically open to advances in hunting and changing with the sport.
"We're kind of stepping into a new area that we really haven't been in before," he said. "Utah has always been — let's allow people to hunt the way they want to hunt. We've put scopes on muzzleloaders, we've done those types of things up to this point. It does feel like we're shifting the starting to go back (to regulations)."
Randy Dearth, the board's vice-chair, added he was concerned that the law would be difficult to enforce. Bryce Thurgood, on the other hand, questioned where the feedback for the board discussion was coming from. He jested he got more spam emails than any public feedback on the proposal.
He was among the board members who sided with arguments made throughout the meeting from hunters like Schultz and Norman about how the sport has changed, adding that he would add more technologies to the ban if he could.
In the end, and after a lengthy discussion, the board voted in favor of a ban with a 4-3 vote. With his decision-making vote, Albrecht said he viewed the rule as progress toward fixing new hunting issues tied to technology.
The rule will go into effect ahead of the 2022 hunting season. While he voted against the measure, Heaton applauded the way that the rule came about, gathering thousands of voices in putting together a new regulation.
That's especially true if Utah does begin to crack down on some hunting practices that it hadn't before.
"I think that it's important that we get this right because I don't think this ends here," he said Tuesday. "I think it's important to set the precedence on this that we use moving forward."
×
Related stories
Most recent Outdoors stories