Estimated read time: 4-5 minutes
PASADENA, Calif. — Britain Covey could hardly get through the question without the emotions completely overtaking him.
The beloved Utah slot receiver and punt returner, who started his collegiate career in 2015, finally realized it was over following a 48-45 loss to Ohio State in the Rose Bowl.
And what a finish it was. Covey scored the first touchdown of the game, a 19-yard reception up the seam, and returned a 97-yard kickoff return touchdown amid a three-minute scoring stretch where both teams combined for five touchdowns.
The ending was bittersweet.
"Just a lot to take in. It's starting to hit me finally. I don't want to take my pads off. Just proud of this team and this program, this university. I just have a great love for the University of Utah and — sorry, I'm just grateful," Covey said before motioning to linebacker Devin Lloyd to take over as the emotions overcame him.
Lloyd obliged and picked up where Covey couldn't:
"Just like Covey was saying, it's obviously very frustrating, especially coming up that short, but Coach Whitt hit on it in the locker room: We've accomplished so much this year, and we've banded together as a brotherhood this year," Lloyd said. "It's obviously frustrating, very frustrating to come up this short, but that doesn't take away anything that we've accomplished this year and all the success that we've had this year."
Lloyd and Covey will now turn their attention to the NFL, where one is all but certain as a likely first-round draft pick and the other's professional playing career isn't. The Rose Bowl may be the final act.
But whatever the future path for Covey or Lloyd, or the handful of other players who suited up for the last time in Pasadena, it was a moment not to forget. The result was devastating in terms of the game's score and the finality of it, but Utah's historic bowl opportunity went down as one of the greatest.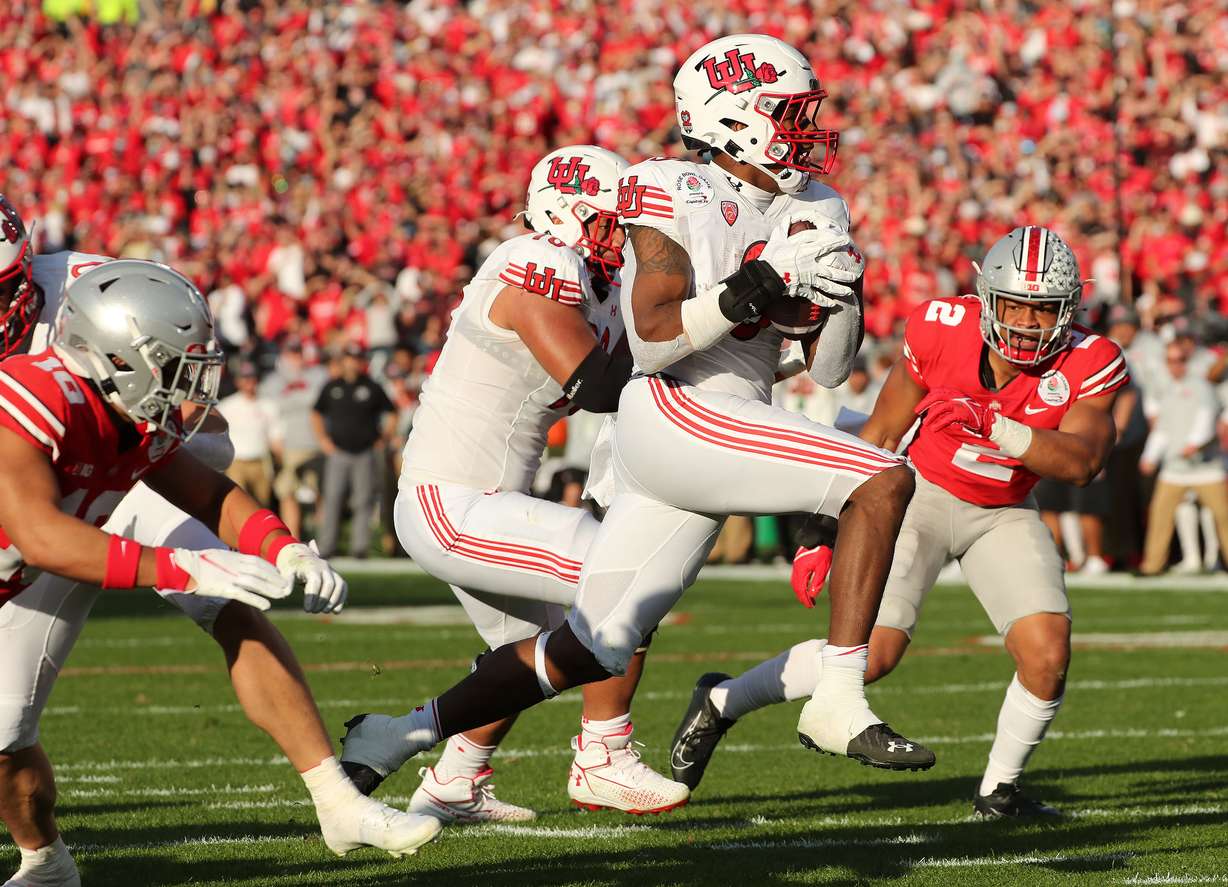 It was a Rose Bowl for the ages, if not just for the wild and back-and-forth nature alone.
Utah lost, but they forced record performances from quarterback C.J. Stroud and receiver Jaxon Smith-Njigba, among others, of Ohio State to beat them. The Buckeyes finished with 683 total yards of offense and it still came down to a field goal to win it at the end.
"I'm proud of our guys," Utah head coach Kyle Whittingham said. "I'm proud of our guys. They got absolutely nothing to hang their head about. They fought the entire 60 minutes and came up short but still made Utah football history this year, Pac-12 champions, which had never been done in our program."
It's not a moral victory or a time to bemoan a loss, but a time to celebrate the gradual build from a Utah program that has been consistently near the top of the sport over the last few years. So while it's the end for players like Covey and Lloyd, it's what they've done for the program in the days, months and years that make their collegiate experiences all that more satisfying.
It's what they've done to continually build the program into one where top recruits take notice and want to be a part of that brotherhood, especially in games like the Rose Bowl. They're not suddenly getting the recruits that Alabama or Ohio State get yearly, but it continues to be a climb just over a decade into Utah's inclusion in the Power Five.
"I think it starts with the culture that Coach Whitt sets, and he establishes in each and every one of us," Lloyd said. "Then from the top down, it's just a matter of everybody buying in, assistant coaches buying in, players buying in, and it's really the type of guys they recruit. We have the underdog mindset where we're never out of it."
Utah was the underdog on paper Saturday, but they were anything but an unworthy contender.
"I think this season is kind of a good metaphor for our team, right? Starting off 1-2, losing a couple of our teammates, battling back through everything," Covey said. "I think it's just a good metaphor for our team and for life. I think the reason why our program has that identity is because of the stability that Coach Whitt's brought to it. We kind of just feed off of him."
That culture, that rise is worth the experience, even in a loss.
"It's unbelievable," Covey said. "That's a big reason why I chose to just say this is my last year, because I'm so content with how things have gone, and what better way to go out, right?"
×
Related Stories