Estimated read time: 9-10 minutes
This archived news story is available only for your personal, non-commercial use. Information in the story may be outdated or superseded by additional information. Reading or replaying the story in its archived form does not constitute a republication of the story.
SALT LAKE CITY — For the second year in a row, violence spiked both in Utah and nationwide in 2021.
According to statistics kept by KSL.com, there were 95 homicides in Utah during 2021. That's the second highest total ever in the state behind 2020's 103 killings. Prior to 2020, Utah's previous record was 90 homicides in a single year, set in 2016. There were 80 in 2017; 78 in 2018; and 80 in 2019.
The number of homicides for 2021 could go up should several ongoing death investigations later be determined to be criminal.
Related
Homicide is defined as the killing of one person at the hands of another, whether it is done intentionally, on accident or in self-defense. KSL.com does not generally include automobile deaths in its statistics. However, when prosecutors determine there are aggravating circumstances involved in a fatal crash that result in stricter murder or manslaughter charges being filed, those incidents were included in KSL.com's tally.
'Put down your guns'
Gun violence also continued to be a trend in 2021, spilling over from 2020's deadly year. According to KSL.com statistics, 71 of the 95 homicide victims — 75% — died as a result of gunfire. The number could be higher because investigators in four of those homicides have not said how the victims were killed.
The spike in gun violence in Utah is on par with what much of the rest of the nation also saw last year. The uptick in violent crime both locally and nationwide is not lost on Salt Lake City Police Chief Mike Brown, who said he is particularly disturbed by the number of teenagers and young adults using guns.
"It is time to put down your guns. Too many lives are being impacted in our city because of firearms," Brown said in October.
The chief again expressed his frustration in December with those who are quick to pull out guns during an argument.
"Conflict resolution has gone out the window," he said. "People are turning to the handgun and then having the fortitude to pull the trigger."
Among the homicides that started as an argument and ended with immediate access to a gun:
Darnell Brown, 39, was killed in April following a heated argument that allegedly started when Brown made fun of a Range Rover that Patrick Koaneil Brown, 42, had recently purchased.
Fernando Amaya-Higareda, 23, was killed after he pulled up in his truck next to two boys, ages 15 and 16, who were pushing a bike down a sidewalk. Words were exchanged and as Amaya-Higareda started to drive away, the 15-year-old pulled a gun out of his backpack and fired four rounds.
Abdourazak Mouhoumed, 18, was killed allegedly for stealing a bottle of alcohol at a party. As he was driving away with the bottle, he was shot by Levon Garo Meguerditchian, according to charging documents. Meguerditchian then forced others to pick up the shell casings and go back into the house where he held them hostage at gunpoint for about 30 minutes.
Englandsienna Pauulu, 22, had just walked out of a downtown club when a man heading inside "shoulder bumped" him. The two started fighting when a gun fell out of Jaime Dirzo-Portugal's waistband. Police say he then told a friend with him, 16-year-old Alex Ruiz-Martinez, to grab the gun and shoot Pauulu. Both are charged with murder in Pauulu's death.
Isaiah Valerio, 21, was killed at a Halloween party. Police say at one point, Roy Anthony Duran, 20, hit Valerio who had done nothing to provoke an assault. That prompted several people to go after Duran, who then withdrew a gun from his waistband and shot Valerio while he was helping another girl who had been punched in the stomach, charges state.
Cherokee Soloman Aiko, 26, was killed in the parking lot of a club after confronting another man about returning his friend's cellphone. Romalice Latrell Williams, 36, is charged with pulling out a gun and shooting Aiko twice.
Six people were stabbed to death during 2021, five were beaten to death, and a vehicle was used in nine of the deaths included in the statistics. Motives for the killings are unknown in more than a third of the cases.
According to KSL.com statistics, 12 people arrested for committing a homicide or who were believed to be connected to a homicide in 2021 were under the age of 18. An additional 19 were between the ages of 18 and 25. In some homicide investigations, more than one person was arrested.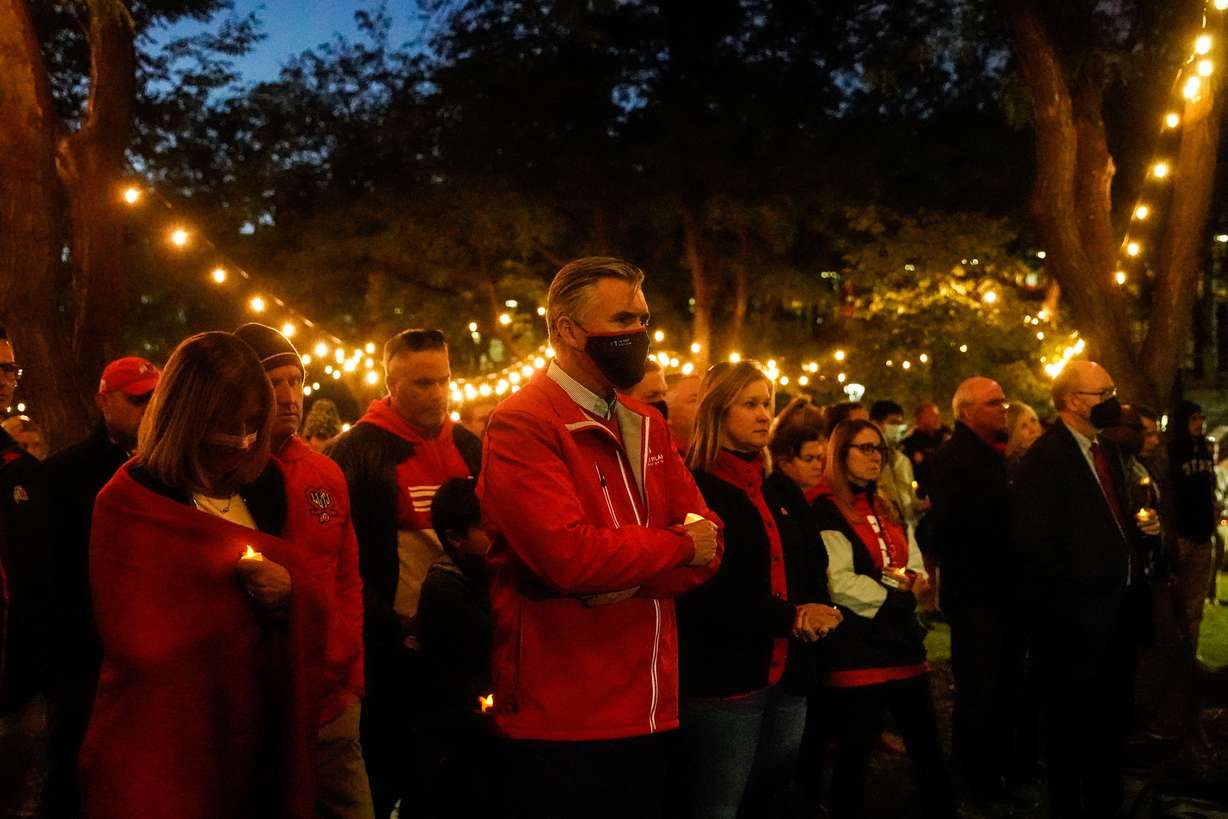 One of Salt Lake City's highest profile killings of 2021, and one that brought the issue of young adults with guns to the forefront — as well as offenders with violent criminal histories who were still on the street — was the shooting death of University of Utah football player Aaron Lowe. Lowe, 21, was shot and killed while leaving a team party just hours after the U. football team defeated Washington State at Rice-Eccles Stadium on Sept. 26.
Police say the shooting was precipitated by an argument Lowe had with people who wouldn't move their car so he could leave. Buk Mawut Buk, 22, of Taylorsville, fired multiple rounds at Lowe and his girlfriend, hitting them both, according to charging documents. Buk then walked up to Lowe while he was on the ground and fired several more shots, police said. Buk, who has a violent criminal history, is charged with aggravated murder.
'Unique times'
But while repeat offenders received attention in 2021, Salt Lake County District Attorney Sim Gill noted that his office found another interesting statistic in cases his office filed charges on: 55% of the people arrested and accused of committing a homicide in Salt Lake County in 2021 had no prior felony arrests. And 64% of those arrested had no prior criminal history at all.
Gill said there is no one easy answer as to why this is happening, while also noting that gun sales have been at record high numbers for the past two years and the patience level of many people following two years of living through pandemic is at an all-time low.
"We are living in some very unique times," he said.
Domestic violence was once again a problem in 2021. KSL.com counted 20 victims who died at the hands of a family member, significant other or a friend.
Gabriela Sifuentes Castilla, 38, better known as Gaby Ramos, a radio host for a local Spanish-language radio station, was shot multiple times and killed in October, allegedly by her ex-boyfriend. Manuel Omar Burciaga-Perea, 34, is charged with aggravated murder.
Journey-Lyric Downey was the youngest homicide victim in 2021 at 23 days old. He died due to shaken baby syndrome, according to prosecutors.
The youngest person to be killed by a gunshot in 2021 was 7-year-old Zaydanielys Rodriguez. On July 10, Zaydanielys was asleep in her bed in Heber City when a shot was fired from a neighboring apartment. Witnesses say the man, charged with murder, was extremely intoxicated and waving a gun around.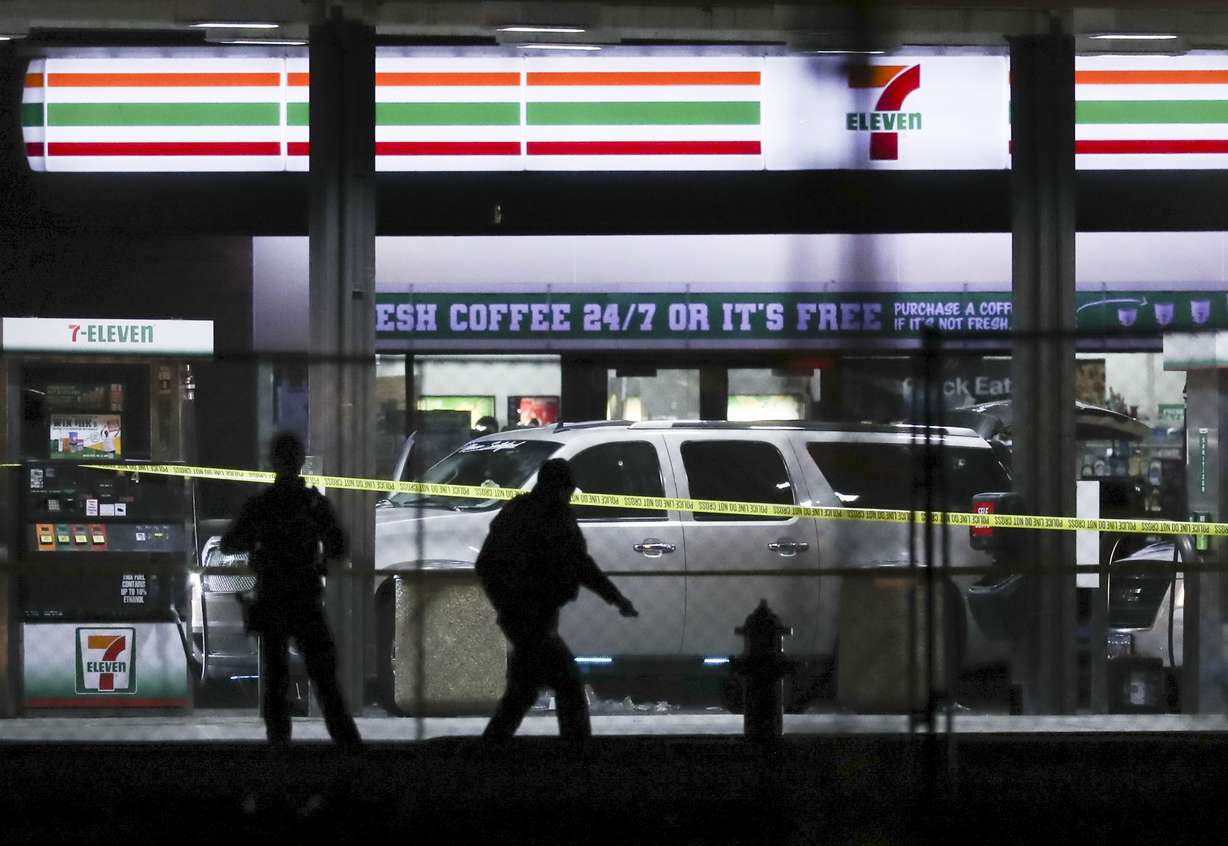 According to KSL.com statistics, 12 people were killed by police in 2021. In at least 10 of those incidents, investigators say the suspect was armed with a gun or knife. Gunshots were exchanged with officers in four of the incidents.
No police officers were killed during 2021, but six officers were shot during confrontations.
There were also several fatal crashes in 2021 that were charged as homicides. Among them:
Gwendolyn Doner, 19, was driving from I-215 to southbound I-15 when she was hit head-on by a wrong-way driver. Justin Wayne Robertson, 35, of Cottonwood Heights is charged with murder for allegedly driving the wrong way on the freeway on purpose in an effort to take his own life.
Ammon Chandler Blake, 16, a student at Westlake High School, was making a left turn at a Saratoga Springs intersection when he was hit by a vehicle that ran a red light while traveling an estimated 84 mph to 99 mph, according to police. Daniel Stanislav MacBeth, 28, who had a suspended driver's license and was suspected of being impaired, is charged with manslaughter.
Thy Hoang Vu, 33, of Salt Lake City, was killed when her car was hit by a truck fleeing from a pursuing North Salt Lake police officer. Christian Cody Facer, 39, of Clinton, is charged with murder. He has a history of drunk driving and fleeing from police.
Where are the guns coming from?
The increased prevalence of guns on the street in 2021 led Gill, Brown and Salt Lake County Sheriff Rosie Rivera to make a plea to responsible gun owners to properly secure their weapons. Too many weapons are being stolen out of cars and homes and being used in the commission of other crimes, the group said.
KSL.com asked several law enforcement agencies where the guns used in their homicide investigations in 2021 came from. Police departments were only able to talk about guns that had been recovered and successfully traced.
Unified police said that at least two guns used in homicides used in 2021 were stolen in a car or home burglary, while guns in three other cases were legally owned by the attacker.
A gun used in a fatal shooting in West Jordan on Christmas Eve was stolen during a car burglary, according to police.
In Sandy's two homicides last year, both resulted from domestic violence. In one case, police say the suspect borrowed a gun from a family member, and in the other the weapon was legally owned and already inside the home.
In South Salt Lake, a gun used in the shooting death of a man at a club was determined to have been stolen out of Colorado, according to police. In another shooting death investigation on March 19, the gun was determined to be legally owned.
In Murray, a gun used in a fatal shooting on April 21 was purchased legally by a family member of the gunman at a pawn shop, police say.
Police in Orem were investigating whether two brothers, ages 18 and 16, charged with murder for a fatal shooting in June had received their guns from their mother who may have bought the weapons for her sons, according to a search warrant affidavit.
Domestic violence resources
Help for people in abusive relationships can be found by contacting:
Utah Domestic Violence Coalition: Utah's confidential statewide, 24-hour domestic violence hotline at 1-800-897-LINK (5465)
YWCA Women in Jeopardy program: 801-537-8600
Utah's statewide child abuse and neglect hotline: 1-855-323-DCFS (3237)
National Domestic Violence Hotline: 1-800-799-7233
×
Related stories
Most recent Utah stories