Estimated read time: 5-6 minutes
This archived news story is available only for your personal, non-commercial use. Information in the story may be outdated or superseded by additional information. Reading or replaying the story in its archived form does not constitute a republication of the story.
SALT LAKE CITY — After a short break Wednesday night, snow is back in northern Utah Thursday, with the possibility of another foot of snow dumping in the Wasatch Mountains by Friday morning.
The storm that arrived in northern Utah earlier in the day is expected to come in phases with a little less snow accumulation than the storm that slammed Utah Tuesday into Wednesday.
"This storm is going to be different in many ways. ... It's not pounding in all at once like (the previous storm)," said KSL meteorologist Grant Weyman. "This one is going to come in little waves, scattered snow here and there. The impact won't be as great for most of this — unless you're in Ogden or northward, where you're going to end up getting more snow today."
The National Weather Service issued winter weather advisories for the Wasatch Mountains, Western Uinta Mountains and Book Cliffs areas, as well as the Wasatch backcountry and also areas of lower-elevation areas in northern Utah. All of the advisories went into effect Thursday morning and remain in effect through 8 a.m. Friday.
The alert says another 8 inches to 14 inches is expected in high-elevation areas from Scofield to Logan Summit. Alta, Brighton and Mantua are other areas listed within the advisory.
"Plan on occasional winter driving conditions, particularly for the Cottonwood canyons, Sardine Summit and Logan Summit," weather service meteorologists wrote. "U.S. Highway 6 over Soldier Summit will also be impacted this afternoon, as well as higher elevations along state Route 31."
Snow accumulations are expected to range between 6 to 12 inches in the Ogden Valley, including Huntsville. Park City and Heber City are among areas expected to receive 4 to 7 inches of snow by Friday morning.
"Plan on slippery road conditions," the weather service wrote for areas in the Wasatch backcountry. "The hazardous conditions could impact the morning or evening commute. Slow down and use caution while traveling."
Another 2 to 5 inches is expected in valleys from Davis County north. The advisory for the northern Wasatch Front and northern Utah includes Bountiful, Ogden, Brigham City, Logan, Smithfield and Snowville. Higher accumulations are expected closer to mountain benches in those areas.
Again, the weather service advises people to slow down and use caution while driving. The Utah Department of Transportation issued a road weather alert for Thursday's storm, advising drivers traveling in central Utah and north to expect "intermittent weather-related travel concerns." It lists the Cottonwood canyons, Sardine Summit and Logan Summit as high-caution driving areas.
Weyman says Utah will dry out a bit heading into the weekend and into early next week but another storm bringing snow is expected to arrive just ahead of Christmas.
Full seven-day forecasts for areas across Utah can be found at the KSL Weather Center.
Utah's snowpack resurgence
All of the snow over the past two weeks has drastically improved Utah's snowpack, which is the amount of water found in the snow that falls. It's crucial for Utah because snow runoff in the spring accounts for nearly all of Utah's water supply.
Snowpack levels fell to 31% of normal statewide on Dec. 6, according to the Natural Resources Conservation Service, the agency that tracks the data. In fact, it had dropped to levels below the worst snowpack recorded for early December since 1981.
But then the storms returned, with some mountain areas receiving over 2 feet of snow from a storm last week. The statewide snowpack jumped to 56% entering this week and now stands at 75% of normal, as of 10 a.m. Thursday.
"This past week the snow water equivalent – or how much water is in the snow – was lower than any time in the past 30 years, but this last storm system brought us closer to average," said Brian Steed, executive director of the Department of Natural Resources, in a statement Thursday. "We still have a long way to go and need many snowstorms to reach an average, or preferably above-average, snowpack."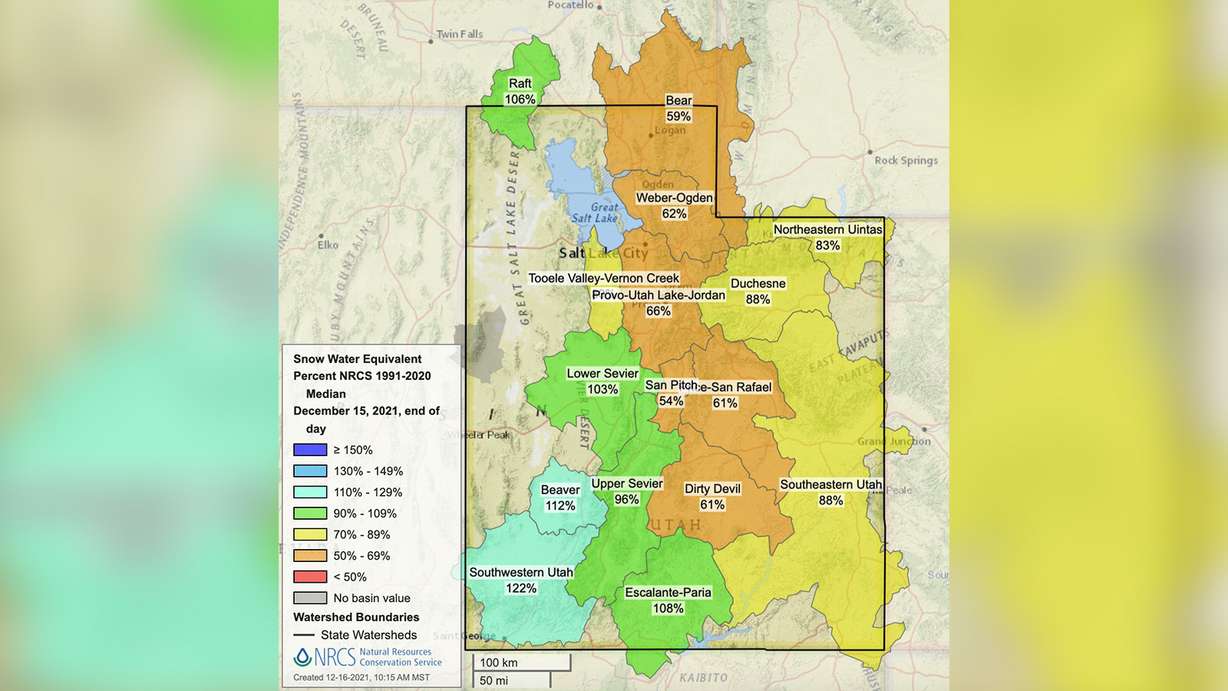 While the statewide snowpack is still below average, some snowpack regions are back to levels above average, especially in southwestern Utah, which is listed at 122% of normal as of Thursday. Other parts of the region are listed at between 96% and 112% of normal.
The Wasatch and Central mountains are where the snowpack lags, which is why the latest storm is important. The Bear River, Weber-Ogden and Provo-Utah-Jordan snowpack regions are all listed at between 59% and 66% or normal. That's still an improvement from Dec. 6, where all three ranged between 35% and 38%.
What makes the recent storms so helpful is that they have been particularly water-heavy. Jordan Clayton, the supervisor of the Utah Snow Survey, told KSL-TV Wednesday that these storms have been "a shot in the arm."
"We definitely can use all of the snow water equivalent in the snowpack that we can get," he said.
Experts at the Utah Department of Natural Resources, including the Utah Division of Water Resources, are equally thrilled.
The agency reported Thursday that the state's reservoir system remains at 50% capacity statewide but soil moisture levels are 7.6% above normal for mid-December. State officials say soil moisture is "critical" as the snowpack builds. It will allow for the snowpack to go into rivers and streams, and then into reservoirs when it melts next spring — something that didn't happen this past spring because the soil moisture was so dry this time last year.
×
Photos
Related stories
Most recent Outdoors stories