Estimated read time: 7-8 minutes
SANDY — Real Salt Lake's run to the Western Conference final galvanized a fan base, provided a shot in the arm to a group of players who have been thrown into turmoil for more than a year, and offered an olive branch to soccer aficionados in Salt Lake City that proved the market is still ripe for Major League Soccer.
And the man behind the run still doesn't have a full-time contract to lead the club into next season.
It's a complicated situation for interim manager Pablo Mastroeni, the 45-year-old native of Mendoza, Argentina, and former U.S. international who went 8-8-1 after taking over following the abrupt departure of Freddy Juarez to take an assistant coaching job in Seattle.
But the three-time CONCACAF Gold Cup champion who led the Colorado Rapids to the 2010 MLS Cup before an ill-fated three-year run as coach of the same organization deserves another chance to run his own ship — for at least a full season, this time.
Of course, all of that depends on who, when and how RSL brings in to own the organization that has been overseen by the league since January following the tumultuous departure of former owner Dell Loy Hansen amid allegations of racially insensitive remarks and a misogynistic and toxic work environment under his watch.
Real Salt Lake will see a lot of changes in the 2022 season, which is the last under Major League Soccer's current media rights agreement nationally with ESPN and FOX. The new owner will inherit an organization whose day-to-day operations are currently run by interim president John Kimball and former RSL communications intern Elliot Fall as general manager, as well as a Real Monarchs reserve side that will transition to a new league — the newly launched MLS News Pro, which is expected to begin play as a U.S. Soccer-sanctioned third division — in 2022.
Of course, new ownership is the biggest change.
MLS commissioner Don Garber said during this week's State of the League address that his office remains in deep talks with several potential investors for its Salt Lake franchise, with reports in The Athletic and Sportico linking Philadelphia 76ers and New Jersey Devils part-owner David Blitzer most heavily to the job.
He's been optimistic that "a deal will get done" by the end of the year, but cast some doubts on that timeline during his address.
"I'm hopeful that we'll be able to get something closed," Garber said. "We had a timetable to get that done by the end of the year, we'll see if that's still achievable given that's only a couple of weeks away, but if not, I'm hopeful we'll get something done soon."
The club has gone through a "very exhaustive process" in finding a new coach, Fall told local media during end-of-season interviews this week. Names like former RSL coach Jason Kreis, U.S. standout Landon Donovan and former Dallas coach and current U.S. assistant Luchi Gonzalez have all been in the mix. But most of the names connected to the post have found another position, or stayed where they are as Real Salt Lake brass have done their due diligence.
"Our focus has been entirely on the performance on the field down the stretch," Fall said. "We're having a lot of internal conversations. The last several days have been spent in exit meetings with the players.
"We're having internal conversations, and we'll name a manager as soon as we can."
What the club doesn't need now, then, is a new coach. Mastroeni's voice has been fine in steadying the ship during a frantic four-month period that ended with the club's 2-0 road loss to the Portland Timbers in the Western Conference final.
At least one group agrees with that summation.
"He's for sure a players' coach," said RSL defender Justen Glad, who at 24 is the longest-tenured player on the roster. "He's very approachable; he talks to you as if he was a player and still is a player. He makes it very easy to have conversations, and he genuinely wishes all of us the best.
"When you know he's got that genuine interest in you, you do the best you can. He's there to help, and it helps make everything better. It makes you want to play harder, to reward him for the faith he's put in you, and he's a very relatable guy."
Mastroeni is still learning and growing as a manager — that's to be expected for someone barely seven years into their managerial career. After being thrown into the fire in Colorado, Mastroeni joined the Houston Dynamo in 2020 before making the move to join Juarez's staff as an assistant less than a year later.
But the way he's empowered his players should indicate how prepared he is to be the next head coach.
"I really enjoyed having him as a coach," midfielder Nick Besler said. "We had a really good group, and I think Pablo being the leader of that group established a culture as a tight-knit group. It was a pleasure to be around everybody and to be a player under him."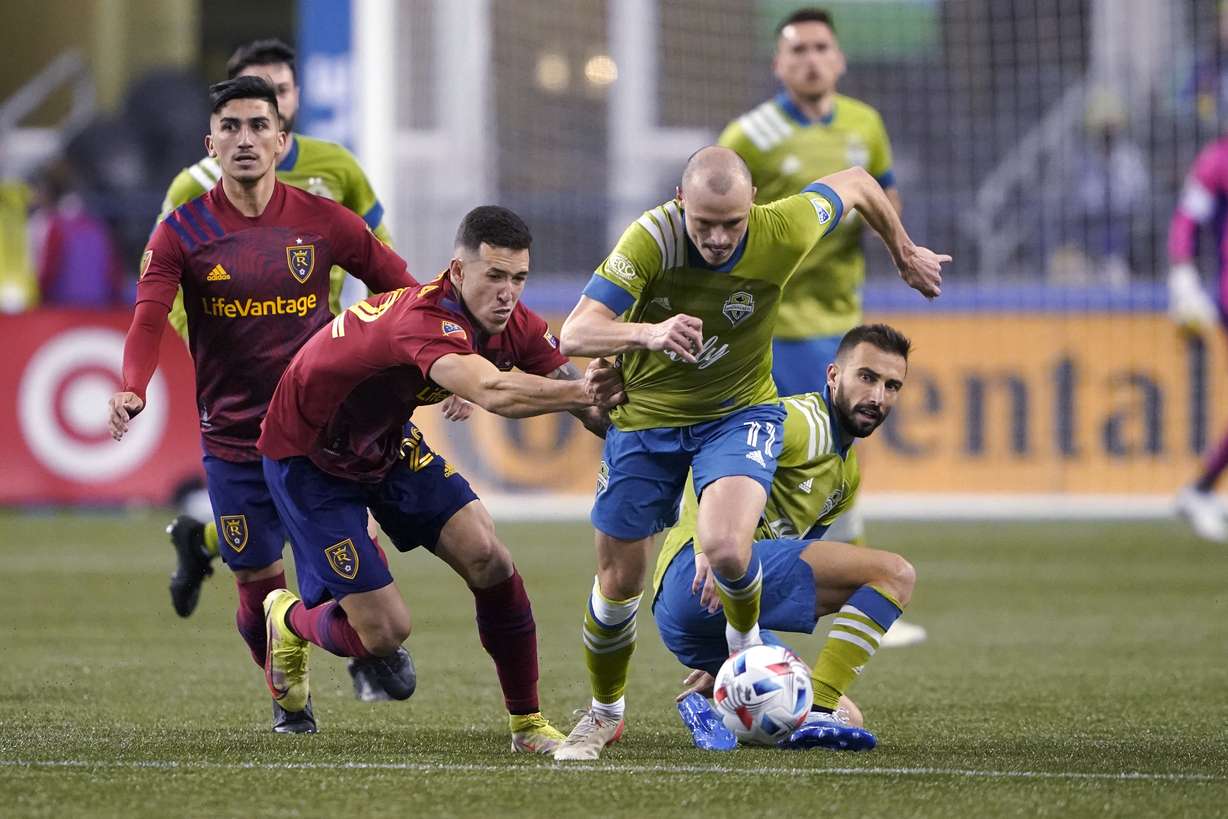 Juarez was a brilliant soccer tactician — still is, in his new role under Sounders coach Brian Schmetzer. And while Mastroeni can draw up plays as well as most, his biggest emphasis is culture.
In only four months, he took RSL's culture from one of turmoil to one of belief.
Belief is back in Salt Lake, and fans can thank Mastroeni, who had no intentions of being a head coach again when he join Juarez's staff.
"I think in order to be a great coach, a great manager, I think you have to understand what the roles and responsibilities of an assistant coach is, and how you feel as an assistant coach, given the different coaches you work under," Mastroeni told the Futbol with Grant Wahl podcast recently. "Because again, sometimes if you just go on what I knew as a manager, that's all I know, I've never had the experience of being an assistant and dealing with what feels like to maybe have too much responsibility, not enough responsibility, areas of the game that I"m like, man, I'm deficient in this area.
"I think the allure is the limelight, but in my case, going from playing to coaching, I was learning on the fly and that limelight is scary when things aren't going your way and you don't have enough experience. And so I was, like I said, I was really enjoying my role here. And I was shocked when Freddy told me he was leaving."
Mastroeni also spent time digging trenches for a friend's water company, "making sure that we weren't cutting into any electric, any gas or any other water lines hooked up to the houses" for $18 an hour.
That's when he learned he wanted to be a coach again. And four years since his firing by the Rapids, it's time to make him a head coach again.
Mastroeni brings a lot to the table for Real Salt Lake. But one thing stands out the most.
"It's his passion for the game," said RSL captain Albert Rusnak, who is in negotiations himself to stay with the organization. "His passion and enthusiasm every day in training and before every game, in meetings, after games, whether we win or lose; even when we lost some important games, when we spoke after the game, he made you feel like you actually won that game.
"His passion is like no other. I believe he was the same way when he was a player. I see a lot of similarities in him as I did in Kyle Beckerman, and Becks' passion and work ethic was unmatchable. That's what made Pablo such a smooth transition from when he came over to where we ended up in the Western Conference finals."
Real Salt Lake roster decisions
The following players are under contract:
MF Damir Kreilach
FW Rubio Rubin
FW Bobby Wood
MF Jonathan Menendez
DF Toni Datkovic
DF Justen Glad
DF Aaron Herrera
DF Bode Davis
DF Zack Farnsworth
GK Jeff Dewsnup
FW Chris Garcia
MF Pablo Ruiz
MF Nick Besler
MF Bret Halsey
GK Zac MacMath
Real Salt Lake has exercised options on the following players:
GK David Ochoa
D/M Andrew Brody
MF Maikel Chang
DF Erik Holt
DF Marcelo Silva
RSL declined options on the following players:
DF Donny Toia
DF Ashton Morgan
DF Noah Powder
FW Milan Iloski
FW Tate Schmitt
MF Justin Portillo
FW Douglas Martinez
FW Jeizon Ramirez
Three veteran players are currently out of contract but remain in active negotiations with Real Salt Lake:
MF Albert Rusnak
MF Justin Meram
MF Everton Luiz
The loan agreement with Liga MX club Atletico San Luis for forward Anderson Julio will expire soon, but Real Salt Lake "is currently in discussions regarding his transfer options and contract" with the Ecuadorian winger.
MLS will hold a half-day trade window Sunday, Dec. 12 before the expansion draft for new club Charlotte FC on Tuesday, Dec. 14. Free agency opens Wednesday, Dec. 15.
×
Related Stories