Estimated read time: 6-7 minutes
HERRIMAN — All season, the word has been "belief."
Not Cinderella. Not miraculous. Not upset. Just like the word in the team's official anthem "believe."
And with the return of Albert Rusnak in midfield, Real Salt Lake's belief in itself as it approaches the Western Conference Final Saturday at Portland (4:30 p.m. MT, FS1) is at an all-time high.
Real Salt Lake's captain returned to training Wednesday after recovering from and testing negative for COVID-19 twice, buoying the confidence of the lowest seed remaining in the MLS Cup playoffs. That's not to say that beating the Timbers — even one that will likely play Saturday without stars Dairon Asprilla (red card) and Sebastian Blanco (hamstring) — will be easy, but there's just something special about this RSL group right now.
Throw out the previous meetings in the regular season, Real Salt Lake interim manager Pablo Mastroeni said, which is good for the visitors because the Timbers took all three meetings.
"I don't think they apply, especially given what we've been able to come up with the last few games on the road," Mastroeni said after training this week. "I think it's a different game, a different mindset, for both teams. I think it's another interesting game, but one that we're excited about. We obviously have challenges, but getting Albert back in the fray will be exciting."
This current version of Real Salt Lake has another spark — an added measurement, another layer of ... well, belief.
"It's crazy. And I think that's the beauty of sport," Mastroeni added. "It's really about momentum. Some teams get it in early in the season, some teams find it in the middle and it fizzes. For us, and what I've been saying from the beginning, is that this is a process.
"We've created a problem-solving culture, which means people figure out how to fix things. … What I've seen is a change in mindset from that perspective, and a willingness to get better individually and how that affects the collective. When you're willing to do that and you get results, you double down on it. It becomes a self-fulfilling prophecy."
But don't call them a Cinderella team, at least not quite yet. Salt Lake defender Justen Glad, the homegrown player who at 24 years old is also the longest tenured member of the club, bristled in a recent interview at the concept of Real Salt Lake's "Cinderella" run through the MLS Cup playoffs.
"The belief has been there from everyone in the locker room since Day 1," Glad told the MLS podcast The Call-up recently. "We kind of expected that we could do this, but It's one thing to think you can do it and a whole different thing to go out and do it."
He understands the cliche, so Glad won't be too upset about using it. Cinderella's run up to midnight to find her prince at the ball is common enough, that it's not something over which any in the RSL camp are losing sleep. But perhaps there's a better one to make for this team — even a more soccer-specific one.
In Season 1 of the Apple TV+ series Ted Lasso, the titular character learns of a phrase in England in his first season managing the fictional AFC Richmond: It's the hope that kills you.
"I disagree," the Jason Sudeikis-played former American football coach said. "I think it's the lack of hope that comes and get you. See, I believe in hope; I believe in belief. Now where I'm from, we got a saying, too; a question, actually. Do you believe in miracles?"
There are already some similarities to Real Salt Lake and AFC Richmond. Both teams play in a uniform combination that combines shades of red and blue. Both coaches are led by a mustachio'd manager — though interim head coach Pablo Mastroeni has since shaved off the version that bore that most striking resemblance to Lasso.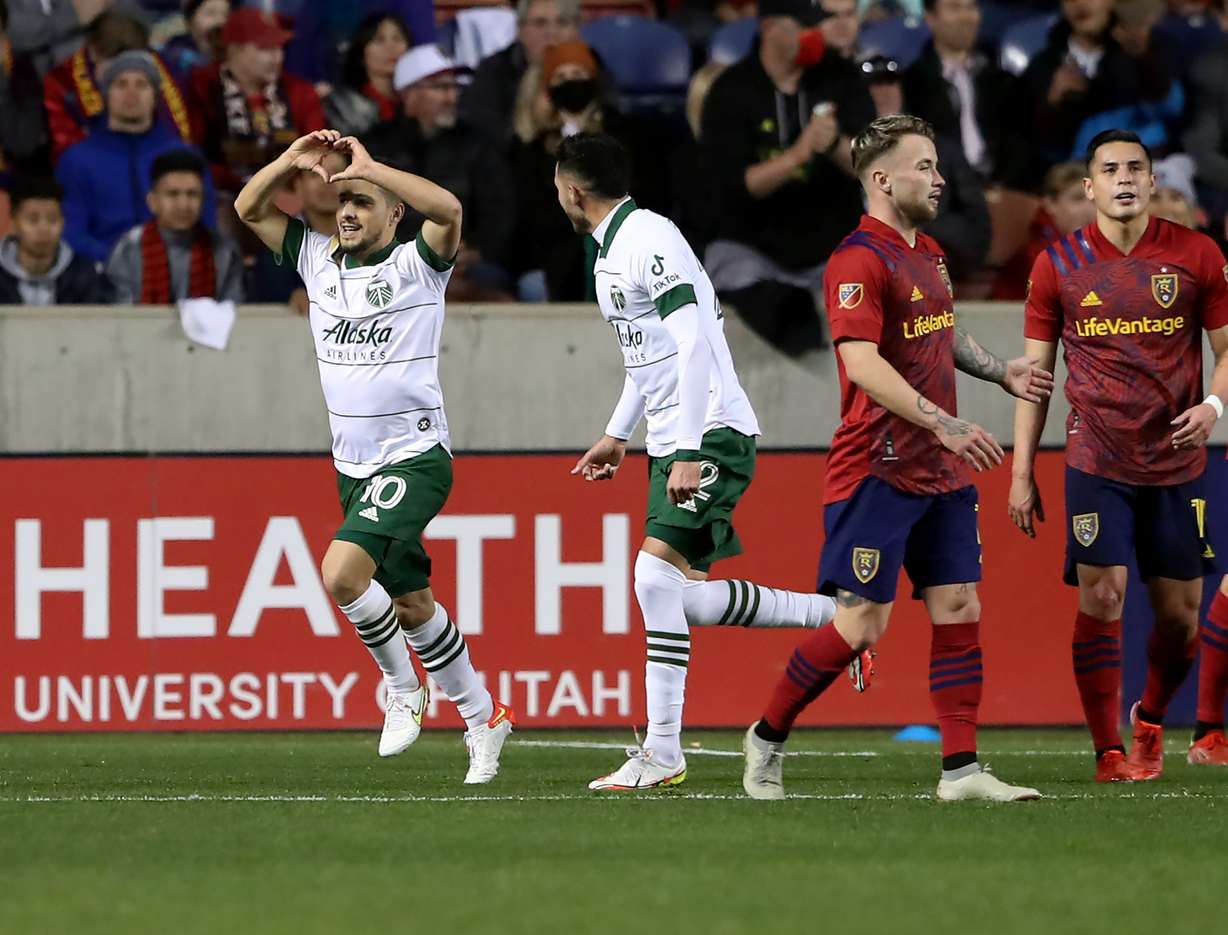 And both teams believe in miracles.
"The word 'belief' has been with us since the beginning of the season," Glad said, "and I'll tell you what: Pablo's speeches and Ted Lasso's speeches are both top notch.
"They're very motivating. He really makes you want to run through a wall for him."
In large part, Real Salt Lake believes because of what it has already done. After squeaking into the playoffs on the final day of the regular season — even the final minute, when Damir Kreilach's stoppage-time goal stunned Sporting Kansas City in a dramatic Decision Day stunner — the club without an owner or a permanent head coach went on to triumph over the heavily favored Seattle Sounders without recording a single shot.
Then, they went to Kansas City — a longtime rival, or at least since the days of Benny Feilhaber — and delivered a second dramatic winner, this one off the foot of second-half substitute Bobby Wood to advance to their first Western Conference final since 2013.
But now the club has even more reason to believe. Rusnak, the club's dynamic talisman, returned to training Wednesday and will be available to start or come off the bench in Saturday's final. Mastroeni wouldn't say which, but he did indicate that the captain with 11 goals and 11 assists in 34 games will play a role against the Timbers.
And Rusnak is eager to play whatever role he can after the 27-year-old fully vaccinated midfielder was sidelined for arguably the two most important games of the season so far.
"I feel perfect," Rusnak told reporters via videoconference call Thursday. "I feel like I had a week holiday or something. It's not like I was injured; there isn't a muscle or a certain part of my body to be careful about. I had two sessions so far, and I feel perfect physically.
"It was the first time this year I didn't moan about training," he earlier told RSL team media. "I didn't care what we do; we could've just ran for an hour or so and I would've been fine with it. It was really good to be back."
And if the club needs a little more motivation, a little more belief, or another chip to put on their shoulder that "nobody believes in them," they got it when Major League Soccer unveiled its Best XI on Thursday morning, and not a single RSL player was mentioned. That includes leading scorer Kreilach, he of 16 goals, eight assists and an MLS All-Star nod over the summer.
Kreilach won't complain about that, at least not publicly — it's not part of his personality, which is why so many Real Salt Lake teammates and supporters have been drawn to the club's instant legend.
Instead, he'll prove them wrong. Because that's what everyone — from the club, to Kreilach, to countryman and close friend Bojan Bogdanovic — all believe.
How to watch, stream, listen to the MLS Western Conference final
Real Salt Lake (14-14-6) at Portland Timbers FC (17-13-4)
Kickoff: 4:30 p.m. MT
TV: FS1
Streaming: Fox Sports App
Radio: ESPN 700 AM
Ties That Bind: RSL midfielder Nick Besler was selected fifth overall in the 2015 MLS SuperDraft by the Portland Timbers and played two seasons with second-division side Timbers 2 before joining Real Monarchs in 2017. Portland goalkeeper Jeff Attinella appeared in 29 matches for Real Salt Lake from 2013-16. RSL forward Rubio Rubin was born and raised near Portland in Beaverton, Oregon.
×
Related Stories