Estimated read time: 7-8 minutes
PROVO — There were no tears, no emotional outbursts, no saddened faces as they made the long trudge back to the locker room on Buck Shaw Field, one they've come to know so many times.
Maybe a few sullen glares or solemn faces of disappointment as the BYU women's soccer team walked off the field for the final time in 2021. These Cougars are, after all, as competitive as anybody. But no tears, or at least, none of consequence.
Head coach Jennifer Rockwood said before the match she would be just as proud of the team whether they won or lost in their first-ever NCAA title bout. And 120 minutes later, the Cougars walked out of Stevens Stadium with heads held high.
Three days after advancing to the national championship match on penalty kicks, BYU women's soccer fell to top-ranked Florida State 4-3 in a shootout to give the Seminoles their second NCAA title in four seasons.
"We all put so much into what we do every day. There's a lot of emotion, a lot of hard work, a lot of dedication, win or lose; for myself, I just wanted to enjoy this opportunity, enjoy another game with the seniors, enjoy another practice," Rockwood said after the match. "I'm as fierce a competitor as there is, and I know the girls are, as well. We wanted to win this game … and we really believed. It happens sometimes; you fall short.
"But it doesn't change the pride and the love that we had for each other. A lot of times at the end, we end on a losing note, and I get a little mad. But I'm not even a little mad. I'm just so proud of the girls here."
Yujie Zhao clinched the title with FSU's fourth penalty make of the shootout, sliding one past Cassidy Smith, the seventh-year goalkeeper whose penalty save led BYU to the title match with a 3-2 penalty shootout against Santa Clara, to give the Seminoles their third title in school history.
With a 3-2 lead and the chance to clinch the match, Zhao stutter-stepped up to the penalty spot, hesitated, then delivered the match-winner inside the left post with her right boot to cap the Noles' comeback season where it ended in heartbreak nine months ago.
WINNER @FSUSoccer!!#WCollegeCup x 🎥 ESPNU pic.twitter.com/sju2uDf3OO

— NCAA Soccer (@NCAASoccer) December 7, 2021
Zhao earned tournament MVP honors, while BYU's Mikayla Colohan, Cameron Tucker and Laveni Vaka were named to the all-tournament team.
BYU's revenge tour finally met its match against Florida State, the only team it hadn't faced in an NCAA Tournament in Rockwood's 23 tournaments in 27 years. The Cougars and Seminoles were first-time tourney opponents, and they played an all-timer — only the fourth match in the tournament's history to be decided on a shootout.
"These girls really had a commitment from the beginning to do something no BYU soccer team has done. They did just that," Rockwood said. "They appreciated those who have come before, and we had a lot of alumni in the stands supporting them.
"They really wanted to represent, and our seniors wanted to take the program somewhere they've never been — and they've done that."
It was the third-straight season, including last spring's title match between Florida State and Santa Clara, that the winner was decided on penalty kicks. Mikayla Colohan, Brecken Mozingo and Olivia Wade each converted a penalty for the Cougars (17-4-3). This one was better, or at least the head coach of the spring's second-place finisher thought so in agreeing with the fall runner-up.
"Everybody that was here was treated to a heck of a soccer game between two great teams," FSU coach Mark Krikorian said. "I thought BYU gave us everything that we could handle. My girls played extremely hard … and BYU matched us every step of the way."
Despite the heartbreak, the tragedy, the pain — both physical and otherwise for several players, including Colohan — it was everything the former Davis High star and Utah Ms. Soccer had hoped and dreamed.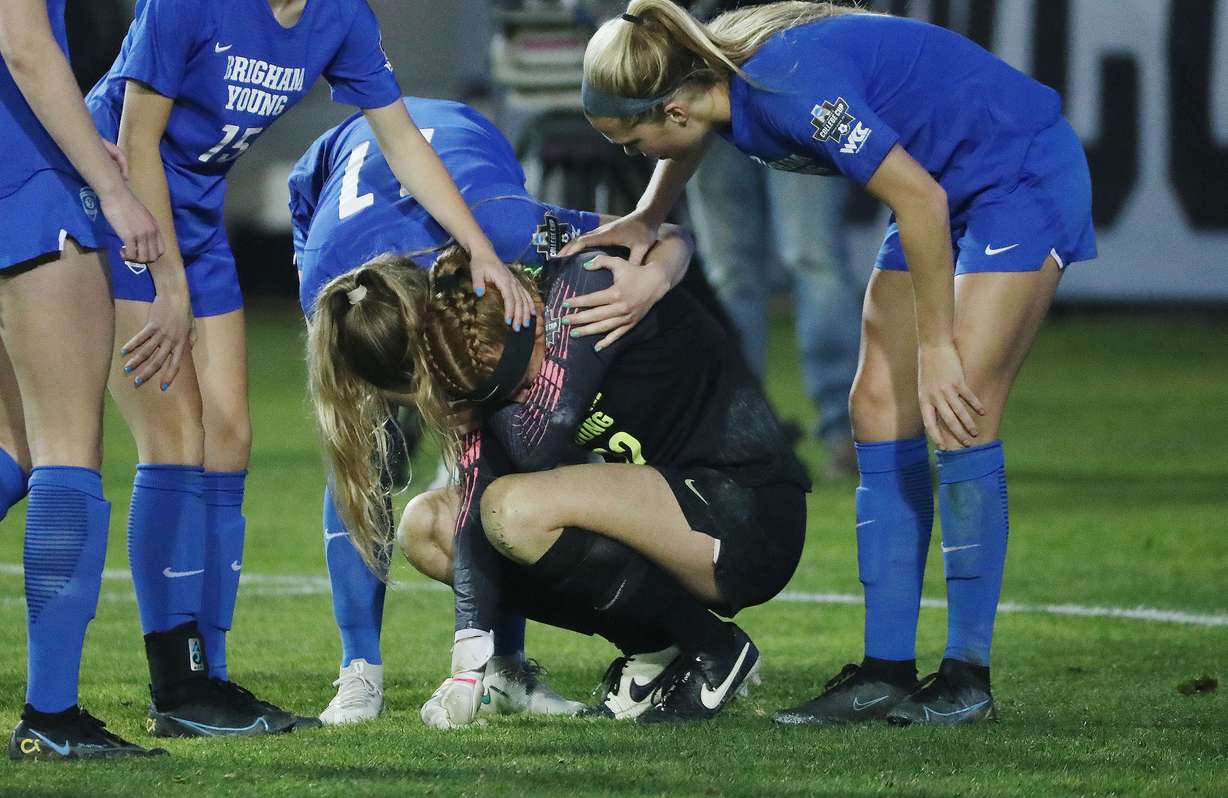 The senior didn't have to come back for another year at BYU. Her academic responsibilities were fulfilled, her place in program lore assured. She was even on the brink of engagement with Jackson Cluff, the former BYU baseball player now playing in the Washington Nationals organization.
Colohan's professional status was also assured when she was drafted by the NWSL's Orlando Pride with the No. 14 overall pick in last year's draft. So when she says she didn't have to come back, she means it.
But she did, and her one final chance was everything she hoped it might be, and then some.
"Playing for the national championship is exactly what I wanted to do," Colohan said. "We set that goal at the beginning of the year."
Colohan recalled a preseason meeting with Rockwood, when she sat down with the coach just before the 2021 fall season — well after the 2020 campaign held in the spring due to the COVID-19 pandemic — and told the only coach BYU has known in the NCAA era she was having regrets, or second thoughts, or just nerves about coming back for a sixth year.
"She told me, we could do something that no one's ever done before at BYU," Colohan recalled. "And that was everything I needed to hear. I was super grateful for that opportunity, and proud of my team for getting here."
Things could have turned south when Colohan had to be carried off the field just after the 25th minute, with the Cougars' sports medicine staff evaluating a leg injury. The Cougars' No. 2 all-time scorer with 53 career goals, Colohan did not return for the rest of the half. The midfielder collided with Florida State's Jaelin Howell, who received a yellow card for the offense, on a low tackle that took out the former Davis High standout and sent her to the sideline with ice on her lower leg.
Colohan was back in the second half, drawing a roar from the decidedly pro-BYU crowd at Stevens Stadium in Santa Clara, California, home of the Cougars' West Coast Conference rivals Santa Clara.
"I think I had a little bit of a shock," Colohan said. "I know it was a 50-50 ball, I beat her to it, and the next thing I know, I felt cleats up to my shin. I didn't know if I was able to return, but I definitely didn't want to go out that way.
"Luckily, my leg felt OK, and I was able to finish out the game."
Hear from @byusoccer_w head coach Jennifer Rockwood.#WCollegeCup x 🎥 ESPNU pic.twitter.com/j09ltKuV7b

— NCAA Soccer (@NCAASoccer) December 7, 2021
BYU was trying to be the first College Cup debutant to win a national title since USC in 2007. The Trojans' opponent that night? Florida State.
They nearly made it, too. Cameron Tucker had a goal called back for offsides in the ninth minute — a perfectly weighted through-ball from Colohan several minutes before the senior left with that knock. It was one of a handful of chances allowed by a Florida State defense that had allowed more than one goal just twice in 25 matches.
Smith made her first save of the match in the 51st minute, turning aside a shot from Clara Robbins directed at the bottom of the net to keep the clean sheet. That would be the only shot on goal until the final minutes, when Florida State put a corner kick off the crossbar and had a follow-up effort cleared off the line by Grace Johnson to end regulation.
Jamie Shepherd nearly put the Cougars ahead in the 81st minute, but her shot kissed the upper side of the cross bar as it sailed high.
It all made the feeling of a shootout all-but inevitable after two extra-time sessions.
"In overtime, it was feeling like that," Tucker said. "I just think both teams had chances, and they weren't going in."
Still, no tears were shed after the match, no cries or curses directed at the sky. Florida State was a deserving champion, and BYU a proud runner-up — even for as much as the hyper-competitive Cougars wanted to win.
"It's been an incredible season," Colohan said. "Everything that w'eve worked for, everything that we wanted. I'm so proud of my teammates. It's been such a fun time. I'm glad I got a chance to play alongside them, and for Coach Jen."
×
Photos
Related Stories