Estimated read time: 4-5 minutes
This archived news story is available only for your personal, non-commercial use. Information in the story may be outdated or superseded by additional information. Reading or replaying the story in its archived form does not constitute a republication of the story.
The holiday season is officially in full swing, and that often means lots of gift wrapping. If you're good at it, you probably look forward to this time of year! If you're less-than-gifted, you may want some extra pointers (or to hire someone to do it for you!). From neighbor treats to teacher gifts to brightly colored packages placed under the tree, you want your offerings to look festive.
But get this: according to Ecofreek, each year, 4.6 million pounds of gift wrap is produced in the United States with 2.3 million pounds winding up in landfills. This year, try some festive – not to mention financially and environmentally friendly – ways to wrap, using items you probably already have in your home.
Paper grocery bags
There's a reason "brown paper packages tied up with string" was one of Fraulein Maria's favorite things. Few things are more classic – and inherently festive – than plain brown paper. And if you're like most Americans, you likely have a supply of brown paper stashed under your sink or in your pantry.
Grab those paper grocery bags you always promise yourself you'll reuse and get to work! While the outside might be printed with grocery store logos, the inside will most likely be plain, allowing you to make a statement with brightly colored ribbons, bows or string.
Lauren Johnson on Youtube shares an easy-to-follow tutorial on how exactly the process works from Whole Foods bag to gift wrap chic.
Coloring book pages
It's the question of a lifetime for parents of budding young artists: what to do with all those fully colored coloring books? If you're willing to part with some of your child's 4,576 original works, spreading the love is as simple as using the coloring pages to wrap your holiday gifts. Add some festive flair by using holiday coloring books, or select specific themes for each recipient (grandpa is sure to love Pokémon!)
Art paper
You know those rolls of plain white paper you stuffed into your art storage box or closet a decade ago? It's time to break those out and put them to the most festive use imaginable – gift wrapping! Keep it basic and white or get the whole family involved in the wrapping game by having your kids color, paint or draw their own gift wrap. Give beautifully wrapped gifts and spend more time with those you love – it's a holiday win/win.
Pillowcase
You might want to keep this one for family gifts, as you'll probably want it back, but a pillow case is an easy way to wrap a gift! Just slip the gift inside, and tie a bow or ribbon around the excess and opening.
If you don't have any festive pillowcases, or even patterned ones, you can get really creative with the ribbon and the kind of bow you tie. Opt for something with stripes, polka dots, or even trendy tie dye. The We Are Scout blog also recommends including some pom poms for extra flair.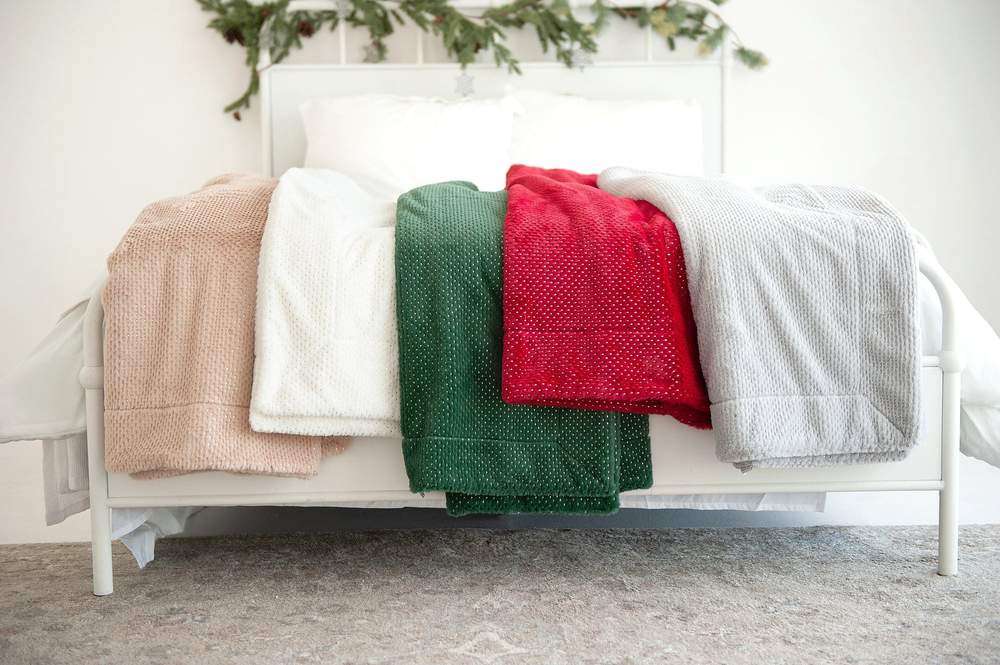 Minky blanket
When the giftwrap is a gift in itself, you know it's going to be a slam dunk. And a soft, cozy, winter-ready minky blanket truly is a gift your recipient will treasure for years to come. And of course, since they come in generous sizes, there's enough softness to go around – literally. Choose a festive color like the Tinsel Holly Berry or Tinsel Evergreen, or go for year-round classic with a Lush Sculpted Pearl. Whatever you choose, your recipient will be tickled – not to mention cozy and warm – before they ever open the package!
Sheet music
Some gifts just make the heart sing. If you want to have your recipients humming melodies before they even open the present, just turn to your piano bench or bookshelf! Old sheets of music – especially holiday carols – can double as beautifully unique giftwrap.
Top off the iconic black and white motif with a lovely red ribbon or dazzling gold bow for a dramatic and festive presentation your loved ones won't soon forget.
Wallpaper
Got some leftover wallpaper from that room renovation last year? Put it to good (and stylish) use by wrapping up gifts in a print you already love. Coordinate with matching ribbons and bows for an on-trend holiday statement.
However you wrap your gifts this year, make sure to do it with love. A classic blanket from Minky Couture is sure to warm hearts and bodies all year long. Check out the selection at Minky Couture.
×