Estimated read time: 4-5 minutes
PROVO — Watch out, Alex Barcello; Fousseyni Traore might be coming for your job.
The 6-foot-6 freshman from Wasatch Academy poured in a career-high 13 points, six rebounds and two blocks, including a back-breaking 3-pointer midway through the second half, to help 18th-ranked BYU men's basketball improve to 5-0 with a 81-64 win over Texas Southern in front of an announced crowd of 15,646 Wednesday night in the Marriott Center.
Barcello had 12 points on 3-of-11 shooting, including an unusually mild 2-of-7 3-point effort from the senior standout who also had five rebounds, four assists and four steals.
But his teammates more than made up the difference in the Cougars' best start to a season since 2010 with their fourth win over a returning NCAA Tournament qualifier.
Te'Jon Lucas added a career-high 18 points and seven assists while Gideon George scored 10 points to go with a career-high 16 rebounds for the Cougars, who shot just 39% from the field but outscored the Tigers 34-24 in the paint.
BYU overcame an off shooting night with a lot of other tools, including its post play, rebounding and committing just eight turnovers — none from primary ball handler Lucas, who deferred credit to his big teammates like Traore and George.
BYU 13 - TSU 7 | 11:22 1H

Cougs on a 13-3 run. Fouss is back and has a quick 4 points. Including 👇👀 pic.twitter.com/juJGhLSIfj

— BYU Men's Basketball (@BYUMBB) November 25, 2021
"Those guys are special," Lucas said. "I can't give them enough credit; we don't give it to them a lot in the post as we should, so we're trying to find different ways for them to score.
"They're probably the heart and soul of our team, getting those rebounds and banging with the guys down low. It just showed tonight that it can be anybody's night — it doesn't always have to be Alex Barcello, me or anybody. It was great to see everybody contribute to the win."
PJ Henry scored 21 points for Texas Southern (0-6), which was playing its sixth game of a 13-game road trip common for Southwest Athletic Conference teams to help fund their athletic departments with early-season buy games.
The Tigers, who won the SWAC Tournament a year ago to advance to the NCAA Tournament, also got 12 points and nine rebounds from Brison Greshman.
Most importantly was the Cougars' 20-9 margin on the offensive glass, not only leading to 20 second-chance points but also limiting the Tigers to 8 points on the fast break.
"It gives you so much confidence on the offensive end when you hit the offensive glass," BYU coach Mark Pope said. "Texas Southern is a great transition team; they pushed it hard in the first half. But in the first half, they only had one three in three transition possessions.
"Going to the offensive glass doesn't only give us extra opportunities, but it also negates transition offense. It's awesome."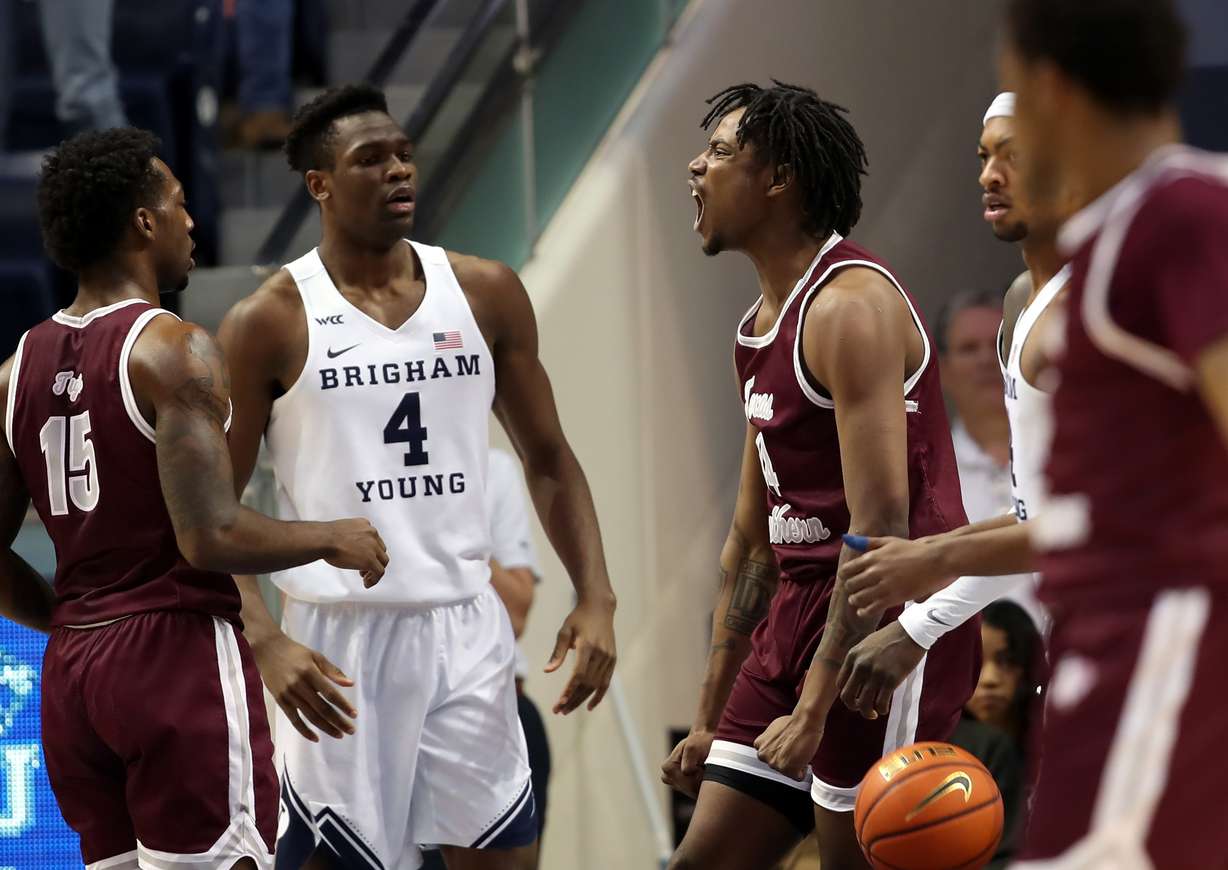 BYU opened making just one of the Cougars' first seven shots, trailing 4-3 four minutes into the game.
That's when Traore came to work.
In his first game back since an ankle injury in the final moments of a blowout win over Oregon in Portland, Traore paced an 11-3 run, including back-to-back buckets and a rim-rattling dunk during a 9-0 spurt, to take control of the game.
The Cougars led by as much as 13 before the break and pushed the lead back to the same margin with Barcello's first triple with 45 seconds left in the half. BYU held the Tigers to 32% shooting, outrebounded the visitors 27-20 and outscored the Tigers 20-6 in the paint en route to the 43-30 halftime advantage.
"That's Fouss; he's a big body. He's a big, grown-man freshman," Lucas said of the freshman who played 18 minutes, six more than Pope initially intended. "It's just exciting to get him back out there on the floor. We missed him last game.
"He's very impactful when he's out there, so it's good to get him out there."
Gavin Baxter erupted for 11 points, four rebounds and a pair of menacing dunks as his recovery from back-to-back season-ending injuries continued for a BYU squad that was simply dominant in the paint.
Then there was Traore, who showed off his range, as well.
👌 FOUSS #MACU3pic.twitter.com/ywYbNrfFTA

— BYU Men's Basketball (@BYUMBB) November 25, 2021
The freshman reached his career-high offensive output with a 3-pointer midway through the second half as BYU did everything it could to keep the Tigers at bay.
Yeah, he can hit from the outside now, too — apparently.
"That's Fouss, too. I told him in shoot around, if they leave you wide open, shoot it," Lucas said. "He shot it today.
"We've got confidence in all of our guys shooting. He was open, and he hit it. It just happened that he shot it and made it."
BYU next travels to in-state rival and fellow unbeaten Utah (5-0), the Cougars' first of four in-state opponents in the next six games. Tipoff is scheduled for 7:30 p.m. MT Saturday.
×
Photos
Related Links
Related Stories