Estimated read time: 3-4 minutes
This archived news story is available only for your personal, non-commercial use. Information in the story may be outdated or superseded by additional information. Reading or replaying the story in its archived form does not constitute a republication of the story.
SALT LAKE CITY — Serving others at Thanksgiving time "changed us," said Utah Gov. Spencer Cox, who spent Monday afternoon with more than 100 volunteers serving the usual fixings to the city's homeless.
"Being able to share with our incredible friends, who don't have some of the blessings that we do, and to see them for what they are — the real humaneness of them," Cox said, adding that the experience changed his views from the first time he and his family volunteered at the Rescue Mission of Salt Lake eight years ago. He applauded the help of so many at this needful time of year.
"We appreciate all of our volunteers, many of my staff and others who have come — the best way for me to find gratitude is to give back and we have an opportunity to do that today," Cox said. "I'm so grateful for this mission and what it does to change lives and bless people."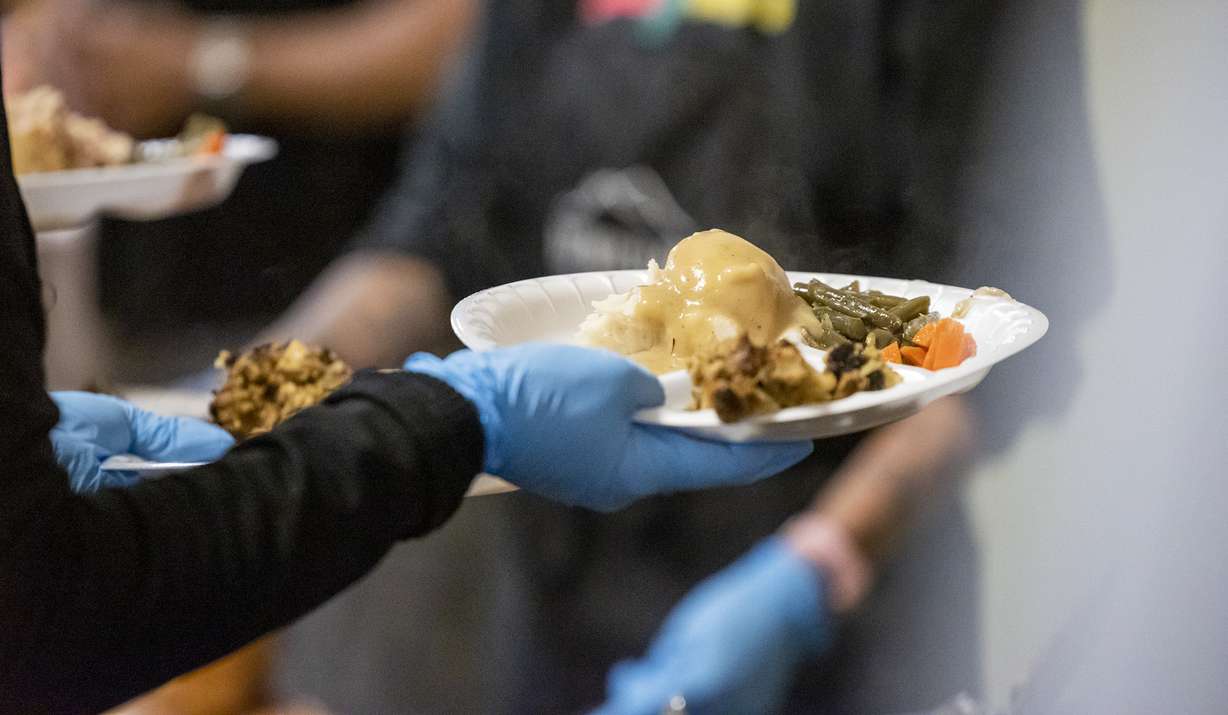 Monday's Thanksgiving banquet included a sit-down meal at the mission, where many of Salt Lake City's homeless gathered to enjoy the typical spread, but were also given access to footwear and clothing as outdoor temperatures have plummeted, as well as the influenza and COVID-19 vaccines.
Volunteers also delivered meals to other resource centers and homeless camps on Monday.
Chris Croswhite, executive director of the Rescue Mission, said the mission has hosted the same Thanksgiving banquet for at least 20 years.
"Our homeless community, especially during the holidays, they feel that society just drives by and they feel at times that they're nobody," Croswhite said. "When we are hosting a banquet for them, they can feel a sense of personhood — that they're not forgotten."
The mission prepared 1,200 meals to be served over a four-hour time span, including the meals delivered by shuttle across the city, he said.
"We're really hoping that today we'll have 600 to 800 people come through the door."
Both Croswhite and Cox spoke to the importance of volunteers and community support in helping to put on and sponsor the banquet. Croswhite said that the mission normally has six to 20 volunteers a day, with that number growing to around 100 on the day of the banquet.
"It is absolutely incredible how the greater Salt Lake area has stepped up to volunteer — although we have a very good relationship with the state and the city and the county, we don't receive any of those funds," Croswhite said. "We are completely dependent upon the local community saying that they believe in the model of the Rescue Mission and they financially sponsor our banquets and they financially sponsor men and women on our recovery program and seeking shelter."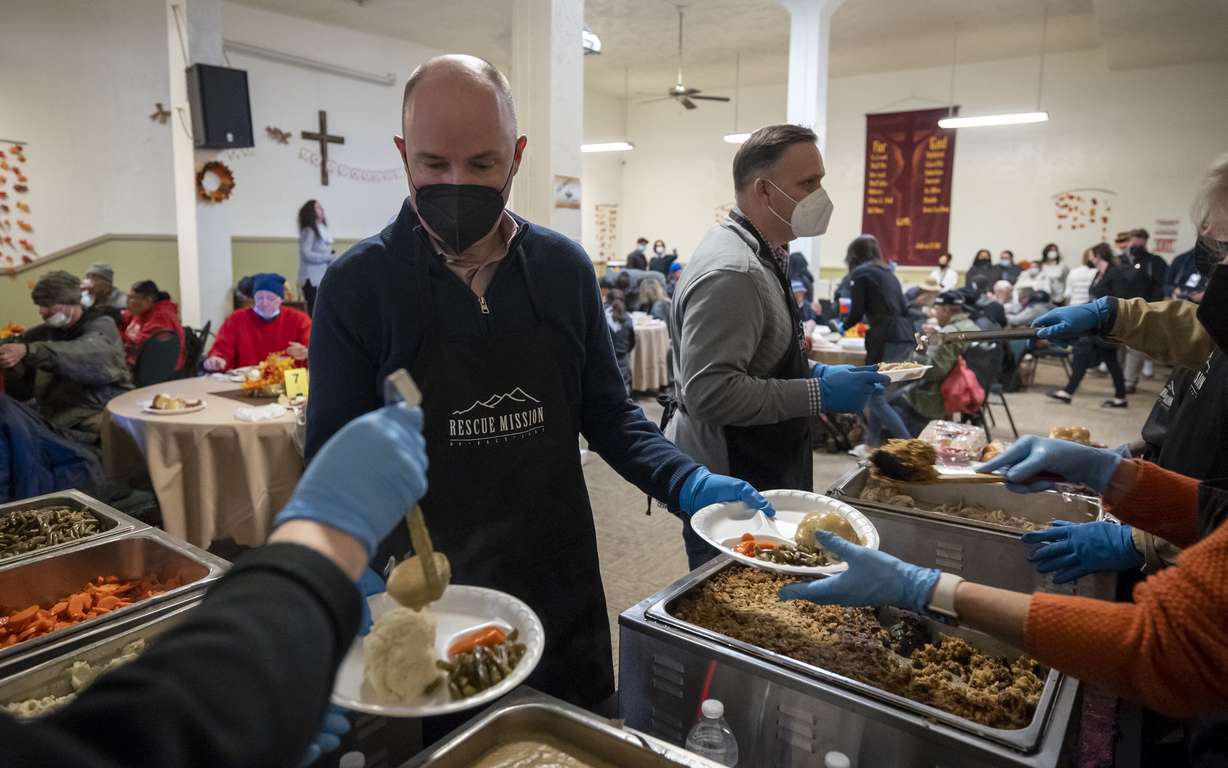 The banquet is also an opportunity for the mission to provide the homeless community with necessities beyond food, such as clothing and footwear.
"We have over 500 pairs of brand new boots and brand new socks, so we want to make sure that people have appropriate footwear, especially if they're living outside, because that can be a life-defining issue," Croswhite said. He said that by providing tangible, life-saving and life-providing materials, the mission is better equipped to address its goal of building relationships with the hope of helping people out of homelessness.
"When they want to change, then we have the relationship and the trust already built so we can begin speaking into their life at the moment they desire to change — and that can be critical to have that relationship at the right time," Croswhite said.
In operation since 1972, the Rescue Mission of Salt Lake takes care of Utah's most vulnerable populations in two ways: emergency services and addiction recovery.
Emergency services include day and night shelter for people who are homeless, three hot meals a day, showers, clothing, laundry facilities, transitional housing and employment counseling.
×
Photos
Related stories
Most recent Utah stories