Estimated read time: 14-15 minutes
This archived news story is available only for your personal, non-commercial use. Information in the story may be outdated or superseded by additional information. Reading or replaying the story in its archived form does not constitute a republication of the story.
SALT LAKE CITY — On the last weekend before the 2019 early signing day period of the NCAA's recruiting cycle, a special guest decided to take an official visit to the University of Utah.
It was five days before players could sign their letters of intent and officially put pen to paper as a legally-binding contract to play for the university of their choice. That special visitor, four-star cornerback Clark Phillips III, had already verbally committed to Ohio State over the summer and the Buckeyes were counting on another blue-chip recruit to join their storied ranks.
The visit on its own wasn't unusual or uncommon. Athletic programs around the country always make a final push for prospective recruits, even those who may have committed elsewhere. The sheer fact that Phillips would take an official visit that late in the recruiting process raised questions, though.
But Phillips had already committed to Ohio State, a program with eight national championships to its name. There was no way he'd leave that to go to a school that hadn't even been considered a Power Five program for a decade at the time. Even then, he had other offers from Alabama, Clemson, USC and a whole host of other blue blood programs.
Phillips and his family wanted to do their due diligence, so they went back and looked into some other programs, but it was Utah where Phillips wanted to make an official visit late in the game. Utah was always "too small" for Phillips' talent, or so others would say when they'd try to lure him to a bigger program, one with better name recognition nationally.
Utah's coaches had developed a relationship with Phillips long before the visit and the La Habra High product wanted to check it out. Tight end coach Freddie Whittingham had recruited Phillips since the ninth grade and already had a relationship, and cornerbacks coach Sharrieff Shah kept in constant contact with him over the years.
"Utah was always in the mix," his father, Clark Phillips Sr., said. "They did a great job of getting involved early."
The official visit sold Phillips.
"There was no need to go back through the list or get on the phone anywhere else," Phillips Sr. said. "Once we got that visit locked in, he wanted to be a Ute. Once he heard what he thought he knew from the coaches, he was ready to go."
Phillips wanted a good education, he wanted a place that would push him — an opportunity without it being handed to him as a highly-ranked recruit — and he wanted to do it at a place with stability and a proven record to develop defensive backs that send them to the NFL.
Utah checked all the boxes.
Fewest yards per coverage snap at outside CB in Pac-12 since W7:

🔸 Clark Phillips III, Utah: 0.33
🔸 Trent McDuffie, Washington: 0.53

Phillips was a 2020 4⭐️, ranked 51st overall in the class (via 247). One of the Pac-12's rising talents.

— Anthony Treash (@PFF_Anthony) December 1, 2021
On signing day, Phillips sent in his letter of intent to Utah and put aside his offer to Ohio State (and the many others that wanted him). And though he was content with the decision — and so was his family, who wanted nothing more than for him to have a "genuine relationship" with coaches and to be at a place he felt comfortable — the reaction outside of the state was anything but positive.
"It was crazy," Phillips said. "The moment that I signed a paper to come to Utah, my comments on my most recent posts we're flooded with Buckeye fans talking about how I decommitted from the top 10 team in the nation to go to a high school program. That's what people were saying in the comments, and it was ridiculous.
"It was crazy. I had to deactivate my accounts, just getting crazy DM's, notifications, battery running out every day for the next couple of weeks. It was definitely crazy, but I'm grateful, man, because that process definitely grew me as a young man. I wouldn't have thought that I would be here a month before signing day, but I'm grateful for it, grateful I'm here."
Phillips, who has a maturity beyond his years, said the comments didn't phase him and he never took it personal. His first thought was that he was just going to have to "show these people what the deal is" with his play at Utah. As a freshman cornerback in Utah's system, he's already well on his way and has been Utah's lockdown corner.
"It was validated," his mother, Lakeisha Phillips, said about her son's experience since enrolling at Utah. "He speaks so highly of the coaching staff and the way they embrace him and the way he loves them and they love him. You can just see that sincerity in the way that things happen there, and it's just awesome to see as a parent."
"They were people of their word," Phillips Sr. said. "There's a lot of salesmanship that goes on in recruitment, but they held true. But also what's important to me is that nothing was handed to him as well."
On Jan. 1, Phillips will get his chance, in person, to prove others wrong as Utah takes on Ohio State in the 108th Rose Bowl.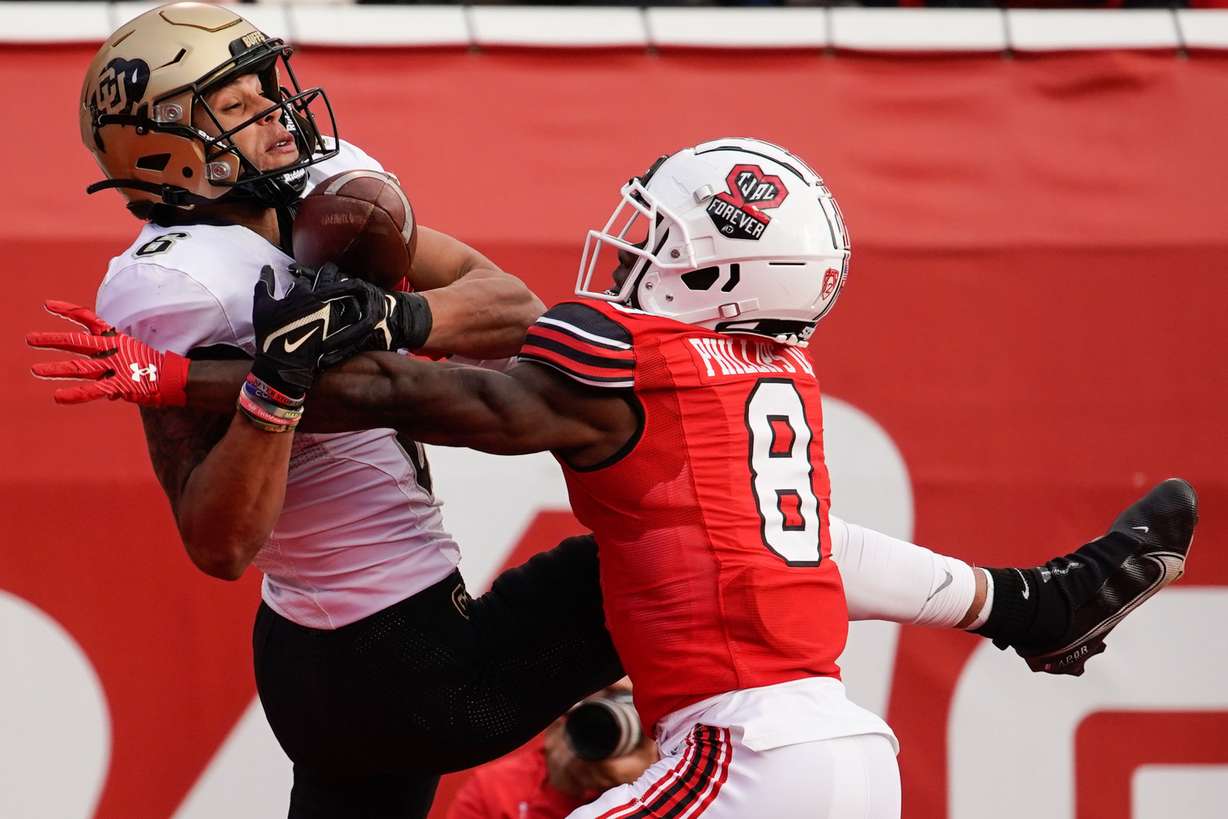 Destined for the gridiron
Stepping onto the soccer pitch for the first time as a 5 year old, it was obvious to everyone in attendance that Phillips was in the wrong sport.
It's not that he was uncoordinated or struggled to keep up with others on the indoor pitch; it was something different — something more obvious.
The young Phillips made an unconventional decision for the sport. Instead of kicking the soccer ball or making an attempt to defend against a pass, Phillips went full steam ahead.
"I went in and tackled the first kid I saw," Phillips said. "I looked around and everyone was like, 'What the heck?' And some people were cheering like, 'nice.' I started crying and I didn't know. After the game my dad told me, 'Hey, you're OK, we're just gonna put you in football.' And so now the rest is history."
That history is still being written on Phillips, who is in his first full freshman season at Utah, but it's one that always seemed to be his path. Football was life, whether he knew it at a young age or not. His uncle played football at Idaho State, his grandmother was the president of a Pop Warner club, and he's had cousins play Division I football.
The sport was in Phillips' blood.
"He's aggressive and super competitive, and football does lend for a lot of that mano a mano," Phillips Sr. said. "You get it in basketball — he's really good at basketball — but I think, too, just his personality, football fit more."
He quickly took to the sport as a "rocked up" running back, Phillips said, a physical trait he said he got from his father who used to be a former bodybuilder. Phillips looked like a running back and intended for that to be his spot in the sport throughout his football career, especially as he started to gain attention at the Pop Warner level.
Phillips got used to people telling him how good he was at the position, too. How could he not when "you're scoring touchdowns and everyone's telling you you're the stuff and you're really, really good," Phillips said.
But his father looked ahead and told the young Phillips that he should switch positions to defensive back — it would be better long term. He might as well have told his son to quit the sport. In Pop Warner, that's the equivalent of playing right field in baseball, or the "must play" position, Phillips said.
"In Pop Warner, corners is like must plays," he said. "Must plays are like kids that probably aren't gonna play that much, you just kind of throw him out there because, hey, you have to play a certain amount of plays.
"I looked at it like, 'What the heck dad, you want me to play corner? Corner? And then especially because being a running back, he always told me don't ever let the corner tackle you, so now my mindset is completely different. I can't let running backs run me over."
Despite the grumbling from a young offensive superstar, the position stuck. And much like his approach to life: Phillips made it an instant priority to be the best and not let the running back run him over, or anyone else for that matter. "I'm grateful, though, because my dad, he had the vision, man."
By ninth grade, Phillips started to attract attention from Division I colleges around the country. His parents knew he was talented and did everything they could to support his goals in the sport, but never imagined he'd actually be a highly sought after recruit over the final years of high school. But they always knew he'd play collegiately, at whatever level he was able to play — JUCO, Division II, Division III or wherever.
"I knew he was gonna play college one way or the other," Phillips Sr. said.
All work, following in Jaylon Johnson's path
If you spend any amount of time with Phillips, it's clear he has his life figured out — at least he knows what he wants and he has several goals spelled out in how to get there. Some of those goals are lofty and he believs some people "are gonna laugh" if they knew what they were. Nevertheless, it's what drives him in everything he does, not just in football.
And while his parents would like to take credit for Phillips' driven attitude, it's just who he is. He was the kid reading self-help books one second and watching film the next to improve all aspects of his life — all without his parents' prodding.
He wakes up at 4 a.m. to do yoga and meditate; it's about being well-rounded and making sure that all facets of his life are in harmony with the other.
Part of that has been his parents instilling in him that his focus can't be singular on the game of football — a blinded focus that everything will work out once he gets to the NFL. Phillips may be on the "doorstep," his father, who never let Phillips talk about the league early on, said of that being a reality, but his family's mantra has always been "go pro in something."
"If we teach you how to have the right stuff, the right character, right preparation, you're going to go pro in something; that's kind of the mantra: go pro in something," Phillips Sr. said. "You're gonna go pro regardless, whether it's pro football or if it's a pro in medicine or pro business, you're going to go pro if you prepare yourself in all areas."
That family mantra has helped him in all aspects of his life and has led to Phillips being disciplined in all he does.
"He's always been that way, even with school," Lakeisha Phillips said. "Things that he may have struggled with, which is not things that you would consider a trouble, but in his eyes, if he's not the best then he's gonna work doubly hard at it. And that's not something that — it's just he's always been that way."
In football, Phillips himself following the path of former Utes defensive back Jaylon Johnson, who always had it as a goal to play three seasons before jumping to the league. And in similar, dedicated fashion to Phillips, Johnson was a man of his word. He's since become a lockdown defender with the Chicago Bears in his two seasons in the NFL.
Phillips said he wants to play three seasons and move onto the league. A shortened COVID season may push out the three-year plan, but Phillips is the reincarnation of Johnson just a couple years removed.
"That's the big bro," Phillips said. "I've definitely tried to study a lot of his film to see how I can be better, see how I can grow as a player, because I've only played one season full. So I'm definitely watching his film to see the comparison. I can see where people can say that – just in our thought process and just in, I feel like, how he got in and got out is the same thing I'm trying to do.
"I'm just trying to work hard, man, because I realize that even coming from guys like Devin (Lloyd) that even when you're here long it goes by really fast, and I want to enjoy every moment."
When it came time to decide on which Division I program Phillips would play for, Johnson's career and development at Utah played a big role in his decision. It wasn't the sole decision, but it was the working model that Phillips could see for himself.
"For how passionate he is about football and wanting to have a shot at going pro, wanting to have a shot of being developed, Utah would be a great place," Phillips Sr. said. "Knowing that what they've done with DBs before Jaylon and seeing that Jaylon was going to have an opportunity to do it.
"I wouldn't say he came because of Jaylon, we didn't have any contracts with Jaylon at that point before then, but we felt like Utah was a great place and was underrated, and its ability to develop defensive backs looking at the track record, especially over the last four or five years. We thought about all of that."
It also helped that Phillips could be a little closer to home, too, though that was never part of the recruiting process, Phillips' father emphasized.
"We would love to have him closer to home," Phillips Sr. said. 'We'd love for him to be right here in LA, but we didn't view the schools that were here as better fits, otherwise he certainly could have gone to USC or UCLA."
"He's one that we feel like he can be anywhere — the middle of the desert — and he would be OK because he's so disciplined and he's so laser focused on whatever it is that he's planning to do," Lakeisha Phillips added.
Talking trash and taking names
In 10th grade, Phillips got the opportunity to play corner against NFL and Division I receivers to test his ability, all in a friendly environment. He went up against Mike Williams of the Los Angeles Chargers and won some battles — and lost some others. But it gave him early confidence in himself to not fear his opponent.
"Whether you win or lose, when you're able to win reps like that against guys like that in high school, you don't have any fear of anyone," Phillips Sr. said. "Some probably even read his confidence now and immediate go, 'Look at all this conference from him.' But he's just been blessed to be around some really high level guys and he's pretty self assured. Humble, but also extremely self assured."
As one of Utah's starting cornerbacks, and one trusted to be put on a team's star receiver without help, Phillips has no fear. In fact, he's confident enough in his ability that he's become one of the biggest trash talkers on the team.
"I study a lot of the great DB's and I noticed that it's a part of pretty much everyone's game," he said. "Everyone has a different style, some guys are a little bit more loud than others. There's the (Jalen) Ramseys, then there's the guys like (Stephon) Gilmore that you don't ever see him in the camera talking trash, but he's whispering some things.
"I feel like I probably adopted that from those guys. It's been a part of my game; it's been a part of my game since early on. I feel like since I play corner, because that mano a mano matchup, I've gotten used to kind of ISOing up and making it personal: 'Hey, it's me versus you; I'm gonna win.'"
In his short time with the program, he's gotten under some guy's skin and has even been penalized this season for getting into it with an opposing player. But to Phillips, it's just part of the game and there's nothing personal to it.
"I understand it's part of the game, but I think I've gotten under some guy's skins and they take it real personal," Phillips said. "That's why I make sure to go grab a guy after the game and say good game, give him a hug or dap him up; make sure he feels all right, make sure it's nothing personal, because I try to keep within the lines, keep it between the lines, because it's football.
"I do my research and that's where the trash talk comes, but it's got to stay there on the field."
Maybe some of that trash talk will be on full display against Ohio State's receivers as he looks to prove himself against the best. Either way, Phillips is happy with where he committed and determined to show he made the right move.
×
Most recent Utah Utes stories