Estimated read time: 4-5 minutes
SALT LAKE CITY — Corner Canyon, the three-time defending state champions, looked accustomed to playing at Rice-Eccles Stadium and did not waste any time solidifying their dominance over Weber.
Quarterback Devin Brown led the Chargers to a 48-13 win in the 6A semifinal game. He threw for 341 yards and six touchdowns on 21-of-29 passing, in addition to another 57 yards on the ground to lead Corner Canyon to its fourth consecutive title game.
"That part's huge: (Brown) just being consistent and the guys playing consistent around him," Chargers head coach Eric Kjar said.
The Chargers were near perfect in the first half and converted on six of their seven possessions. The only notable offensive mistakes included a fourth-and-12 run by Brown that was marked a half yard short, which resulted in a turnover and a missed extra point after the teams' fourth score of the half.
The mistakes may have seemed to have no effect on the game; but for a team that has a championship legacy to uphold, perfection is what Kjar expects.
"I kind of got a little mad at (Brown) on our second (drive) we didn't score because some of that was just like some of our execution," Kjar said. "We didn't execute a screen very well; we missed a block on that; or we didn't execute like the overhang defender on that. And then off of a counter play, we should've pulled it and we didn't."
After leading 41-6 and throwing five first-half touchdowns, Brown played one drive in the second half before he was subbed out for the rest of the game. The drive was quick and simple: a screen play and reception for Jett Meine that resulted in an 80-yard touchdown and the Chargers' lone score of the second half.
Meine led the Chargers receivers with 144 yards and a touchdown on six catches, but it was the connection between Brown and Cody Hagen that allowed the Chargers to get out to an early lead and force the clock to run throughout the second half.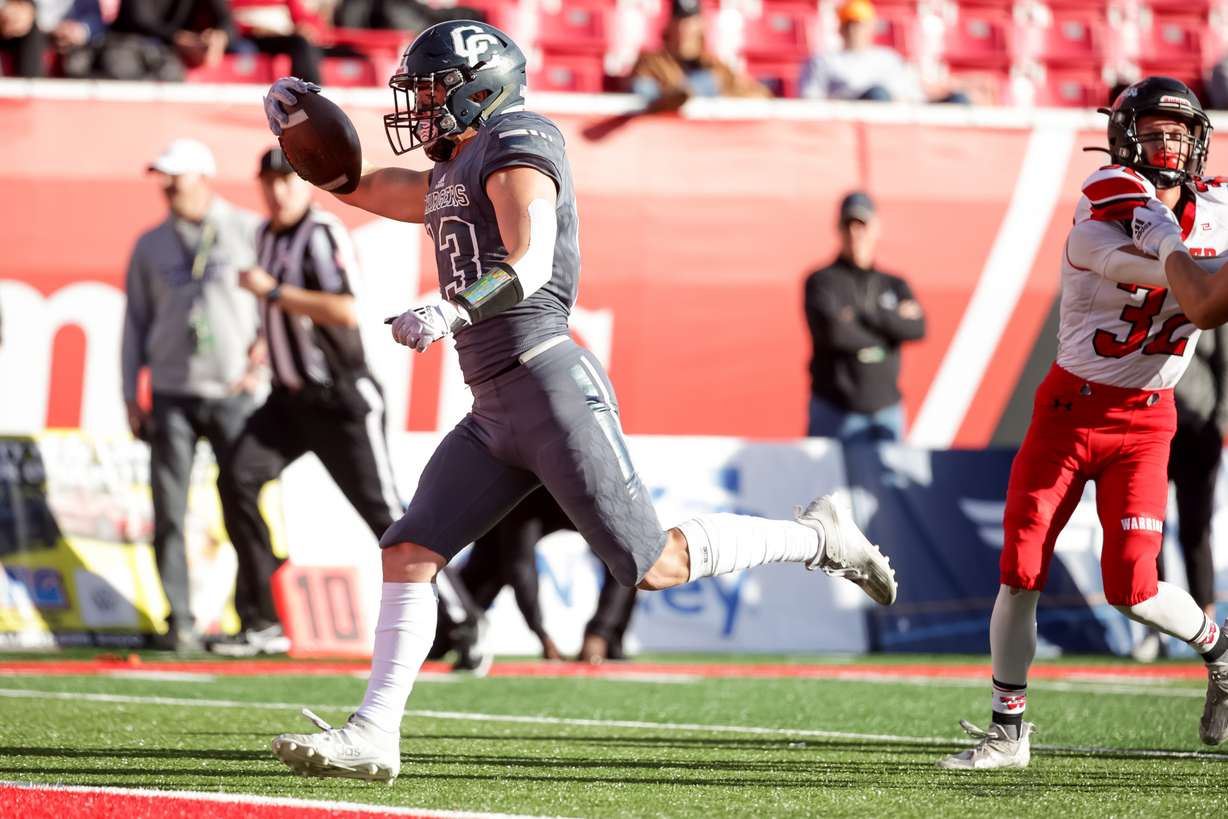 On just five receptions, Hagen added 80 yards and three touchdowns; each touchdown looked oddly similar to the other: Hagen accelerating to the right corner of the end zone with a single defender on him and Brown taking advantage of the matchup by perfectly lobbing the ball into his hands.
"He's just such a mismatch. Everybody's played a lot of coverage towards him all year, so he's had a hard time even just being able to utilize the speed because everybody's played coverage a lot to him," Kjar said on Hagen's impact on the game. "It's hard to get him freed up sometimes; we were able to a couple times today, but that part's been kind of a challenge.
"He's such a big time playmaker, you want to get him the ball as much as you can."
Blaze DeGracie and Tre Kofe were also recipients of Brown's exceptional performance and added 42 yards and 37 yards, respectively — both adding a touchdown in the first half.
The electric offense of the Chargers totaled 385 yards and 25 first downs in the first half while holding the Warriors to 163 yards and only five first downs. Because of the running clock and the starters not playing the majority of the second half, the Chargers finished the game with 489 yards and 28 first downs, averaging 8.6 yards each play. Weber finished the game with 310 yards but were deflated by the energy the Chargers started the game with.
"A big emphasis obviously — to set the tone. And that's always what we try to do," Brown said. "That's always what we try to do; we want to get the ball first and go and put it on them so then defense can get a stop and go score again. "
The Chargers will return to Rice-Eccles Stadium to play for the 6A state championship Nov. 19, with their opponent currently undecided. But with the Chargers' single loss of the season and 48-game winning streak being snapped to Lone Peak, the players would love to have a repeat of the 2020 state title game matchup and get vengeance over the Knights.
Lone Peak or Skyridge, the opponent doesn't matter. Corner Canyon will be searching for their fourth consecutive title — a feature that has only been accomplished by seven teams in Utah's history.
"They're both so good, both are really challenging either way," Kjar said. Both are tough teams. It's a hard region, and we kind of assumed we would see one of them again, but it'll be fun."
×
Photos