Estimated read time: 4-5 minutes
FARMINGTON — In some ways, it should have been the hardest decision he ever made, and it certainly was.
But as Collin Chandler, the state of Utah's top-rated recruit and star combo guard from Farmington, thought about his college commitment, one thought kept coming back to his head: Could he really play in Provo?
Rivalries run deep in Utah, and none deeper than the one between BYU and the University of Utah. Chandler's father Jason was a graduate of Utah, and raised the family to be Utah fans, with season tickets to Utah football games since the time Collin was small.
But his dad was also the one who told Collin Chandler to make his own decision. At the end of the day, the 6-foot-4, 170-pound four-star guard wasn't committing to a school for his family; he was committing for himself.
With that blessing, Chandler did the unthinkable Wednesday morning: He faxed in a National Letter of Intent to play basketball at BYU around 9 a.m. MT, then celebrated the moment by publicly declaring his commitment to the Cougars over Utah, Oregon, Stanford and Gonzaga in an announcement ceremony — complete with balloons and blue powder coming out of party poppers inside the gym at Farmington High School.
"I'm a Utah fan. I love Utah; it's my alma mater. We have those allegiances," Jason Chandler said. "But going down there is different when he's being recruited to fit and play on the team. And I told him all along, he needs to find a team that he feels comfortable with in all aspects and where he sees his growth of being the best. I put my biases behind me, and was going to support him.
"That's what I told him the whole time; he needs to choose a place where he feels comfortable, and I'm not one to say where he feels comfortable. It's been all about him, and that's part of the maturity that's come with the whole process."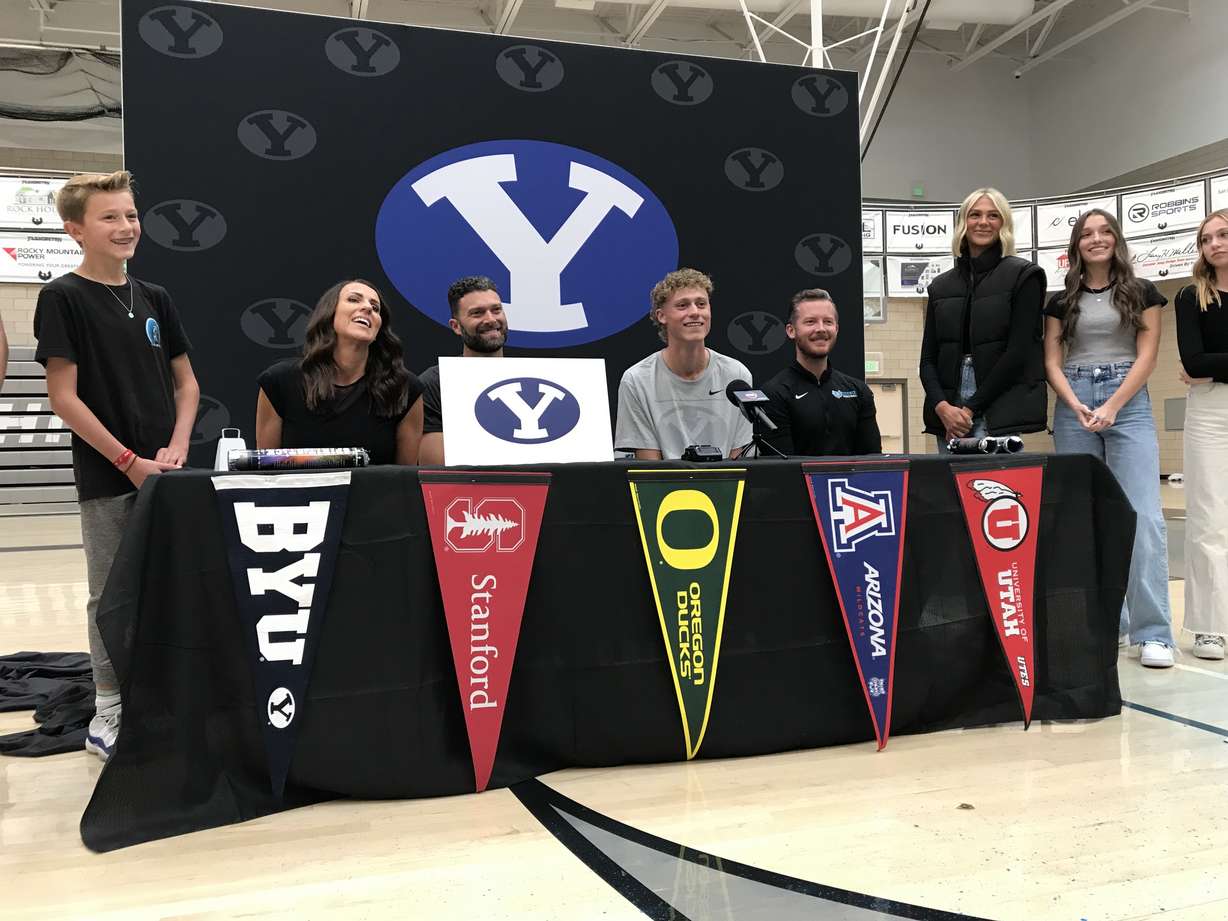 The Chandlers are still Utah fans. But they're fully supportive of Collin's decision, too. His siblings donned BYU shirts following the four-star senior's announcement, and his mom brought out a Cougar sweater that she'll no doubt wear to Provo to watch him play in 2 1/2 years.
Collin Chandler still has one final year remaining at Farmington, meaning he has one more chance to win an elusive state title in the Phoenix's first year in 6A. After that, he'll serve a two-year mission for The Church of Jesus Christ of Latter-day Saints and return by 2024 in time to join the Cougars in their new conference home, the Big 12.
"I wanted to play in the Big 12," Chandler said. "Those are some good teams. Kansas, Baylor, Texas Tech. I wanted to play against the best."
To do that, Chandler had to set aside his past allegiances, bring to the side his one-time Utah fandom, and focus on the things that would make him the best basketball player he could be.
That decision came with BYU and head coach Mark Pope — rivalry aside.
"We have season tickets to the U. for football. I grew up a Utah fan," Chandler said. "But this was my decision, and I wanted to do what was best for my life."
Early Signing Period
On the court, Chandler is as competitive as they come, a slashing combo guard with a mid-range game that has evolved over the course of his three-year varsity career with the Phoenix. An athletic slasher with length, burst and skill, he's also one of the more quiet students at Farmington High School, his coach Kasey Walkenhurst admits.
"For the most part, he's just a quiet kid who keeps things close to the vest," said Walkenhurst, who offered his advice and provided "a listening ear" during a recruiting process that stretched from Arizona to Stanford to Gonzaga and back home to Utah and BYU. "I gave him my advice and told him about Trevin Knell, whom I coached (at Woods Cross and is now at BYU) and what he went through in his process.
"But it was Collin's decision, and I think he made the right one for his game."
That off-the-court person mattered, too.
"I felt like I had the most to learn from the coaching staff and felt like my talents would be utilized the best in their system," Chandler said during his announcement ceremony. "I also felt like I would enjoy the school life the best and would be most prepared for life after basketball by going to BYU."
But Pope sealed the deal — even for a long-time Utah fan and alum like Jason Chandler. The high-energy coach met the Chandler clan during Collin's official visit to Provo, brought them to a BYU women's volleyball match, and then welcomed them in as front-row guests of the preseason Midnight Madness fan event in the Marriott Center.
That's where the Chandlers saw the Magic of Pope — and BYU's attachment to it — firsthand.
"He's very charismatic — very bright. He's awesome," Jason Chandler said. "That's part of the reason why I don't feel bad about him going to play with coach Pope. He's very intelligent, he has a high basketball IQ, experience in the NBA.
"He's going to coach Collin just fine. I have no worries."
×
Related Stories