Estimated read time: 5-6 minutes
This archived news story is available only for your personal, non-commercial use. Information in the story may be outdated or superseded by additional information. Reading or replaying the story in its archived form does not constitute a republication of the story.
SALT LAKE CITY — Utah is one of five Mountain West states that make up the nation's largest swath of COVID-19 hot spots, stretching from Montana to New Mexico.
All five states — Utah, Montana, Wyoming, Colorado and New Mexico — are averaging more than 50 new cases a day per 100,000 residents, according to data collected by the Mayo Clinic. Only five other states nationwide are hitting that level: North Dakota, Minnesota, Michigan, New Hampshire and Alaska.
In Utah, every county except for Daggett is bright red on the state's coronavirus.utah.gov website, showing a "very high rate" of more than 200 cases per 100,000 residents over 14 days. Daggett, the state's least populated county with fewer than 1,000 residents, had between one and five cases during that time.
The Utah Department of Health reported 1,558 new cases and 13 additional deaths Tuesday, putting the state's rolling seven-day average for positive COVID-19 tests at 1,691 per day, the highest since late January despite the recent surge in cases driven by the highly contagious delta variant.
Why is the Mountain West being hit so hard?
"To some extent, it's difficult to say why certain areas, I think, are having their big surges at particular times. Like, why us now and the Midwest previously, the South earlier in the summer," said Stephen Goldstein, a virologist and post-doctoral researcher with the University of Utah School of Medicine.
But there are some telling clues, including the region's relatively low vaccination rates, he said. Just over 55% of all Utahns are fully vaccinated, meaning it's been two weeks or more since the final initial dose. The other hot spot states range from more than 62% in New Mexico to less than 45% in Wyoming.
That's combined with cold weather sending more people indoors, where the virus is much more easily spread and many people in the region rejecting masks, Goldstein said, helping to pave the way for the delta variant to hang on longer.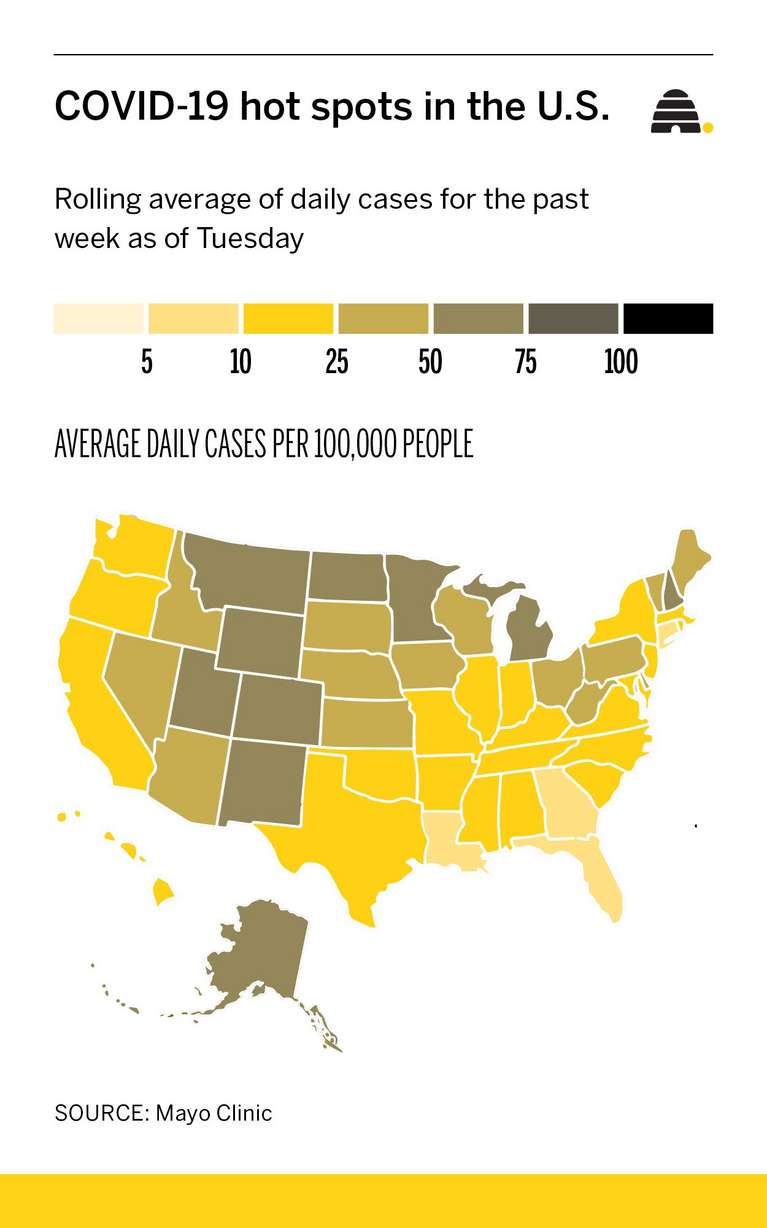 "We're not coming down. We've stayed high and it's gone up slightly again," he said, warning it could be some time before cases begin to fall again, especially with Thanksgiving, Christmas and other winter holiday celebrations coming.
"I am concerned that we could stay at this pretty high level for a while," Goldstein said. "I don't know if I would predict we're going to see another big spike from where we are now. But even staying around this level for the next couple of months would be pretty devastating,"
A spokesman for Utah's state health department isn't sure either why the state's caseload seems to be stuck.
"Unfortunately, here in Utah, we have not seen the decreases in caseload, hospitalizations and deaths that other parts of the country have experienced," spokesman Tom Hudachko, said. "While the reasons for this are not immediately clear, we do know how we can reduce the burden of COVID-19 in our communities."
What that will take is following the same advice public health experts have been giving throughout the pandemic.
"Getting vaccinated, seeking out testing if you have symptoms, and staying home if you're sick are all simple steps that will go a long way to stemming the current tide," Hudachko said.
Last Friday, the Colorado Department of Health issued a statewide advisory, warning an anticipated surge in cases is threatening to overwhelm hospitals. Colorado Gov. Jared Polis had already said that if cases continue to climb, hospitals would need to request federal medical surge teams, halt elective surgeries, and turn away some patients.
Polis signed a pair of executive orders earlier this month that ready hospitals in Colorado to institute what's known as crisis standards of care, guidelines for allocating limited resources such as intensive care unit beds and ventilators.
Other states, including Idaho and Alaska, have instituted the standards to ration health care during COVID-19 surges. In Utah, it's up to hospital officials to approach the state about invoking crisis standards of care updated a year ago to address the pandemic.
Previous versions of Utah's standards focused on the aftermath of an earthquake. The new version spells out, for example, which COVID-19 patients should have access to limited ventilators, including when to make that decision using a lottery.
Wyoming, which has one of the nation's lowest COVID-19 vaccination rates, saw Gov. Mark Gordon activate nearly 100 members of the Wyoming National Guard in September to assist in hospitals throughout the state as cases neared the pandemic peak.
"In the 12 years I've been with the hospital, it's hands down the busiest, including compared to last fall," Dr. Andy Dunn, head of primary care at Wyoming Medical Center, the state's largest hospital, told National Public Radio last week. "We're seeing more COVID patients, and we're seeing sicker COVID patients."
Montana Gov. Greg Gianforte, who signed into law legislation prohibiting private businesses from mandating vaccinations and limiting the power of public health agencies, told the Helena Independent Record amid an October surge in cases, "The government's role is to educate, to communicate — it's not to mandate."
New Mexico saw more than a 19% increase in cases for the week that ended Sunday, ranking seventh among the states where coronavirus was spreading the fastest on a per-person basis, according to a USA TODAY Network analysis of Johns Hopkins University data.
Correction: In a previous version, the map accompanying this story showed New Jersey's case count in the range of 50 to 75 average daily cases per 100,000 people. New Jersey's case count is in the range of 10 to 25 average daily cases per 100,000 people.
×
Related stories
Most recent Coronavirus stories