Estimated read time: 3-4 minutes
SALT LAKE CITY — Up to another foot of snow is expected in Utah's mountains with a storm that is also set to bring valley rain to northern and central Utah Tuesday and Wednesday.
The storm system moved through the northern California coast Monday, prompting the National Weather Service to issue some winter storm warnings and winter weather advisories in that area Monday. It arrived in Utah by Tuesday morning.
"We kind of get another wave that comes through the evening. By Wednesday morning, we'll see things taper off with a little bit of precipitation lingering in southern Utah and extreme northern Utah, the Cache Valley area," KSL meteorologist Kevin Eubank said Monday.
KSL meteorologist Grant Weyman said Tuesday that updated precipitation models show valleys from Provo north are expected to receive about one-fifth of an inch of rain by early Wednesday morning. Some places along the Wasatch Front may even receive close to a half-inch of precipitation in that time.
Mountain areas were originally forecast to receive about 4 to 8 inches but the weather service updated its snow accumulation forecast Tuesday morning. They now project some mountainous areas, such as Alta and Tony Grove, to receive 8 to 12 inches, while the Western Uintas are forecast to receive 6 to 8 inches by the end of Wednesday.
Valley rain and mountain snow will become widespread over northern Utah and southwest Wyoming by this afternoon as a moist but mild storm system moves in. Here's what you can expect. #utwxpic.twitter.com/2q8swaN8qW

— NWS Salt Lake City (@NWSSaltLakeCity) November 9, 2021
Eubank said Park City is also expected to receive a few inches of snow as a result of the storm.
While the weather service hasn't issued an advisory or winter storm watch as of early Tuesday morning, the agency tweeted that drivers should prepare for "slushy" mountain roads across the region Tuesday. Moments of reduced visibility may also happen as a result of the storm. Roads at elevations higher than 8,000 feet are most likely to be impacted as a result of the storm.
2021 inches closer to normal
This storm is helping continue a trend that's emerged over the past few months: Utah is suddenly closing in on an average year of precipitation.
Last month was Utah's 16th-wettest October dating back to 1895, according to data released Monday by the National Oceanic and Atmospheric Administration's National Centers for Environmental Information. It was the seventh-wettest October for Salt Lake City, per National Weather Service data dating back to 1874.
With the update, Utah is now on pace for an average precipitation year. Here's why that would have sounded far fetched just a few months ago.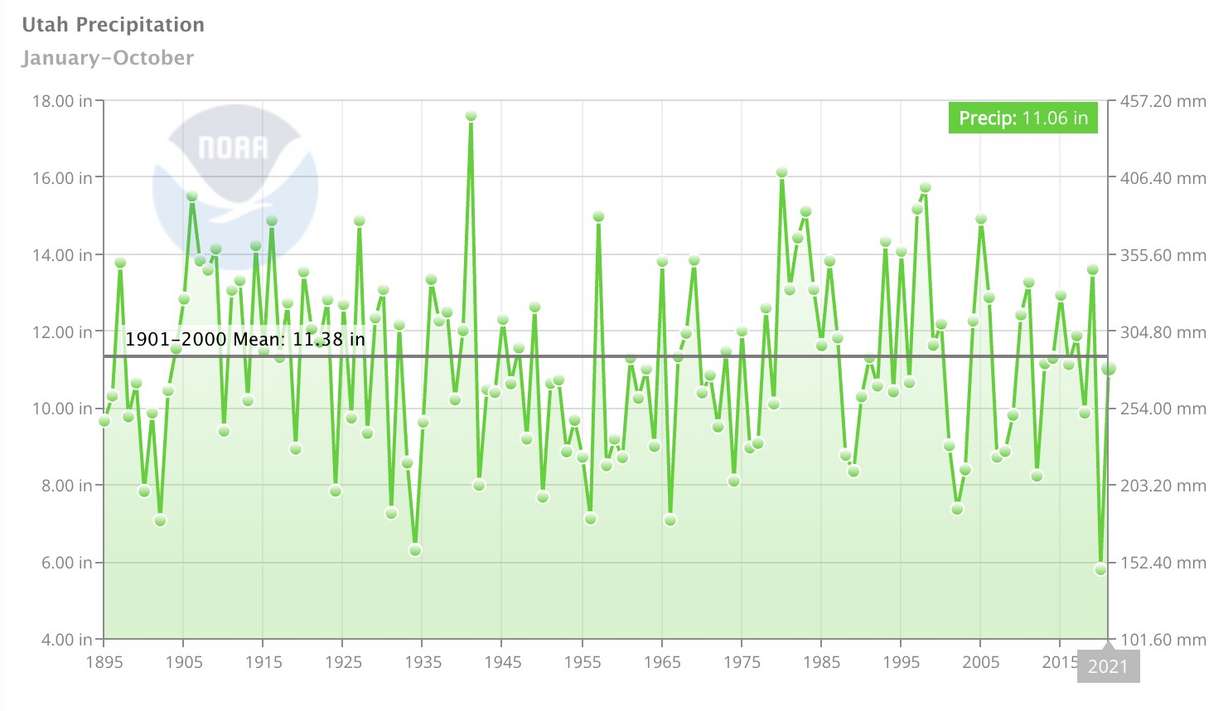 Utah was on pace for the eighth-driest year on record entering July 1. In fact, it was drier at the end of June than it was at the end of June 2020, which ended up being the driest calendar year on record. But over 60% of Utah's precipitation statewide this year has occurred since July 1, moving 2021 from joining 2020 as one of the 10 worst precipitation years on record to being surprisingly average.
With Monday's update, the environmental information center now rates Utah's precipitation totals through October 2021 as the 61st driest year on record since 1895. At 11.06 inches, 2021 is just below the 20th-century average of 11.38 inches. Utah's running total this year is now nearly double the 2020 total through October last year.
The run of wet weather hasn't pulled the Beehive State out of its severe and extreme drought status but it has eased some important conditions heading into the winter, such as soil moisture levels. If the trend of the past four months continues, it will significantly help Utah toward getting out of its latest drought.
Full seven-day forecasts for areas across Utah can be found at the KSL Weather Center.
×
Related Stories