Estimated read time: 3-4 minutes
SALT LAKE CITY — Hassan Whiteside did his best Dikembe Mutombo impression Tuesday in Utah's victory over the Sacramento Kings.
At the 6:04 mark of the fourth quarter, Whiteside stalked a Harrison Barnes drive, sliding through the paint after his former teammate. As Barnes went up, so did Whiteside, and the Jazz center sent the ball bouncing out of bounds. It wasn't the block that was reminiscent of Mutombo; it was what came after.
Whiteside strolled over to the crowd with his index finger up and shook it back and forth — the famous finger wag. The raucous crowd ate up every bit of it.
"Harrison Barnes was one of my favorite teammates of all time," Whiteside said. "I'm gonna send him a text and just mess with him."
Whiteside has quickly become a locker room and fan favorite for his fun-loving personality and his infectious energy on the court.
He's not afraid to pick a playful fight, go a little over the top during a celebration or roast some friends. Basketball is fun, after all, and Whiteside is making sure the Jazz remember that.
"He keeps everything light and continues to have a positive mindset and makes jokes about things that may get on your nerves," Donovan Mitchell said. "Like not getting foul calls. He'll come in and be like, 'Man, we ain't getting (expletive).' Everyone laughs and then we get over it and move on to the next thing. You need a guy like that."
Whiteside is far from just a light-hearted jokester that is always good for a laugh. In fact, he may be the answer to a long-lasting problem. Whiteside has given the Jazz what they have long been searching for: a reliable backup center.
Utah has spent a ton of equity trying to find an adequate backup to Rudy Gobert. They've used recent first-round picks on Tony Bradley and Udoka Azubuike, spent large portions of their mid-level exceptions on Ed Davis and Derrick Favors, and then used future draft picks to get out of bad deals.
Was using that many resources for 15 minutes per night wise? Of course not. Turns out a veteran on a minimum deal is giving the Jazz all they wanted — and probably a bit more.
Whiteside has picked up the schemes quickly, fought for rebounds and has given the second unit an anchor that just hasn't been there before. Mitchell is leading the league in total plus/minus this season, largely due to playing a lot of minutes with Whiteside. When Gobert sat, the Jazz were usually hoping to break even; Whiteside has been much better than that.
Everything has been good so far. Whiteside's plus/minus numbers (he's among the league leaders, despite only averaging 16.3 minutes), his relationships with the team and coaches, his interactions with fans; it's a honeymoon period no doubt.
It's not the first time Whiteside has made a strong first impression with a franchise before frustrations sunk in and his level of play dropped — it's been a pattern. He's older now, more mature, more wise and he's basking the opportunity he's been given in Utah. So will those same issues creep up? Maybe or maybe not.
After not getting into games at the end of last season for Sacramento, Whiteside is a rejuvenated player. He's enjoyed the battles with Gobert in practice and feels the excitement of chasing an NBA championship. Those are things that aren't going to go away anytime soon.
"I never felt like I actually got to show what I can do in Sacramento," he said. "That's always one of the places where I felt like I never got to show Hassan Whiteside. I felt like I got to show it in Miami and Portland."
You can add Salt Lake City to the list.
"It's indicative of how much he cares," coach Quin Snyder said. "That emotion and that energy can feed a team, whether it's making a physical play like the other night, making a block, getting excited about a play. … Anytime you add emotion to competitiveness, that's rocket fuel."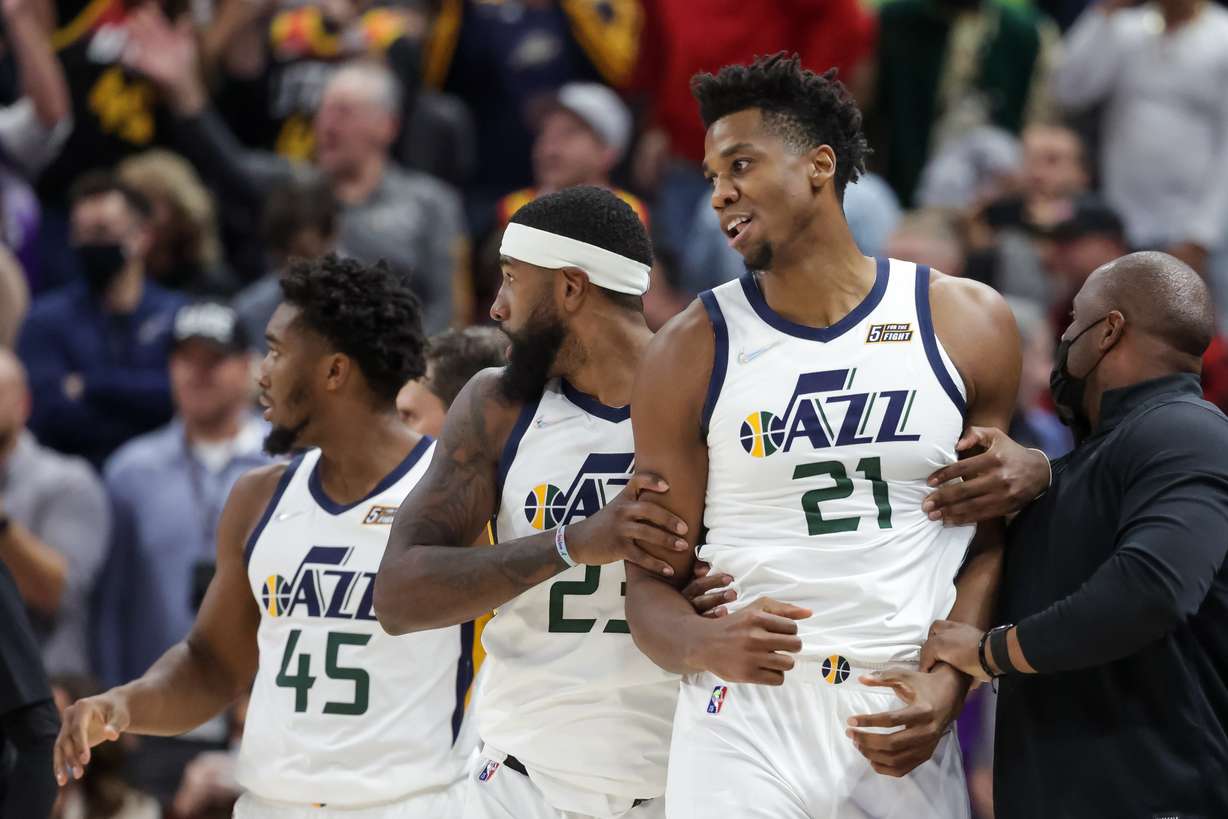 ×
Related Stories